"Kill Arabs" Written At Sheepshead Bay Bus Shelter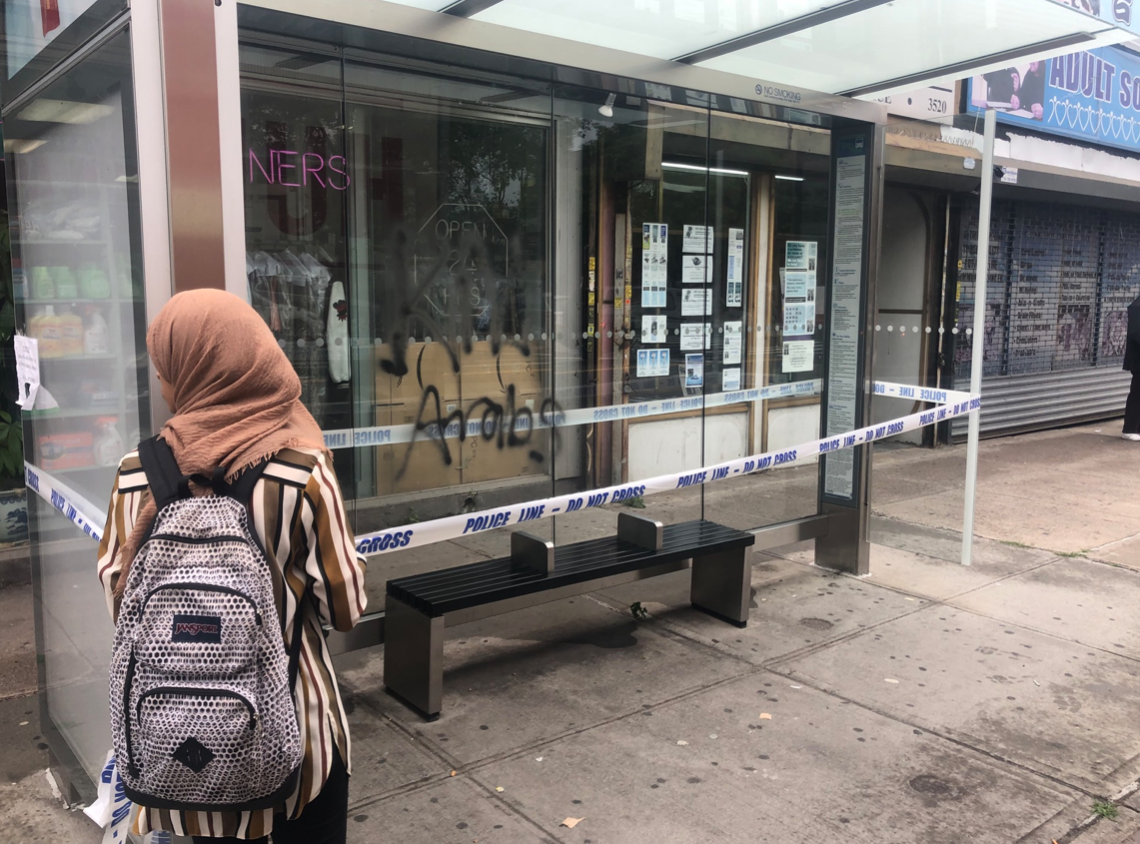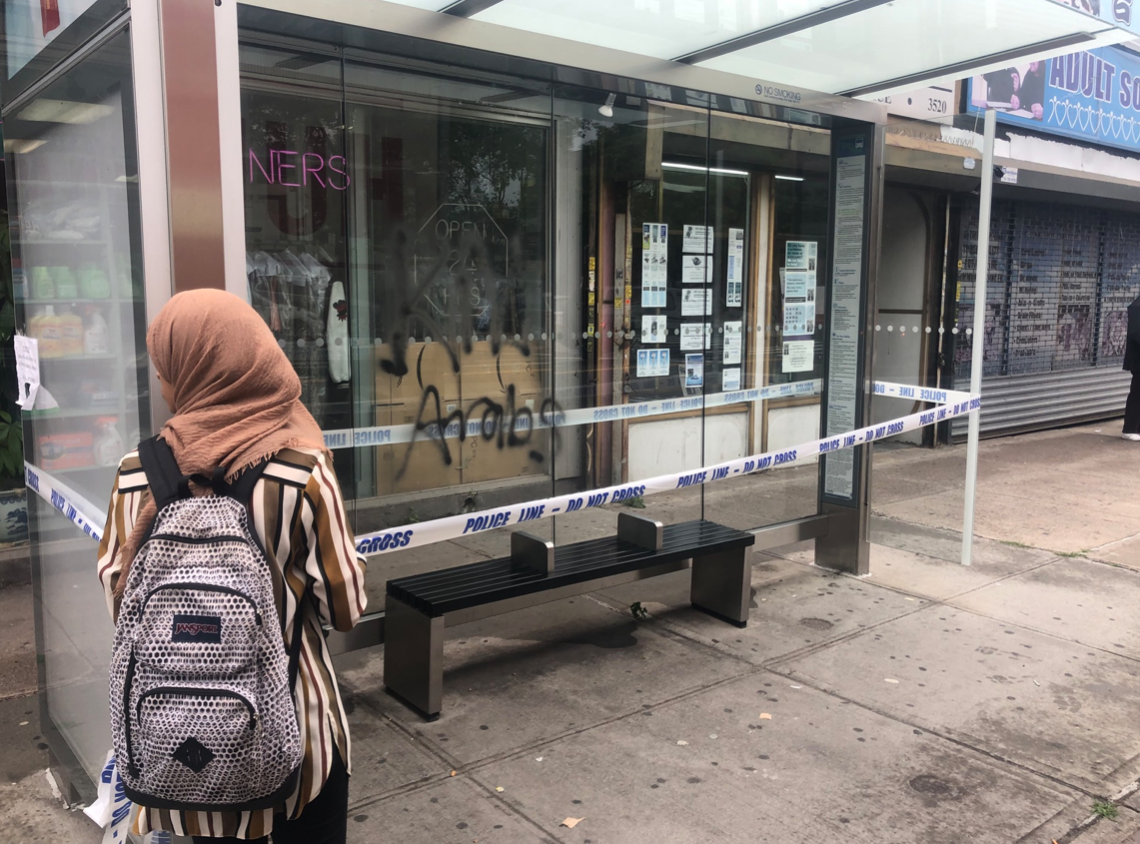 SHEEPSHEAD BAY – The words "Kill Arabs" were spray-painted on a B44 bus shelter on Avenue V and Nostrand Avenue this morning.
According to Council Member Chaim Deutsch's office, a constituent saw the hateful words as he was getting on the bus this morning and immediately reached out to the council member. The man did not alert the police. Deutsch then reached out to the 61 Precinct to report the Islamaphobic sentiment.
"I was just alerted to hateful graffiti spray-painted onto a bus shelter on Nostrand Avenue," Deutsch said. "We cannot and will not tolerate hate of any kind in New York City. I've reported this to the 61 Precinct and I'm grateful for their quick response."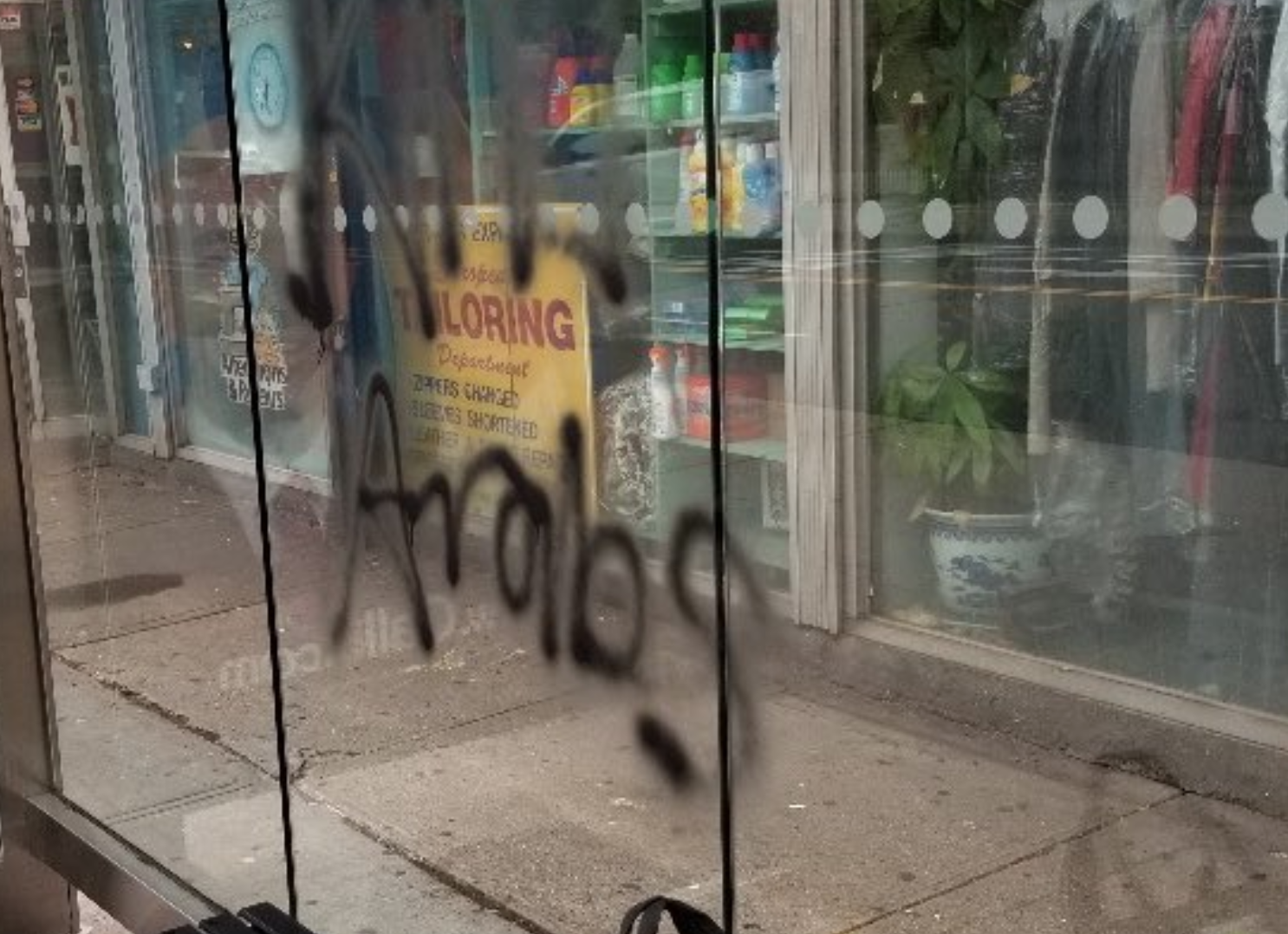 "This deplorable and cowardly act is antithetical to the values we hold as Brooklynites. We cherish tolerance and diversity and reject bigotry in all its forms," Borough President Eric Adams told Bklyner.
"Our Arab brothers and sisters contribute immensely to our borough, and I want to say loud and clear that we will always stand with them against attacks on their community. I hope the individual or individuals who committed this act are swiftly brought to justice, and I implore anyone who has any information about those responsible to contact the NYPD immediately," he added.
The MTA had this to say: "This hateful, violent rhetoric has no place in our city – we hope the NYPD is successful in finding the perpetrator and we're reaching out to our partners at NYCDOT to make sure the bus shelter is cleaned after police are done obtaining evidence."
We reached out to the NYPD who did not provide us with information. According to Deutsch's office, the incident is being investigated by the NYPD Hate Crimes Task Force. As of 4 p.m., the graffiti was not removed because of the investigation.
According to JCDecaux, the company in charge of maintenance of bus shelters, someone has been sent to clean the graffiti.
"We absolutely do not tolerate such heinous statements," JCDecaux told Bklyner. "It's outrageous and wrong."
The Department of Transportation echoed the statement and said, "There is no place for such hateful language on bus shelters or any street furniture."
Yemeni Activist Dr. Debbie Almontaser also condemned the hateful words.
"The rise of anti- Semitism and Islamophobia in our city is startling for Muslim and Jewish NYers. In all of our years, this has been the worst time historically due to the radio silence from the highest office in our country and the hateful propaganda generated by Fox News and the New York Post. Such reporting incites the rise of hate crimes and violence," she told Bklyner. "As a resident and leader in NYC, there is no room for such heinous acts! We will diligently work with law enforcement to investigate and prosecute as well as hold media outlets like the New York Post accountable."
Though crimes, in general, have been on the low this year, hate crimes have been on the rise. Hate crimes that were reported are up 64 percent compared to this time last year. Most of the hate crimes were targetting Jewish people. We reached out to Muslim Community Patrol and Services, a voluntary organization aimed to protect Muslims and neighbors in general, for a comment but have not heard back.
"As a born and raised proud Brooklynite, I am horrified that members of our community including children taking the bus had to see this hate," Brooklynite and Arab activist Linda Sarsour told Bklyner. "Brooklyn is better than this and it is why we must be vigilant every day not to normalize hate. Under Trump, this is becoming more frequent and it's concerning."