Fourth Annual Brooklyn Waterfront Epic Ride Coincides With Launch Of Jamaica Bay Guide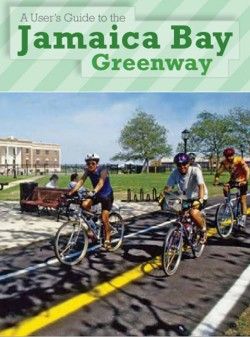 On Saturday, July 28, the RPA will co-sponsor the 4th annual Brooklyn Waterfront Epic Ride, a bicycle ride along the 14-mile Brooklyn Waterfront Greenway, and the 30-mile Jamaica Bay Greenway.
On the day of the ride, the RPA and the Jamaica Bay Greenway Coalition will issue the second edition of the Jamaica Bay User's Guide. This guide contains a pocket-size map that depicts the plans for the greenway, main attractions, bike routes and distances, and places where boats and kayaks can be found. You can view a copy of this guide here (pdf).
The Epic Ride is for riders of all ages and abilities. Riders will be given the option to begin at one of three locations: Newtown Creek, Owl's Head Park or Aviator Sports in Floyd Bennett Field. This will give riders the chance to bike for 40, 26, or 14 miles, respectively. The route will be marked, and all can move at their own pace.
A rest stop with refreshments will be provided at the Aviator Sports Center in Floyd Bennett Field. The ride will end at the Rockaway Beach Club food vendors, located on the Rockaway boardwalk at Beach 97th Street.
Not an experienced, serious bicycle rider? Can't handle a 40-, 26-, or 14-mile ride? Not to worry, the National Park Service will be leading a 2.5-mile narrated bike tour of Floyd Bennett Field's beautiful sites, landscape and rich history. This tour will begin at the Aviator Sports Epic Ride rest stop at 10 a.m and return at 12 p.m. This tour is free of charge.
This is a rain or shine event. Bikes will be available on site for rent.
For more information or to register for the ride, click here. For inquiries related to or to register for the Floyd Bennett Field Tour, call the National Park Service at (718) 338-3799.