Sheepshead Bay Footbridge Finally Reopens – Pedestrians, Rejoice!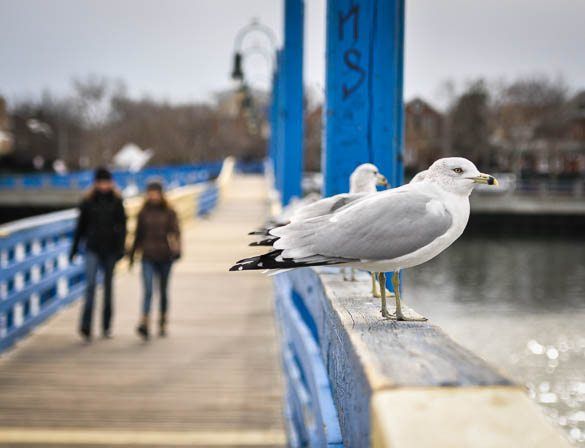 It's taken some serious beatings over the course of its 131-plus years of existence, most recently during the unprecedented swath of destruction unleashed by Superstorm Sandy, but after months of repairs by Department of Transportation contractors, Sheepshead Bay's Ocean Avenue footbridge has finally reopened.
After a series of email exchanges with the DOT inquiring into when the bridge would finally be open (we were initially told, weather permitting, by the end of December, which later turned into the end of January), we are pleased to say that the bridge has been reopened to pedestrian foot traffic as of this past Friday. So that's actually somewhat ahead of schedule.
Thrashed by a combination of violent waves during the storm's high tide, and the terrifying howl of 90-MPH winds, which sent untethered boats crashing wildly into the bridge's structure, passersby were shocked the next morning to see huge portions of blue wooden handrail either dangling into the water or completely washed away, one of the more high profile symbols of destruction that trounced our area.
So, to all you pedestrians out there, who hated having to take the long and tedious route, around Emmons to Shore Boulevard, to get to Manhattan Beach and vice versa, your prayers have finally been answered. However, you may wish to take a flashlight with you when you cross the bridge, since the DOT is still working on the lighting.