Details Of Condo Tower Coming To Former LICH Site Revealed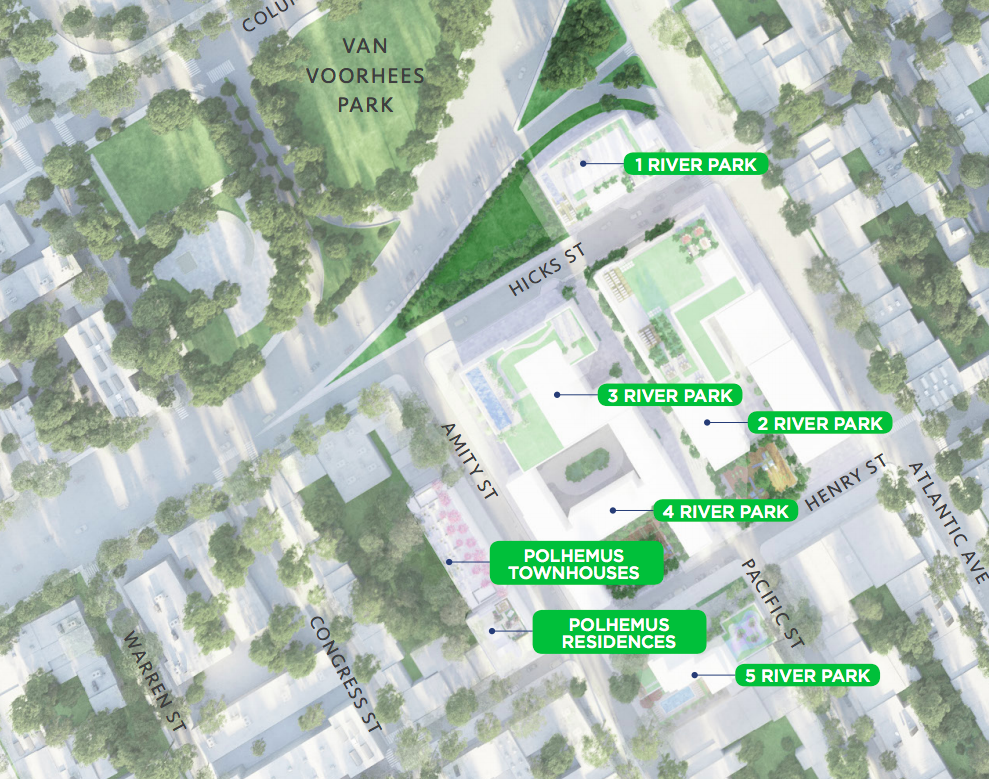 COBBLE HILL – Information was recently released regarding 5 River Park, the third tower being constructed as part of Fortis Property Group's major redevelopment of several former Long Island College Hospital (LICH) sites into luxury residences.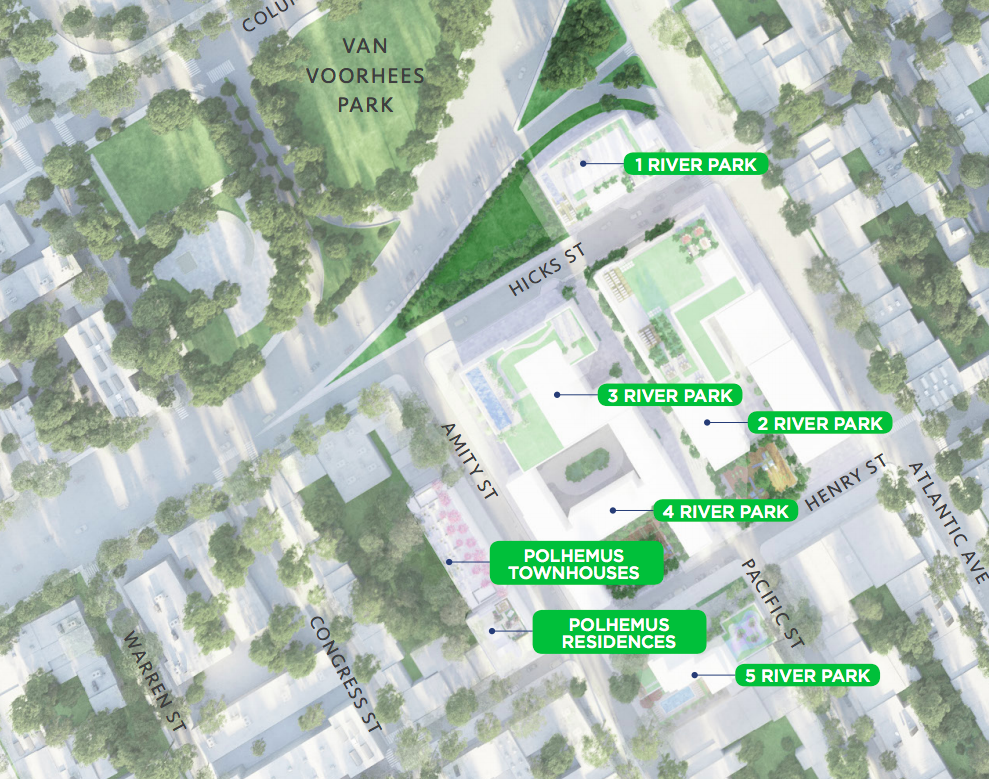 Located at 347 Henry Street (between Pacific & Amity Streets), the property will rise 15 stories tall and house 30 condo units spanning more than 90,000 square feet, New York YIMBY reports. The site has a rendering of the new building.
Designed by Romines Architecture, 5 River Park will be constructed using "traditional materials common to Cobble Hill, including brick, limestone and elaborate metalwork," according to riverparkbrooklyn.com, while the facade integrates "contemporary details."
Units will range from studios to four-bedrooms and amenities will include parking, a roof terrace, gym, lounge, play area, private balconies, and an outdoor swimming pool, according to YIMBY.
Fortis Property Group's River Park project also consists of two other condo towers. 1 River Park, located at 350 Hicks Street, offers 48 units ranging from studios to three-bedrooms spread across 15 floors. Designed by FXFOWLE, every unit will have water-views and access to the "exclusive Resident's Club" on the eighth floor, featuring a garden lounge with a dining terrace, a billiards lounge, a wellness suite, and an outdoor pool.
2 River Park, located at 339 Hicks Street, the tallest of the trio, will stand 440 feet tall, according to Curbed. Designed by Hill West Architects, the tower will consist of one-, two-, three-, and four-bedroom apartments with panoramic water views, as well as a full-floor penthouse with a private roof terrace.
Fortis Property Group is also currently converting the 1897 Polhemus Building, located on the corner of Henry & Amity Streets, into 17 condo units, as well as developing eight townhouses, the Polhemus Townhouses, next door, Curbed reports.
"Designed for Brooklyn," according to the development's website, "River Park is a dynamic new neighborhood, shaped by striking architecture, epic skyline to river views, coveted indoor and outdoor amenities, and expansive private and public parks."
The development firm purchased the former LICH properties in 2015 from SUNY Downstate for $240 million, according to The Real Deal. A plan to add affordable housing to the project was nixed after Fortis was not able to obtain a rezoning in the area that would have allowed for higher towers.
The project has been a point of contention in the neighborhood over the years, with locals and politicians protesting the closure of a community hospital for luxury residences as well as problems with construction crews.