Design Revealed for 27-Story Williamsburg Rental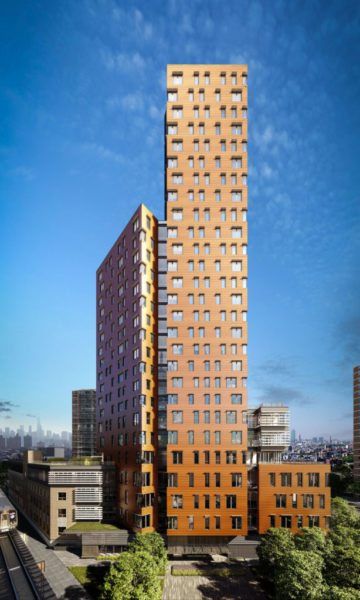 WILLIAMSBURG – Renderings were revealed this week for a new mixed-use rental high-rise to be constructed above the Lincoln Savings Bank in Williamsburg.
The 27-story building will have 218 units rental property, with office and retail space below, 6sqft reports. Topping out just shy of 300 ft, it will be one of the tallest buildings in the area.
Designed by Garrison Architects for developers Blesso Properties, the proposed building at 545 Broadway will have a striking facade of orange panels that evoke the brick construction of the iconic bank below.
The mock-ups indicate the interior of the bank will be transformed into a food hall, while a landscaped rooftop area will be added. Additionally, the plan calls for office/co-working space, a gym, yoga and wellness center, and a nightlife venue.
Just steps from the Broadway G and Lorimer Street JMZ, the new building will overlook the elevated tracks running down Broadway.
Blesso Properties has previously worked in Manhattan, claiming the price-per-square-foot sales record in Harlem with their 124 Loft and designed a number of townhouses in the city.
While the building is set to outstrip anything in the East Williamsburg and Bushwick areas by height, mega-developments are well underway in Bushwick.