Coney Island Thunderbolt Site For Sale… Again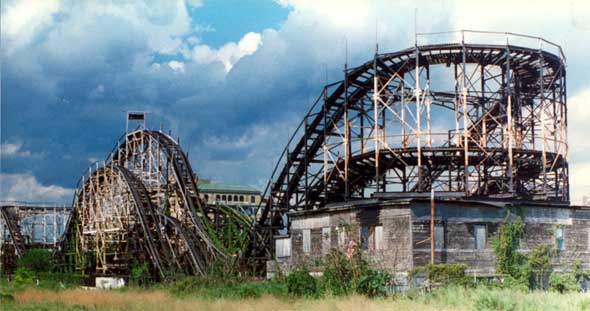 The Thunderbolt site, once home to the famed Coney Island roller coaster built in 1920, is now up for grabs.
Thunderbolt owner Horace Bullard has put it up for sale, following a failed attempt to cash in on the property last year.  The former roller coaster was torn down in 2000 after being decommissioned in 1982.
Real estate observers are saying 2011 could be the year Bullard gets what he wants. Last year's successful opening of Luna Park and an economic turnaround that has many banks and private equity firms looking for investments means that the property could fetch between $75 million and $90 million, according to the Journal.
Bullard, who made his money by launching the Kansas Fried Chicken chain, may also capitalize off of the 2009 rezoning of the property. Developers can now build up to 270 feet, or about 32 stories, on the northern portion of lot; the southern section is zoned exclusively for amusement park space.
City officials are already poking around, hoping to work with Bullard to expand the amusement area to a portion of his property. Bullard is also mulling over a land swap with the city that would put the amusement area in taxpayers' hands, ensuring its preservation, while Bullard would get a stretch of city-owned property on West 16th Street.
Bullard may also be selective in who he chooses to sell to. According to the article, he received plenty of interest in the property, but nothing he felt was a fit. And the chicken magnate seems to be a Coney Island booster, having bought swaths of property in the 1980s with the aim of resurrecting the amusement area. He spent years pushing a multi-million-dollar revitalization plan that the city ultimately passed on.