Come Hungry To Rakuzen's All You Can Eat Sushi In Dyker Heights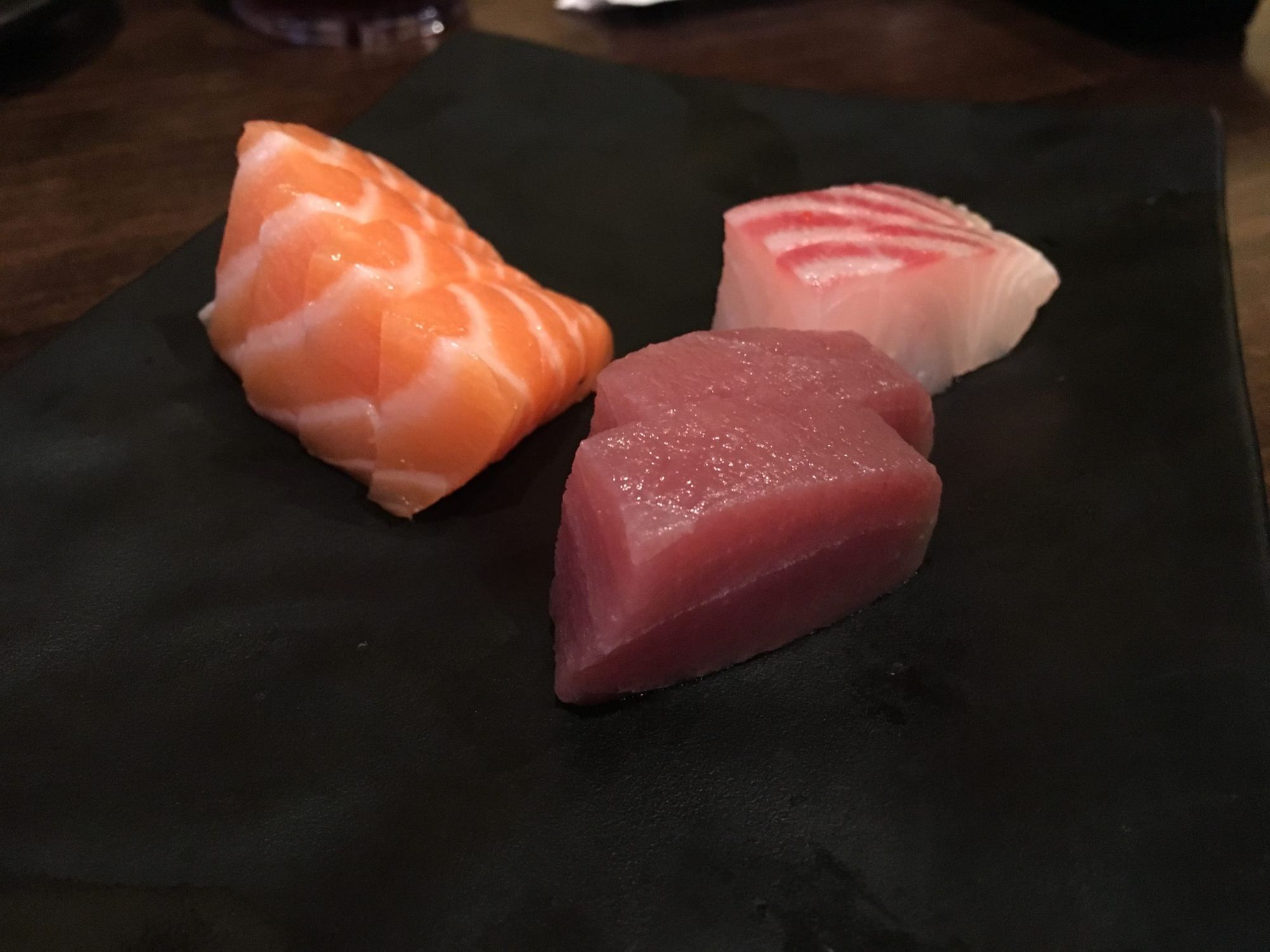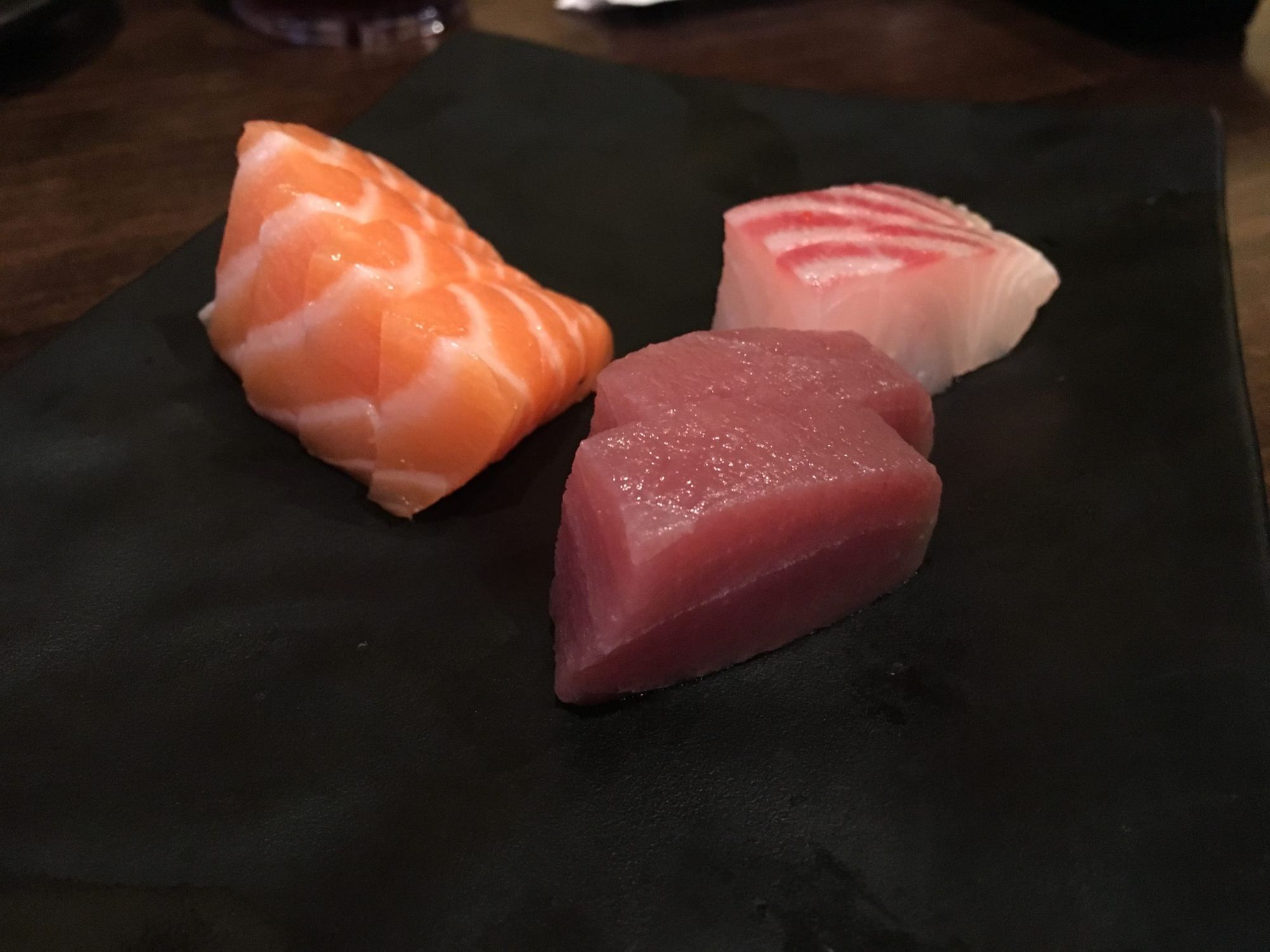 Though we were sad to see Rocco's Calamari's go last August, maybe it's not the small business death knell that many neighbors feared.
A few weeks ago, the home of former neighborhood Italian stalwart was replaced by the latest in a litany of all you can eat sushi palaces dotting southern Brooklyn — another small restaurant business with big dreams.
And at $21.99 for all-you-can-eat delicacies, it hits the sweet spot for cost and deliciousness.
So on Thursday night, I gathered a group of seven friends to tackle the 90-minute value challenge. And we did not leave hungry.
Although a bit overwhelming at first, we huddled around a small-type menu listing a mouthwatering array of appetizers, sushi al la carte, and special rolls. And after checking off a few items it hit me: I don't have to choose! I can order everything I've ever wanted.
And on the first round, that's exactly what we did — letting our eyes and appetites make decisions faster than our stomachs could stretch.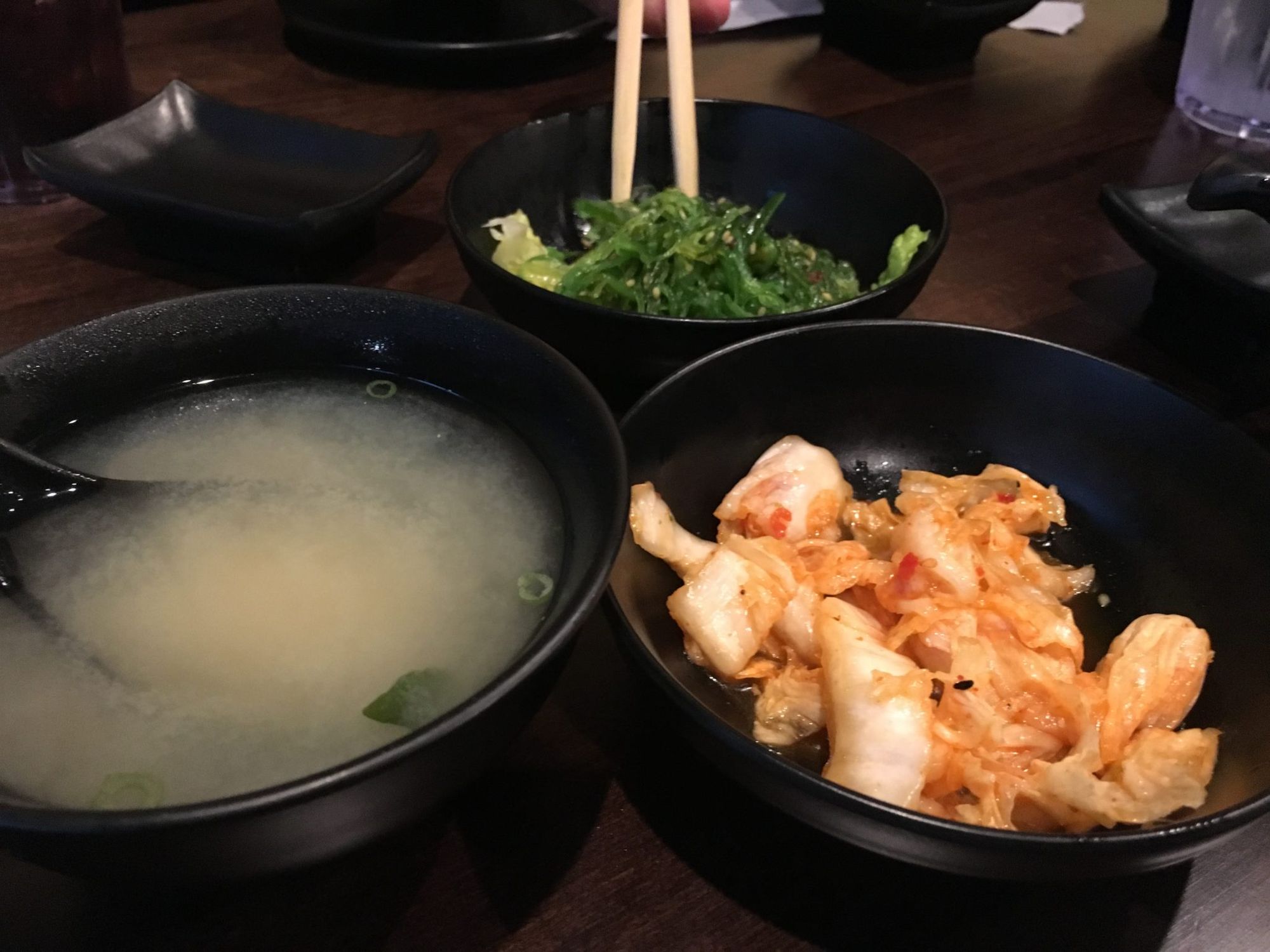 Moments after we'd clear one group of plates, another series rotated in like a comestible conveyor belt of savory morsels.
We dove in chopsticks-first with rounds of appetizers. Though the portions were tiny, they quickly added up, and we ticked off more items on the order sheet than our good sense advised and our waistbands could handle.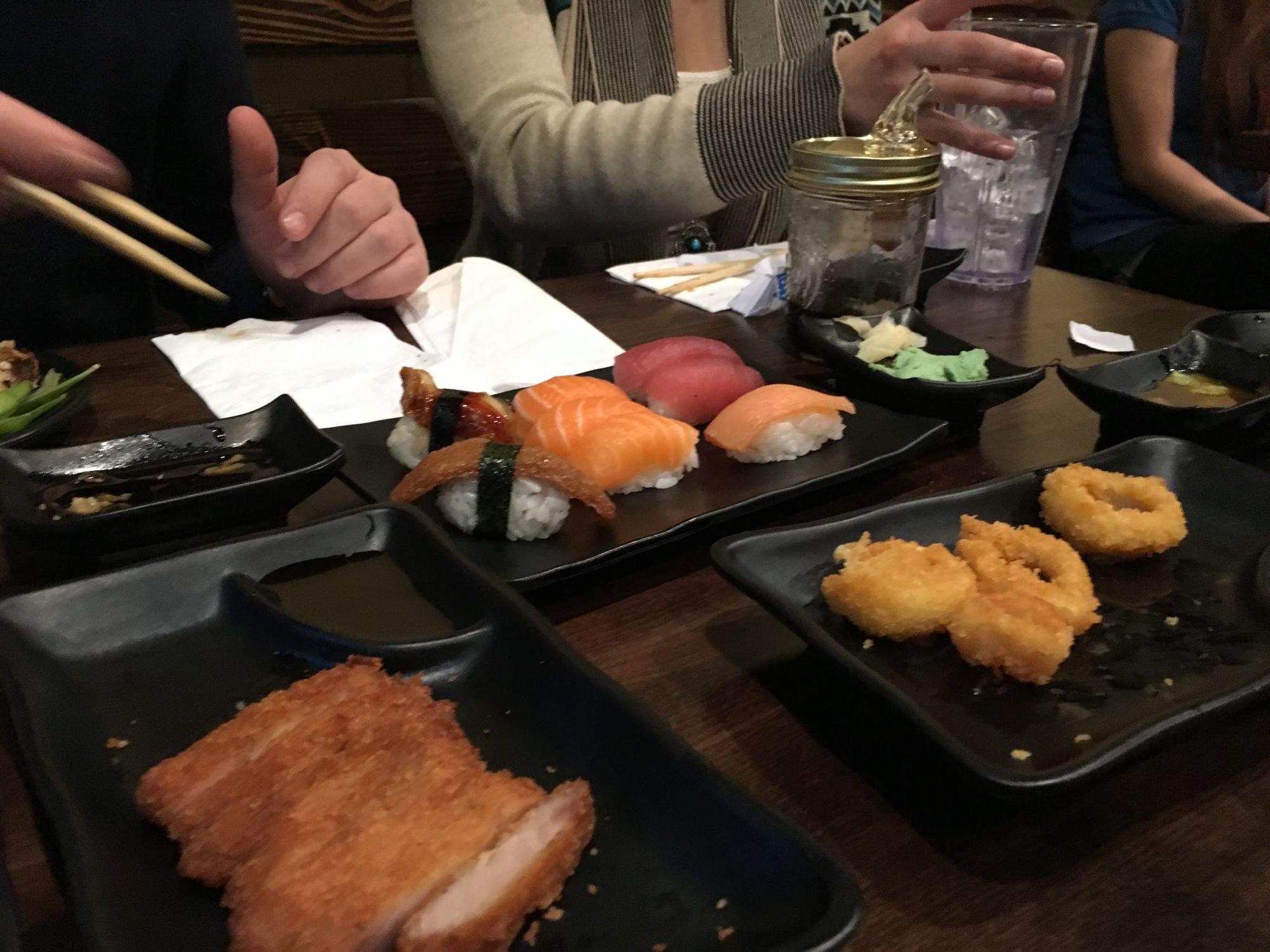 Must-orders include: Indonesian fried rice, pork gyoza, miso eggplant, fried calamari, (shall I go on? This is sounding awfully gluttonous already…) beef negamaki, kalbi steak, sauteed mixed vegetables, harumaki (spring rolls), tatsuta age (Japanese fried chicken), pork katsu, spicy tuna dumplings, and shumai (whew! see why you should bring a group?)
The salmon skin salad, a top 5 pick, came in a heaping pile of crispy, oily slices. For this plate, I was glad to only get one or two bites, since they were oozing with fats.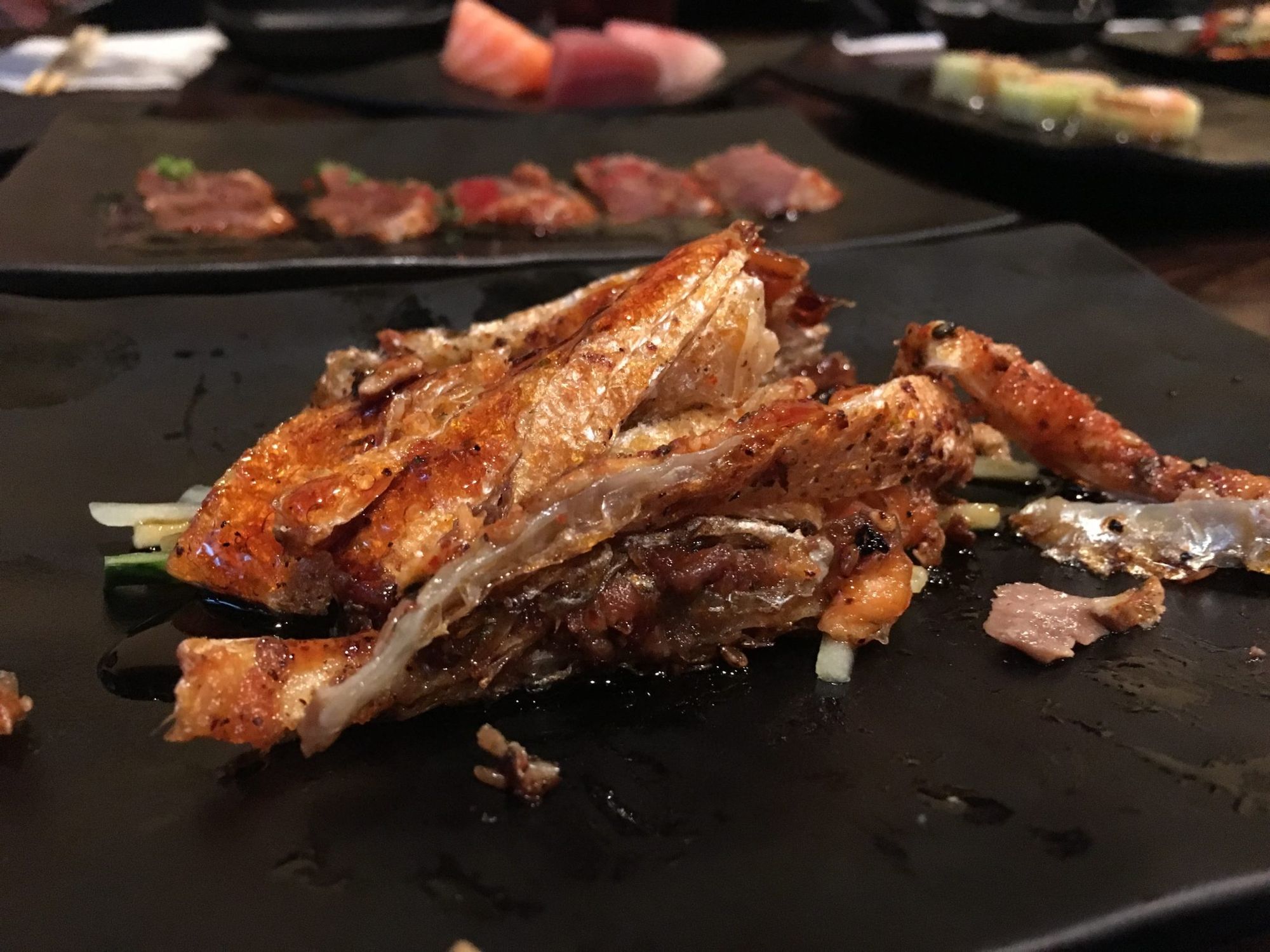 Another chart topper was the perfectly fried and juicy Tatsuta Age and thick rings of calamari (both come with a sweet dipping sauce).
The beef negamaki, which we ordered at least 4 plates worth, came with a savory beef wrapper stuffed with scallions and drizzled with a thick, sweet sauce.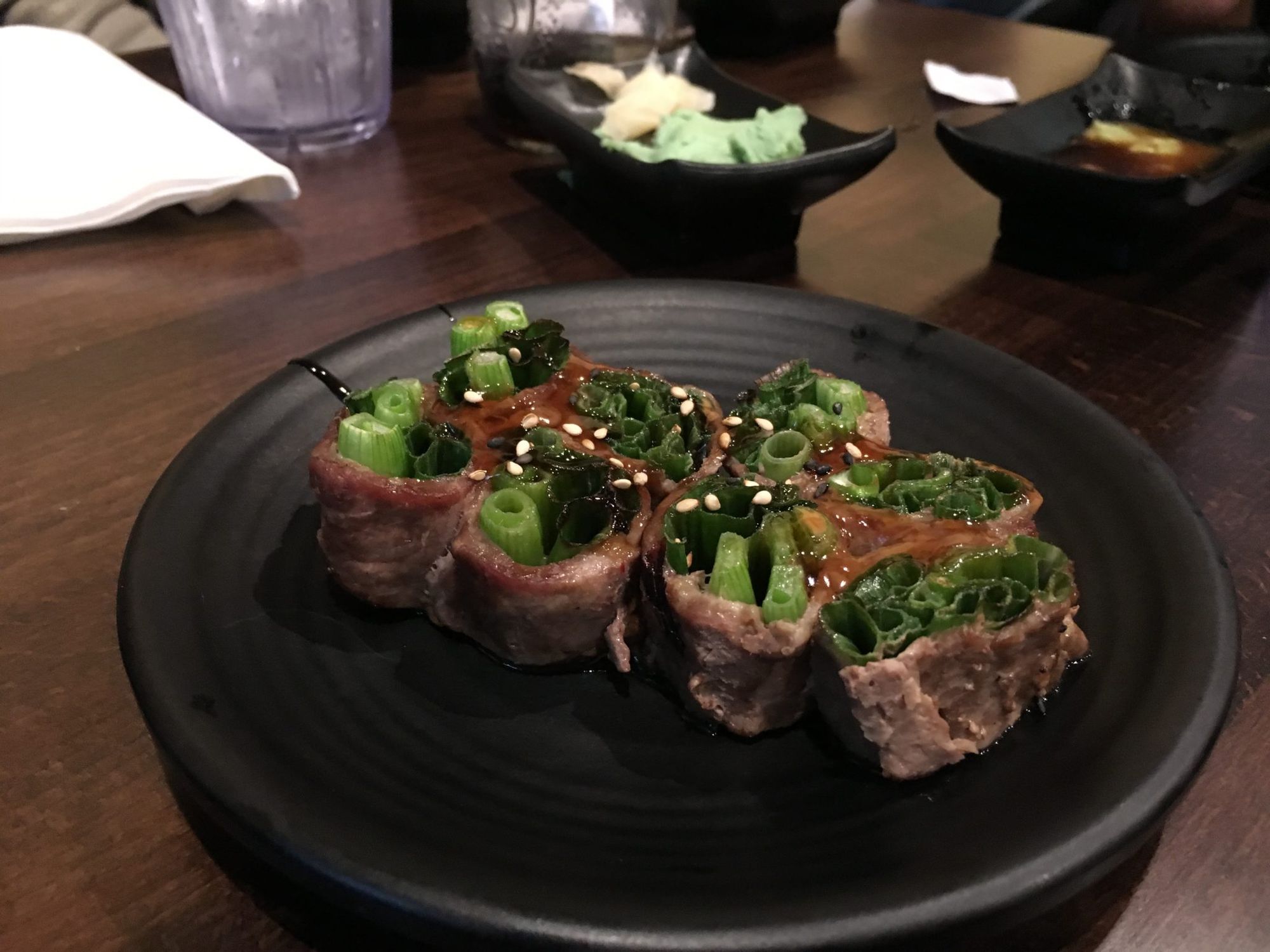 It's worth mentioning, however, that the sauces on every dish were rich and complementary — especially on the menu's premium items (limit one per diner), like the honey wasabi mayo pooled at the bottom of each bite-sized slice of Tuna Tataki.
After plates and plates of juicy, tangy, crunchy, and melt-in-your-mouth appetizers, the rolls felt almost like an afterthought.
But not to be outdone, we plowed our way through giant spider rolls, shrimp tempura rolls, dragon rolls, yellowtail jalapeno rolls, peanut avocado rolls, spicy girl rolls (still no idea which one that is!), spicy tuna, and more.
The wait staff were friendly and attentive, on-hand to fill up water glasses every time liquid dropped below the brim ("That's how they get you," one friend reminded me), and whisk away stacks of plates.
Previous Yelp reviewers claim that servers missed an item here and there, but if that happened during our meal, I'd never have known it. We were having a hard enough time finishing what did come out — by the last round we were stuffed and cheerleading each other to eat just one more bite.
And though posted signs threaten to charge for leftovers, we graciously weren't charged for the four pieces of sushi roll on the plate.
On a Thursday evening the spacious restaurant was bustling, but by 10pm it was roomy enough to linger over our meals — and post-meal comas — long after the designated seating times.
The entire evening was a crowd pleaser, a great environment for communal dinner where everyone tasted an incredible variety of dishes, ordered to their heart's desire, and unhooked belt buckles at the table.
Owner Kelly Lee, who also owns Daizen in Sunset Park, opened the restaurant three weeks ago because there wasn't enough space to meet the rising demand for all-you-can-eat cuisine.
Though the restaurant is still earning its stripes, there have been lines out the door every weekend, said Lee — so be sure to make a reservation.
Check out Rakuzen all you can eat sushi for a pared-down (but still huge) lunch the extended menu dinner, located at 6408 Fort Hamilton Parkway between 64th and 65th streets, open 7 days a week from 11:30am to 11pm. They also have a traditional, Japanese la carte menu if you're not an eating champion.