CB6 Approves Protected Bike Lane On Flatbush By Prospect Park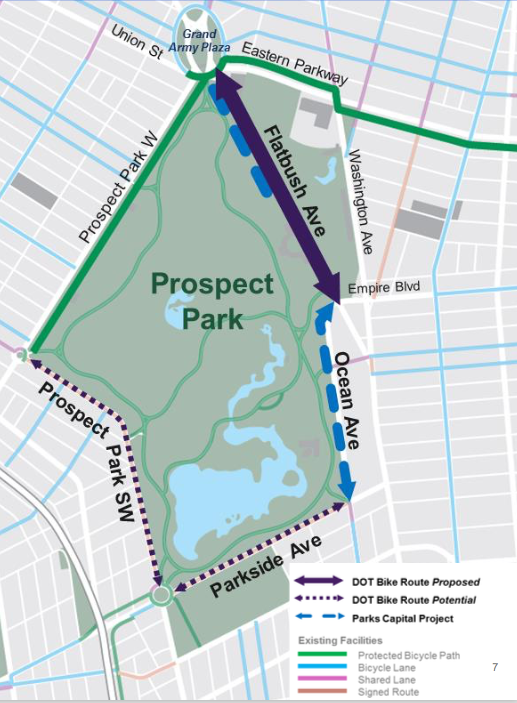 PROSPECT PARK – The Brooklyn Community Board 6 Transportation Committee unanimously approved NYC Department of Transportation's (DOT) proposal to install a protected bike lane on Flatbush Avenue between Grand Army Plaza and Empire Boulevard/Ocean Avenue.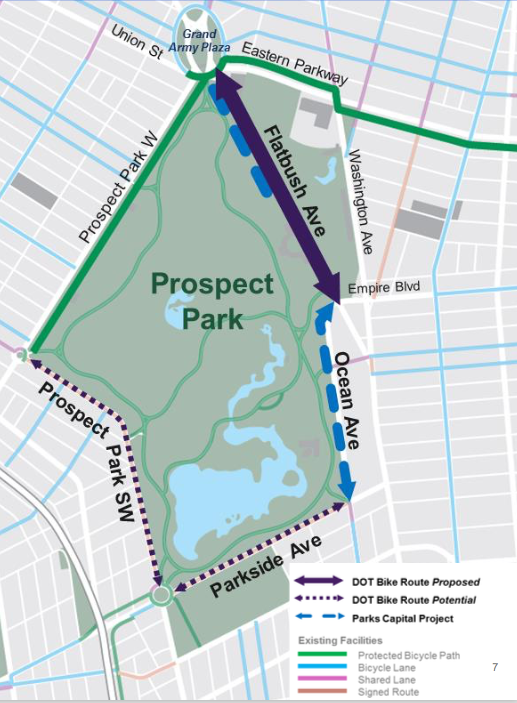 "Because this stretch of Flatbush falls in between [Prospect] Park and the Botanic Garden it's not really in any CB [community board]," explained DOT's Acacia Dupierre at Thursday's committee meeting. She noted that Flatbush Avenue is the only street bordering Prospect Park that has been designated a Vision Zero Priority Corridor, which means that the road "has a disproportionate number of injuries from traffic crashes."
From 2003 to 2019, there have been a total of 221 injuries on the stretch of Flatbush between Grand Army Plaza and Ocean Avenue, with nine severe injuries and one fatality, according to DOT. Brooklyn Borough President Eric Adams has called on DOT to implement traffic calming measures along the road.
"This is an equity issue," Dupierre added. "It's about making the street safer to travel along but [also] changing it, so it doesn't feel like a boundary for people on this side of the park to access."
Running alongside Prospect Park, the stretch is a "vital transportation corridor" she said, noting that the road accommodates heavy vehicular traffic daily and is one of the city's busiest bus routes, serving the B41 Local and Limited lines. More than 350 cyclists travel this stretch of Flatbush daily during the week, and more than 500 on weekends. Due to the attractions in the vicinity—Prospect Park, Prospect Park Zoo, Brooklyn Botanic Garden, Brooklyn Public Library—the area also has a significant amount of pedestrian traffic. "We're thinking of all these people using the street and how we can make it safe for everybody," Dupierre said.
The 60-foot-wide corridor currently features two travel lanes in each direction and parking on both sides. The stretch also serves as a bus and truck route where trucks are often parked illegally overnight.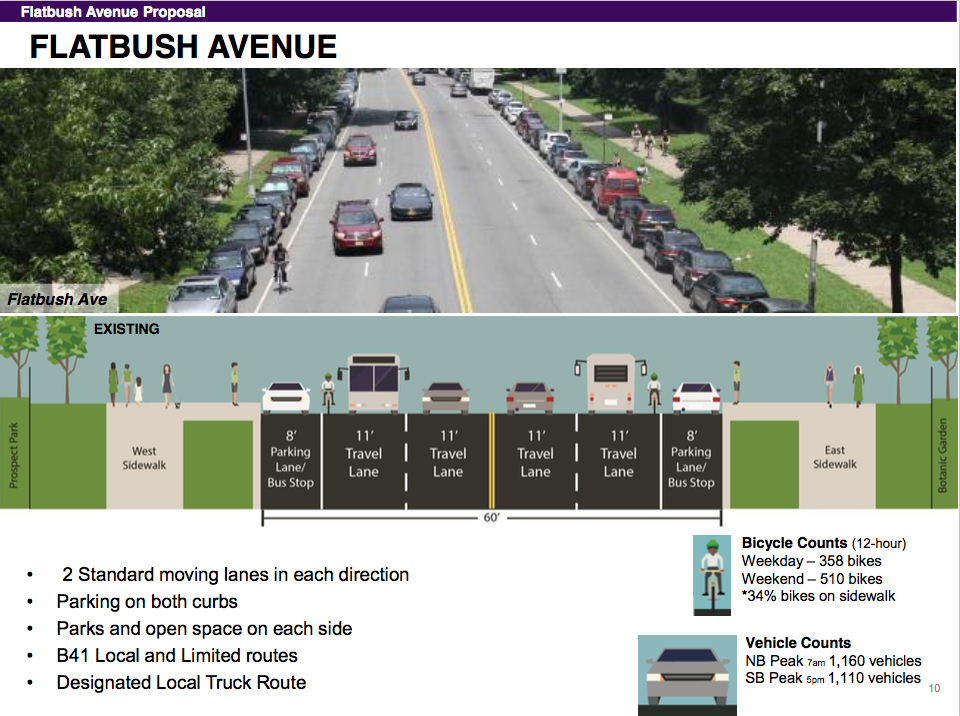 The proposed redesign includes installing two four-foot bike lanes together next to the curb on the west side of the street and bumping the parking over to create a floating parking lane that will protect bicyclists from moving traffic.
The two southbound bus stops will be built out on concrete islands that will align with the parking lane. Two southbound travel lanes will be maintained at all times.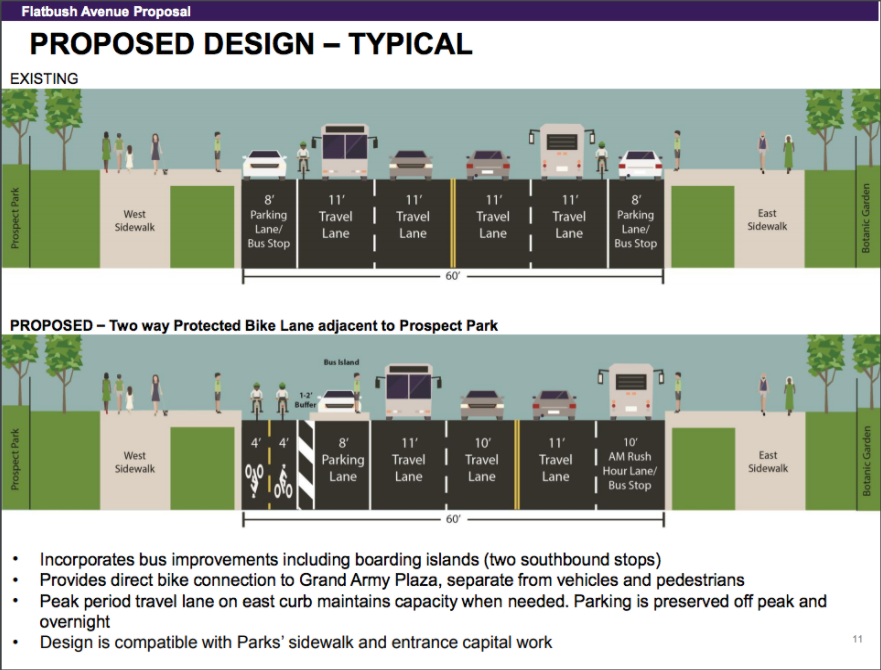 There will be no parking allowed on the east side of Flatbush during the morning peak from 7am to 10am to maintain the existing conditions of two northbound travel lanes. Parking will be allowed on the east side curb following the morning rush, reducing that side to one travel lane.
At Grand Army Plaza, since the road is wider, the three northbound travel lanes will be maintained, preserving the current vehicle capacity.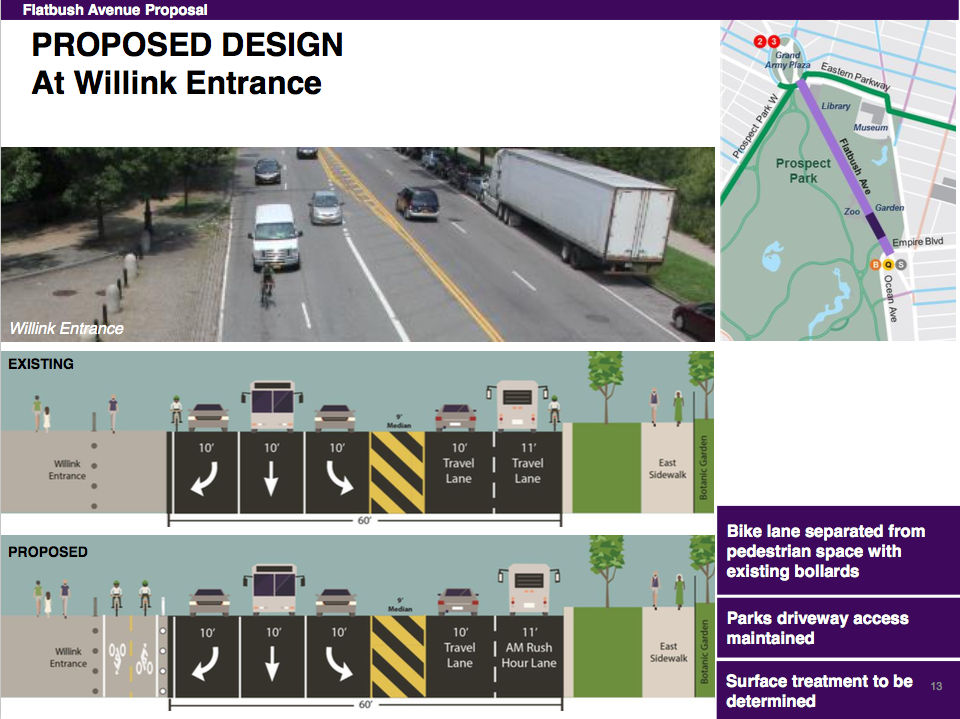 Since the curb line changes at Prospect Park's Willink Entrance, the bike lane will shift onto the driveway's cobblestones. DOT will work with the NYC Parks Department  and Landmarks Preservation Commission to improve the surface conditions as the cobblestones "are quite worn out," Dupierre said.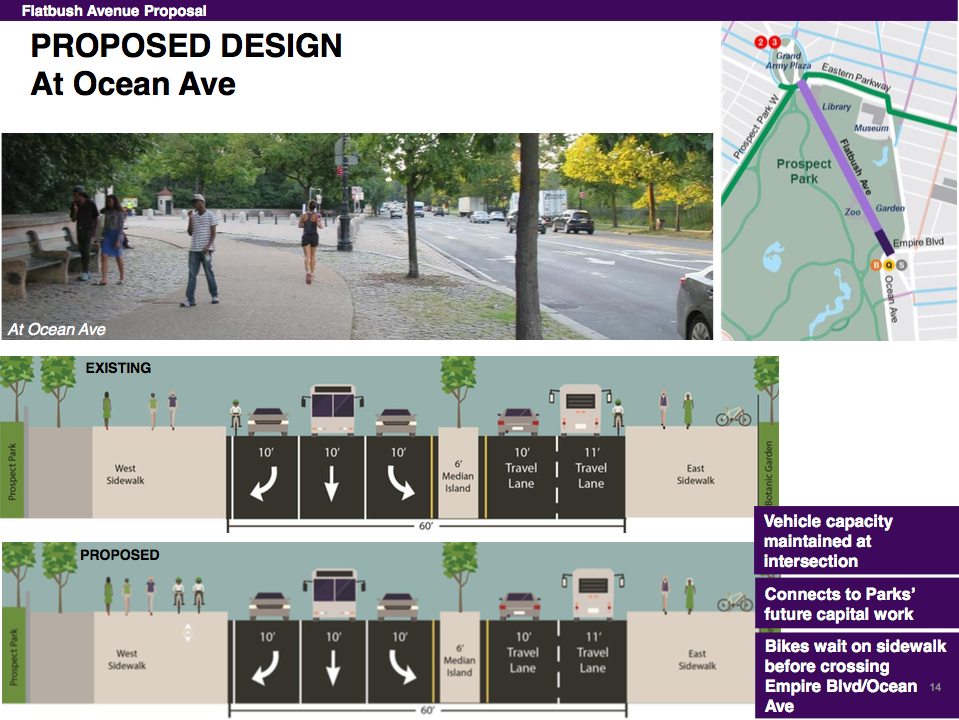 Down by Ocean Avenue, the three southbound travel lanes will be maintained and the existing median will remain. Bicyclists will go up onto the sidewalk and wait to cross with the light, Dupierre explained. DOT's bike lane will then segue into the Parks Department's project along Ocean Avenue to improve the sidewalk. DOT's plan will also align with Prospect Park Alliance's current work to upgrade the sidewalk along Flatbush Avenue.
"We've learned that designs that include protected bike lanes are very successful in improving safety along corridors like this," Dupierre noted. "In places where we've installed this kind of design throughout the city, we've seen a 15% drop in crashes." Referencing the Prospect Park West protected bike lane as an example of a "very successful project," she said after its installation in 2010, weekday cycling tripled after one year and crashes were reduced by 16%.
From 2011 to 2016, the number of Brooklyn residents bicycling to work has increased 65%, Dupierre noted, and DOT has responded by installing 65 miles of bike lanes in the borough over the past three years. With a majority of those bike paths focused in the northern part of the borough, "Prospect Park is the beginning of a hub to connect that network into the rest of Brooklyn," she said.
Following the presentation, some CB6 Transportation Committee members questioned how DOT would ensure bicyclists follow traffic rules on the new paths. Dupierre told them that traffic lights would be installed in the bicycle lanes along with markings to direct cyclists to stop at the crosswalks. She added that DOT can also install rumble strips—built-up markings—in the bike lanes to encourage bicyclists to slow down as they approach crossings.
While the project does not fall into a specific community district, CB6 Transportation Committee Co-Chair Eric McClure said he would "entertain a motion based on the fact that [the bike path] doesn't fall on another community board and we wouldn't be stepping on anybody's toes. I think this would certainly serve residents of CB6."
The committee voted unanimously in favor of the motion to recommend that DOT proceed with the project as soon as possible since the bike lane would be "a borough-wide improvement and benefit."
Dupierre said the agency hopes to start work on the protected bike lane later this year.
"It's clear from the eight years that the Prospect Park West bike path has been in place that it's an excellent design and it encourages cycling," said McClure following the meeting. "It encourages better behavior and safety for everybody."
"I think that would be the same case on Flatbush Avenue. There are some great cultural and natural destinations there for people to access and this would make it easier for them to do so by bicycle [and] on foot. I'm happy that we endorsed the project and I hope it gets built out as soon as possible."
Click here to see DOT's full presentation.