Bread & Joe Opens, Offering Chinese Baked Goods And 4th Avenue Caffeine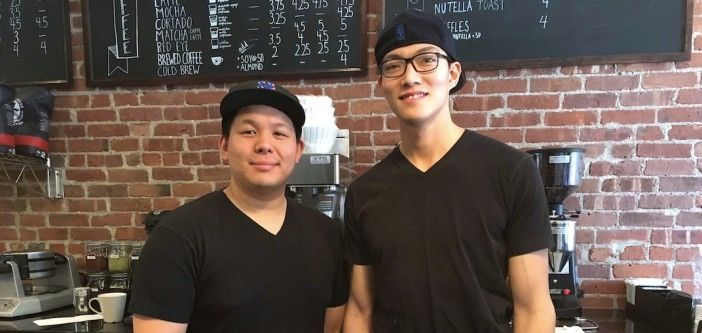 "I live around the corner, and I've been waiting for you to open," says Jennifer, a South Slope resident.
The new coffee and pastry spot Bread & Joe (618 4th Avenue, between 17th and 18th Streets) rolled up its gate yesterday, and this morning's abundant sunshine is far more welcome than a red carpet.
The space was previously occupied by Sal's Discount 99-Cent Plus. After roughly six months of building and fine-tuning, this new cafe is ready to welcome in the neighborhood.
For those of you who may live a long walk away from Bread & Joe, you're going to get "a little bit of Chinatown — where I grew up," says co-owner James Li. While this place offers coffees, teas, and many other pastries that can be found in cafes in the area, you'll get a selection of Chinese baked goods that may keep you coming back.
"We're close to the train station [Prospect Avenue], so we're hoping people will stop by on their way," says co-owner Bryant Yung.
Some of the items we've already sampled are fantastic. The Red Bean Paste Bun ($1.50) is hearty and not overly sweet. The pastry-to-filling ratio is perfect (this is why learning math in school is so important).
Should you want something a bit sweeter, the Pineapple Bun has the sweet topping you're looking for. Li tells us that the pastry is called "pineapple" because of the shape and color, but is sugared confection.
The Matcha-Glazed Donut may very well become a local favorite (you heard it here). The donuts are baked as opposed to fried, and they are homemade. Matcha lovers will be delighted.
Bread & Joe gets their "joe" from La Colombe Coffee Roasters. On this Spring-is-in-the-air morning, their iced coffee is satisfying.
Both owners live in Southern Brooklyn, so the cafe is a borough affair.
"This is my new office," says Jennifer, a neighbor who was packing up her laptop. "I'll be back this afternoon."
Ok, that's it for now. There's a crumb of a matcha-glazed donut on my keyboard that deserves my attention. Sorry, you need to get your own.
The Rundown: Bread & Joe
Where: 618 4th Avenue (between 17th and 18th Streets)
Phone: 347-223-4865
Hours: Mondays-Saturdays, 7am-6:30pm. Closed Sundays.
Remote Workers: WiFi is available and free.
Bites Available: Coffees, pastries, teas — and their Chinese baked goods are highly recommended.