Bite Of The Week: Dumplings & Things

One of our favorite, most straightforward restaurant names in the neighborhood has to be Dumplings & Things. On a 5th Avenue block with bars and one of many sushi restaurants in the area, going into it you know exactly what they've got: dumplings and some other things.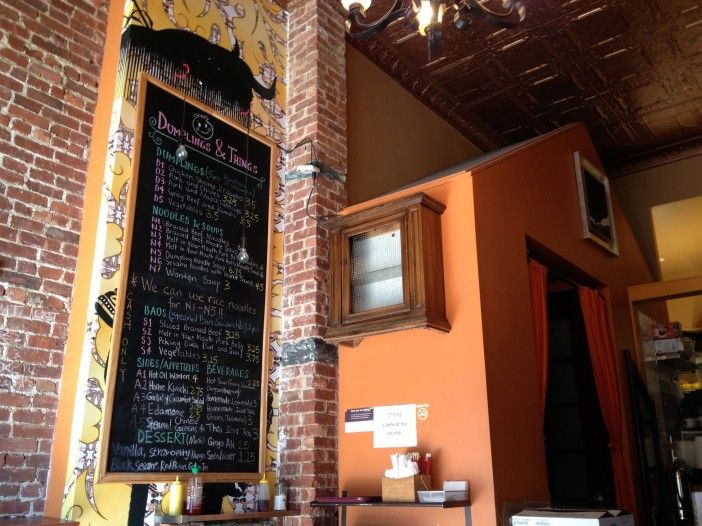 Because they stick to just a few items on their small menu, the space tends to be a great spot for a quick bite — not a lot of time lost deciding what you want, and they serve it up fast. The few tables and stools are communal, and the turnover for a seat is pretty quick, though if you can't get a spot and the weather is nice, you can always take your order to go and sit at the park just up the street, or enjoy it with a beer next door.

Another benefit of sticking to a small number of dishes is that you can do them well, and these guys make a pretty tasty namesake dumpling. We like how crunchy the fried version is, though you can also get them steamed, and you've got a choice between five varieties, from veggie to spicy beef and kimchi. Compared to other local spots, it's a pretty good deal — an order of five dumplings is between $3.25-$3.50 — and these ones actually taste like their ingredients, rather than just murky meat and gummy dough.

If you're looking to try something from the "things" side of the menu, their soups are good, but on a hot day like today you'll probably enjoy the baos more. The steamed bun sandwiches are some of the best you can find in the neighborhood, and they're pretty addictive. We love the pork belly ($3.25 for two), packed with crisp vegetables and topped with chopped peanuts, though they've also got braised beef, veggie, and weekends-only peking duck versions ($3.25-$3.75).

If you're looking for mind-blowing, authentic Chinese bites, you'll probably want to go elsewhere, but if you're in the mood for some inexpensive, quick, and tasty versions of dumplings and things, you really can't go wrong here.
Dumplings & Things is located at 375 5th Avenue, between 5th and 6th Streets; 718-768-2200 for takeout only, no delivery. Cash only. Hours are Sunday-Thursday 11am-10pm, and Friday-Saturday 11am-11pm.