Bernie's Back In Brooklyn; Speaks at Brooklyn College Commencement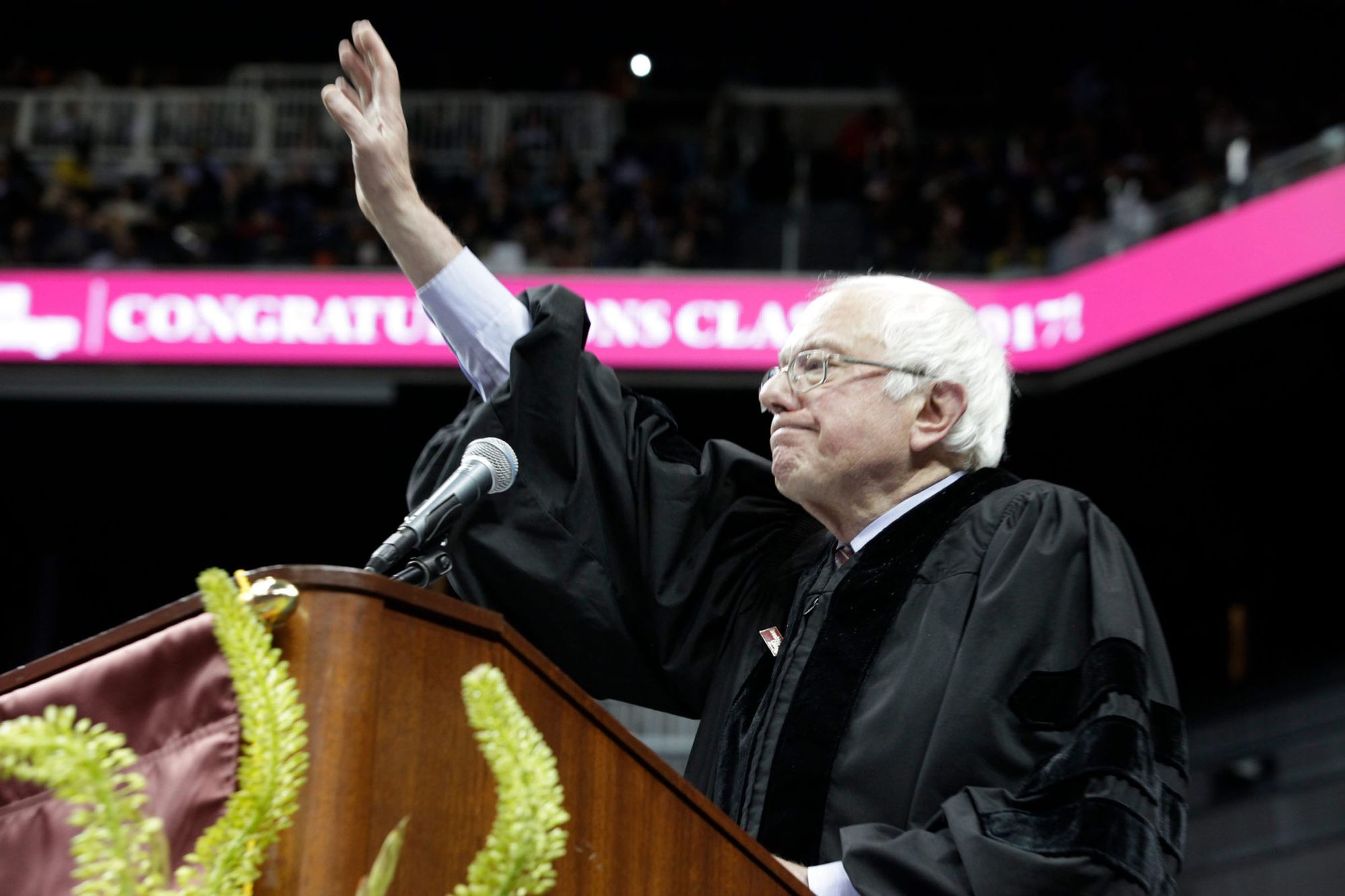 He's baaack and as political as ever!
Bernie Sanders, a man who grew up in Flatbush and is widely known for his 2016 presidential campaign, was the keynote speaker at Brooklyn College's 92nd commencement which took place today on May 30. From the moment he entered the stadium, Sanders was met with endless cheers from graduates, faculty, family and friends.
The commencement was filled with graduates who came from 101 countries, spoke 61 languages, and 38 of them were veterans and service members.
Sanders received an Honorary Doctor of Humane Letters degree, as he had attended Brooklyn College for a year in 1959, "a year which had a major impact on my life," Sanders said as he addressed the graduates.
"My childhood in Brooklyn was shaped by two profound realities. First, my mom, dad and older brother Larry, who graduated from Brooklyn College, lived in a three and a half room rent-controlled apartment," Sanders said. "As with many families who don't have a lot of money, financial pressures caused friction and tension within our household. From those experiences I have never forgotten that there are millions of people throughout this country who struggle to put food on the table, pay the electric bill, try to save for their kids' education or for retirement; people who face painful and stress-filled decisions every single day."
Brooklyn College President Michelle Anderson introduced Sanders by reading aloud a letter he wrote to the campus newspaper, The Kingsman, when he was a student at the college. In his letter titled, "Grass Roots" he spoke about allowing students to sit and relax on the green lawn as he "was not quite certain that the sight of students stretched out and reading on the grass might not add a type of beauty of the school which is more important than pretty grass," his letter read.
As her first year as president, Anderson invited Sanders by writing him a letter and telling him to "come home."
"He's been out on the national stage, and I thought it was a good opportunity to say this is the time to come home to Brooklyn College, and show us what you learned," Anderson said at a recent interview with us.
"You know, and I know that these are tough times for our country," Sanders said. "We must never allow demagogues to divide us up by race, by religion, by national origin, by gender or sexual orientation; Black, white, Latino, Asian American, Native American, Christian, Jew, Muslim and every religion, straight or gay, male or female we must stand together. This country belongs to all of us."
Like during his campaign, he went over his famous percentages, "T
he top one-tenth of one percent now owns almost as much wealth as the bottom 90%," he said with much passion.
"You do not have the moral right to turn your back on saving this planet and saving future generations," he urged the country. "Think big, not small, and help us create the nation that we all know we can become."
Sanders was met with massive applause and cheers throughout his entire speech, as continued to speak about health care, civil rights, and mass incarceration.
When we asked him how he felt about the commencement, he replied, "Beautiful graduation, beautiful graduating class."
Also taking part at the commencement was NY senator Charles (Chuck) Shumer, City Councilman Juamaane Williams, Public Advocate Letitia James and Brooklyn Borough President Eric Adams, who said, "There are two types of Americans: those who live in Brooklyn and those who wish they could."
Families and graduates were excited for Sanders, as one woman was even wearing her "Feel The Bern" clip.
"I am so excited we were the first class to graduate from Barclays and to have Bernie Sanders speak," said graduate Natasha Bernard. "I don't think I can describe the feeling. It's overwhelming."