At Protest Against Hi-Tek Car Wash, Former Workers Threaten Boycott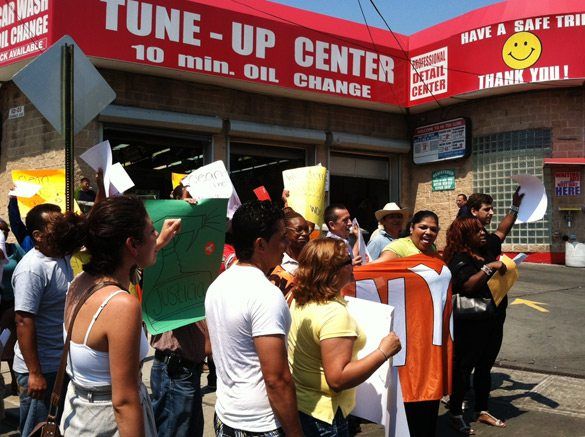 Irate workers rallied in front of Hi-Tek Car Wash in Brighton Beach on Thursday afternoon, claiming management cut their  work hours and reduced pay after employees, former employees, and union activists began targeting the local business.
Led by Alexandra Garcia of New York Communities for Change, workers and former workers of Hi-Tek, alongside other car wash and supermarket employees, approached the front of the 2981 Coney Island Avenue business screaming and chanting in Spanish. They addressed the owner of Hi-Tek, Gary Pinkus, and demanded that he listen and institute "justice now." Many were carrying signs with phrases such as "'Clean up' the car wash industry," and "Up with wages."
As the demonstration progressed, one worker at Hi-Tek, who was in the process of drying a customer's car, stopped working and began to shout, as he joined the protest. Yet, after a moment, he went back to his work.
"They're stealing people's money," said Noel, a former worker at Hi-Tek. "He only paid me five dollars an hour, not seven."
On June 26, Hi-Tek was sued by 17 of its workers, who claimed they were not being paid minimum wage or properly compensated for overtime. A second lawsuit against Hi-Tek was filed on July 17. After the suits were filed, the hours of many workers were cut, they said, which thereby cut their weekly pay. According to New York Communities for Change, this was Hi-Tek's way of retaliating against the suits filed.
Pablo Alexander, who began to work for Hi-Tek in 2008, expressed his frustration regarding cuts made to his hours. He said that when he began working, he worked many hours, yet, recently, he has not been able to work for more than 40 hours a week at five dollars an hour.
"With only 40 hours a week at that wage, we can't afford anything," Alexander said. "We cannot pay our bills on time. We cannot even afford rent."
Pinkus declined to comment, referring Sheepshead Bites to his son. The son did not respond to comment after several requests, but previously left an anonymous representative of Hi-Tek left the following comment on this site, explaining Hi-Tek's side of the story [Corrected]:
I can tell you that the workers are in fact compensated appropriately and fairly – even on the slower days, their compensation with tips exceeds the minimum required compensation in NYC. Not only that, but proper
This is an issue of unionization of an industry, either unionize or prepare to face media scrutiny and possible0 legal actions bestowed upon you. The problem is that when you attempt to unionize such a small industry (let's face it, you pay ~$10 per car wash, this isn't a multi-billion dollar industry), you are fragmenting the economy and more harm is done than good.
If every carwash were to start paying minimum wage + tips, then there would be less of a workforce and more unemployed staff, not sure what these union promoters are thinking about.
This is a movement to crack down and regulate all NYC carwashes. Hi-Tek is grateful and proud to serve its community and customers and we will continue to provide the best service. We are also observant of our local community views and are happy to hear what our neighbors have to say.
While the crowd protested outside, New York Communities for Change sent a delegation inside to deliver a letter to Pinkus. The letter demanded that he cease cutting employees hours in response to the workers' activism. The letter said that if workers' lost hours are not restored by August 14, they will escalate to a boycott.
As the delegation approached Pinkus with this letter, he refused to accept it and demanded that they step outside.
"Step out or I'm calling the police," Pinkus threatened.
After this failed attempt to speak to Pinkus, the delegation re-joined the workers and continued to rally outside and speak of their experiences at Hi-Tek.
"We're only asking that they give them minimum wage," said a representative of New York Communities for Change. "We're only asking for whats fair."
CORRECTION (8/14/2012 at 1:38 p.m.): Hi-Tek has informed us that the comment left on our site did not actually come from Gary Pinkus' son, but rather from an "anonymous representative" of the car wash.