"Kill All Jews Now" "Israel" & "Mario Cuomo" Written On Mailbox In Bay Ridge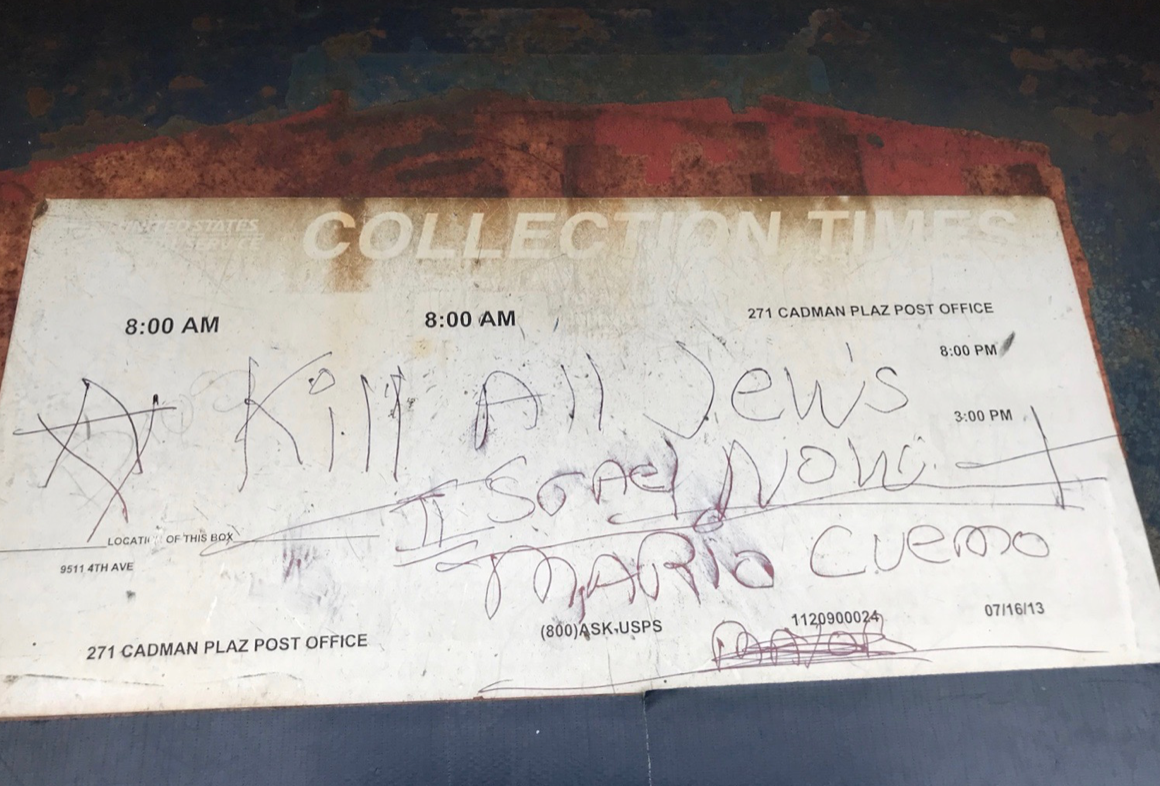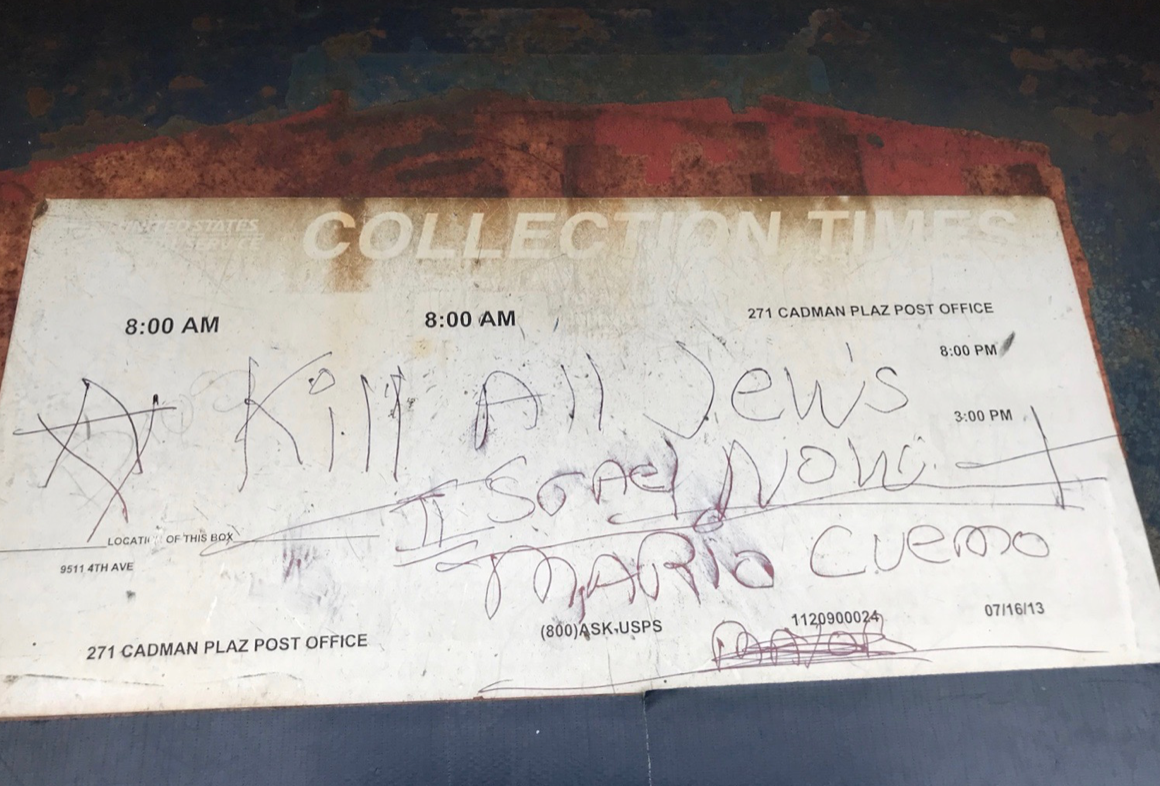 UPDATE: The mailbox has been replaced with a brand new one.
BAY RIDGE – Anti-Semitic graffiti was found on a mailbox in Bay Ridge today. Three phrases were written: "Kill all Jews," "Israel," and "Mario Cuomo." The word "mayor" was written and crossed out.
The USPS mailbox where the words were written is located at 95th Street and Fourth Avenue. The incident is being investigated as a hate crime. No arrests have been made and the graffiti has not yet been removed. According to the NYPD, the words were written in black pen and were reported by a person walking by.
This hateful act falls in line with recent statistics that state that anti-Semitic crimes have been on the rise. According to NYPD statistics, there were 58 reported hate crimes directed at Jews that year, while 2019 as of the end of May has seen roughly double that amount—110 anti-semitic hate crimes. Hate crimes overall were up 64 percent and 60 percent of the total hate crimes were against Jewish people, NYPD data shows.
Council Member Chaim Deutsch, who is also the chair of the NYC Jewish Caucus, said hearing about this is horrible, but not surprising.
"Another day, another hate crime in New York City. With more than 180 hate crimes thus far this year, and more than half of those anti-Semitic, it's truly become an epidemic of hate," he said.
He noted that the announcement of a new Office of Hate Crime Prevention is the NYC Council's "answer to this crisis."
"I, along with my colleagues Councilmembers Mark Levine and Donovan Richards, sponsored the bill to create this office because we believe that more education and better outreach – particularly to young people – can combat this hateful rhetoric with knowledge and compassion," he said.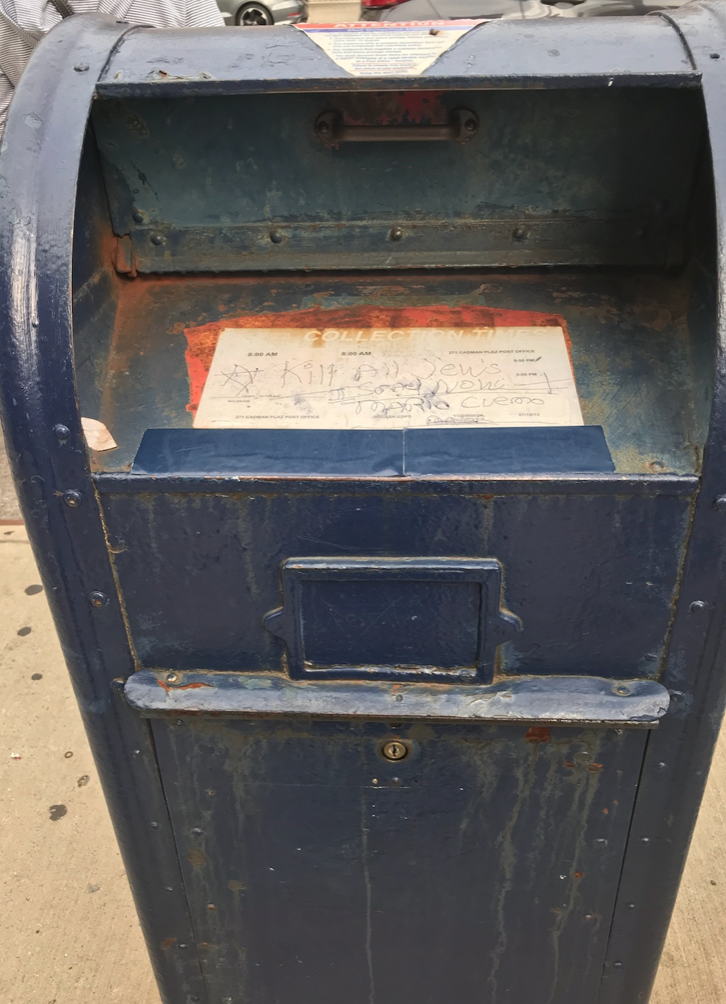 Assemblywoman Nicole Malliotakis said she was horrified and saddened to see such an act take place just a few blocks outside her district.
"These writings called for the killing of all Jewish people and must be condemned and denounced in the strongest terms," she said. "It is shameful that on the eve of the anniversary of D-Day, where thousands of American heroes gave their lives to eliminate this kind of hatred, this ideology rears its ugly head in our communities."
"I stand side by side with the Jewish community, and the Bay Ridge community, as we fight to end this hatred, bigotry, and racism once and for all," she continued. "I have spoken to the NYPD Hate Crime Task Force, have full confidence that our police department will identify and charge the perpetrator and I will continue to follow closely as more details emerge from the ongoing investigation."
Assemblymember Mathylde Frontus had this to say: "It's unfortunate that anti-Semitic vandalism and hate crimes have been on the rise in the borough of Brooklyn. I have already begun reaching out to religious leaders across my district and plan to bring us together in the near future to discuss how we can respond as a community to these atrocities."
Council Member Justin Brannan, whose district the hateful act took place in, thanked the 68th Precinct for their "quick action and immediately turning this over to the NYPD Hate Crime Task Force."
"We all have a responsibility to call out hate in whatever form it takes – because where anti- Semitism exists and persists, so does xenophobia, Islamophobia, and homophobia," Brannan said. "Hate thrives when we are divided and silence begets complicity. We cannot be afraid to say hate is not welcome here."