Agreement Signed To Bring "Friendship Archway" To Sunset Park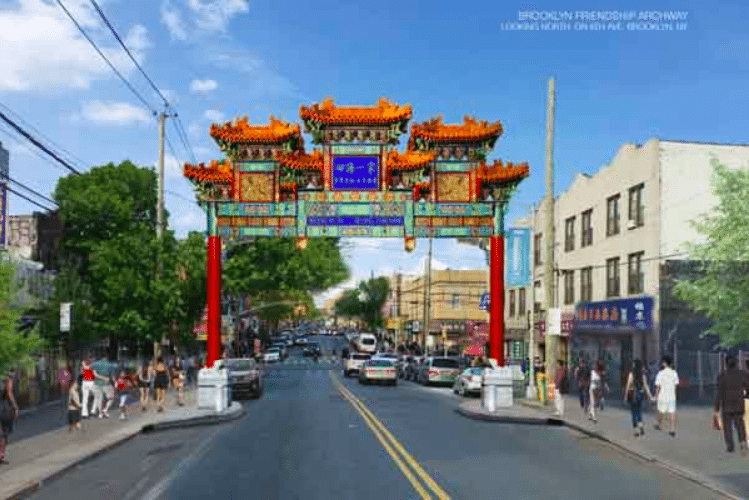 SUNSET PARK – At a ceremony on Tuesday, Brooklyn Borough President Eric Adams signed a formal agreement to receive NYC's first "Friendship Archway" as a gift from China.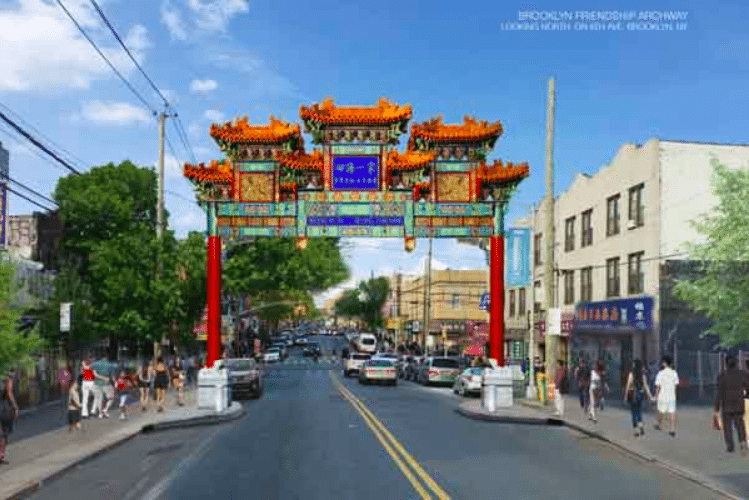 Last October, Mayor Bill de Blasio announced that Sunset Park's Chinatown would receive a forty feet tall, twelve feet wide "Friendship Archway" as a gift from the Chaoyang District in Beijing. Spanning 8th Avenue between 60th and 61st Streets, in the heart of Sunset Park's Chinatown, the arch will feature nine roofs as well as an inscription honoring the late NYC police officer, Wenjian Liu, who was shot and killed while on duty in Bed-Stuy in 2014.
"I'm honored we can dedicate it to the memory of NYPD Detective Wenjian Liu," Adams posted to Facebook following Tuesday's ceremony at Brooklyn Borough Hall. "We will always remember him and his family for their commitment and dedication to this city."
Liu's widow, Pei Xia Chen, who attended the ceremony with the couple's young daughter, said the dedication on the archway "will make the Liu family very proud of the sacrifice their son, my husband, made while serving and keeping the city of New York safe. Each and every time my daughter and I pass the archway, I will remind her that this was also dedicated in her father's name, and as she grows, she will know and understand the honor that has been bestowed upon her father."
Bringing the "Friendship Archway" to Sunset Park has been a lengthy process, former Brooklyn Borough President Marty Markowitz said, noting that Winnie Greco, President of the Sino American New York Brooklyn Archway Association Corporation, and community members approached him with the idea years ago. "When Winnie and the Chinese business  community joined when I was Borough President with an idea of this archway, of course we loved it…. Although the city of Brooklyn absolutely adored it, it took a little longer than any of us would have liked because you have to have the mayor and the former Department of Transportation Commissioner going along with it. Let's just say there were some challenging thoughts and ideas, but that is all under the bridge."
Borough President Adams allocated $2 million in capital funds to the project and the installation will be managed by the NYC Department of Transportation (DOT).
The archway will honor Chinese culture as well as diversity in Brooklyn while symbolizing "the bridge of friendship" between NYC and Beijing's Chaoyang District—Brooklyn's sister city.
"Luckily for us, Eric Adams saw the blessing of having this archway for the Chinese community [and] for all of us who celebrate diversity in Brooklyn and in New York City and in our United States of America, as opposed to the current occupant that sits in the White House," Markowitz added. "We believe in the diversity of America and we celebrate it right here in Brooklyn, USA."
In conjunction with the archway's installation, DOT was scheduled to conduct a pedestrian and vehicular traffic safety study on 8th Avenue between 39th and 65th Streets. The agency did not respond prior to posting when BKLYNER inquired whether this study has been completed. The archway's construction schedule has not yet been announced.