960 Franklin: A Bad Deal for the Brooklyn Botanic Gardens and for Crown Heights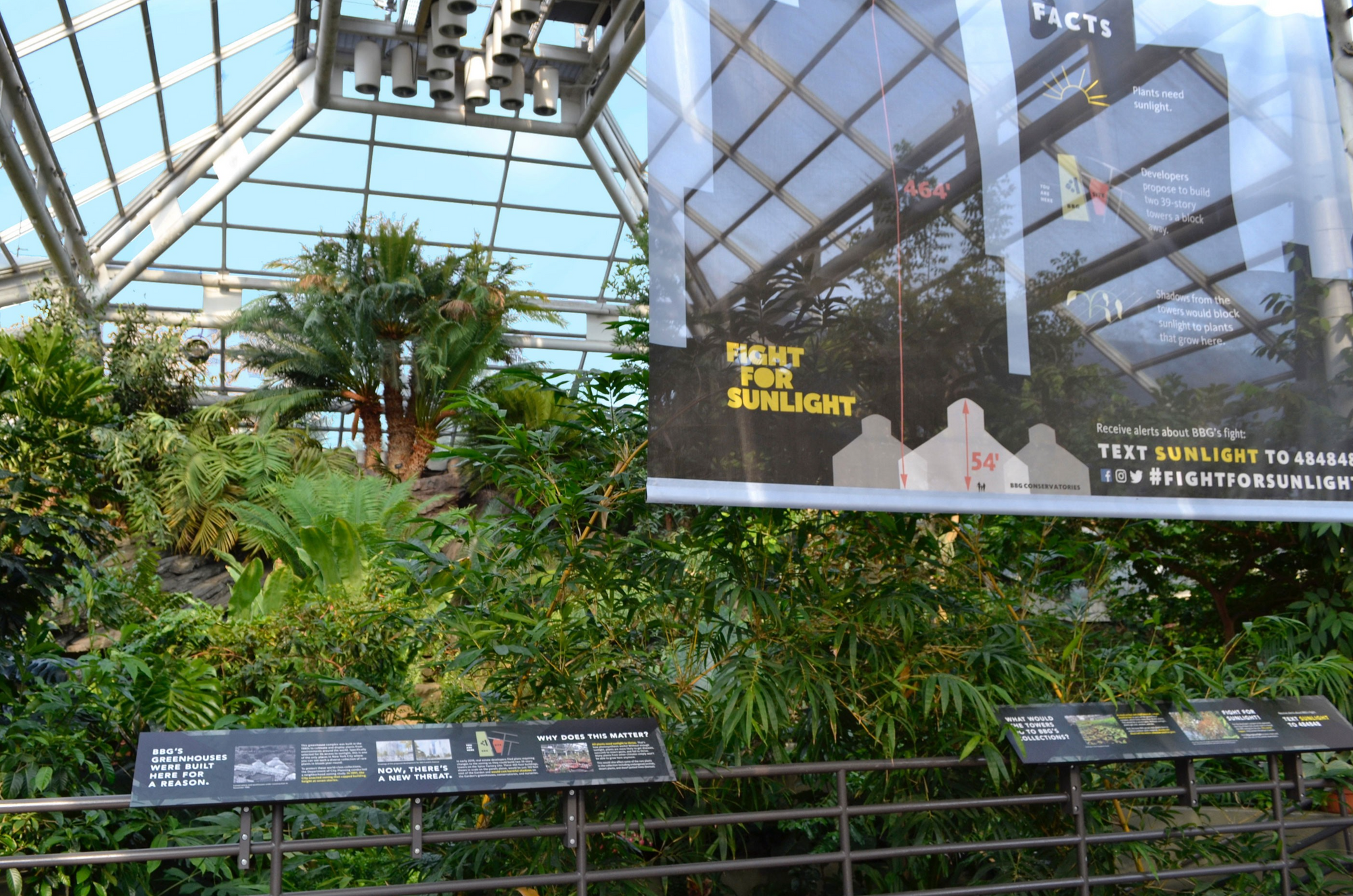 In July the Brooklyn Botanic Gardens (BBG) opened a new exhibit in one of their many conservatories. What made this exhibit different was that they were not showcasing exotic flora. Its purpose was to present impact of the proposed development of two 39-story high rises at 960 Franklin avenue. The buildings are adjacent to the garden and will cast a shadow that will endanger many of the garden's most precious exhibits of plants. As a result, the continued survival of this treasured institution in Crown Heights, Brooklyn, will be in peril.
Along with other developments planned for construction in the next several years, 960 Franklin represents a complete transformation of this section of Central Brooklyn. In addition, 960 Franklin towers will contribute further to the rapid gentrification of a historically working-class, residential area.  Compounding that with the disastrous effect the high rises will have on BBG, it is imperative that this project be blocked or, at the very least, revised.
Too Tall, Too Much Shade
For starters, the main towers that are a part of the 960 Franklin project are simply too tall. For them to be built, the developers Continuum Co. and Lincoln equities are trying to push rezoning through the city council. They are following the footsteps of other developers nearby who successfully lobbied the council last December to rezone a nearby street to construct a 16-story building. Current zoning laws near 960 Franklin set height restrictions to seven stories. Now they are requesting to raise this limit dramatically, to 39 stories, or 420 feet. Not only will this severely alter the character of the neighborhood, it will place added stress on the locale's already strained transportation system.
As a result of its enormous height, 960 Franklin will limit the hours of sunlight that the garden's plants need to survive. As described on the BBG website, their plants stand to lose at least three hours of sunlight per day, detrimental to numerous areas of the garden.
Gentrification on Steroids
These towers will also speed up the already ferocious pace of gentrification in Crown Heights. This could mean higher rents and further displacement of low-income residents. In recent years other real estate developments in the neighborhood have soared, and the trend in rental prices has not boded well for working people. Crown Heights' rents increased by 35% between 2010 and 2018, among the highest in the city, according to Curbed New York. A study done by the City Council in 2018 revealed that the neighborhood also has some of the highest eviction rates across Brooklyn. Another city government study found that 55% of residents of Crown Heights South, the area closest to the garden, are rent-burdened –  paying more than 30% of their monthly income towards rent.
With the influx of new developments set to hit the market in the next five to ten years, developers would like us to believe that increased supply will limit soaring prices. But with a development as large and transformational as 960 Franklin, it is more likely that the neighborhood will head in the direction of even higher rents.
Affordable for Who?
The developers claim their project will be a benefit to the neighborhood because it will include units which are "affordable". But in New York we've all seen this movie before. Developers hide behind the term "affordability" to push their projects through.  They're able to use this tactic because the city's classification of what is affordable is quite loose. Under the current terms, half of the units at 960 Franklin will be labeled as "affordable" or below market rate. Of these, 60% will be available to those earning at least 80% of AMI (Area Median Income) or $53,480 for a single person, and $83,440 for a family of four. The other 40% of the "affordable" units will be reserved for those earning at least $73,100 and $95,030 for a single person and $104,000 and $135,000 for a family four, respectively. Since AMI is set by the federal government for New York City as a whole, it does not reflect the income levels of individual neighborhoods. Meanwhile, in Crown Heights South, the median household income is $51,072. The per capita income is only $29,469. So, do the developments include affordable apartments? Technically, yes. But will they serve the needs of vulnerable, rent-burdened residents in Crown Heights? The answer in unequivocally no.
The opposition to the 960 Franklin project is two-fold. First is that due to its height, it will block sunlight from the Brooklyn Botanic Gardens' most exquisite plants and potentially cause long-lasting harm to this beloved institution. Second, the building contributes further to the gentrification, overcrowding, and potential displacement of Crown Heights' residents. As it stands today, we must oppose this project wholeheartedly and continue to fight for the survival of this community and its resources.
To show your support for BBG, visit their website and sign their petition to help save the garden!