5 Years Since Sandy: Three Stories From Red Hook
RED HOOK – Few neighborhoods in Brooklyn were hit as hard by Superstorm Sandy as Red Hook. Below we talked to residents and businesses about then and now, and whether they feel ready should another storm strike.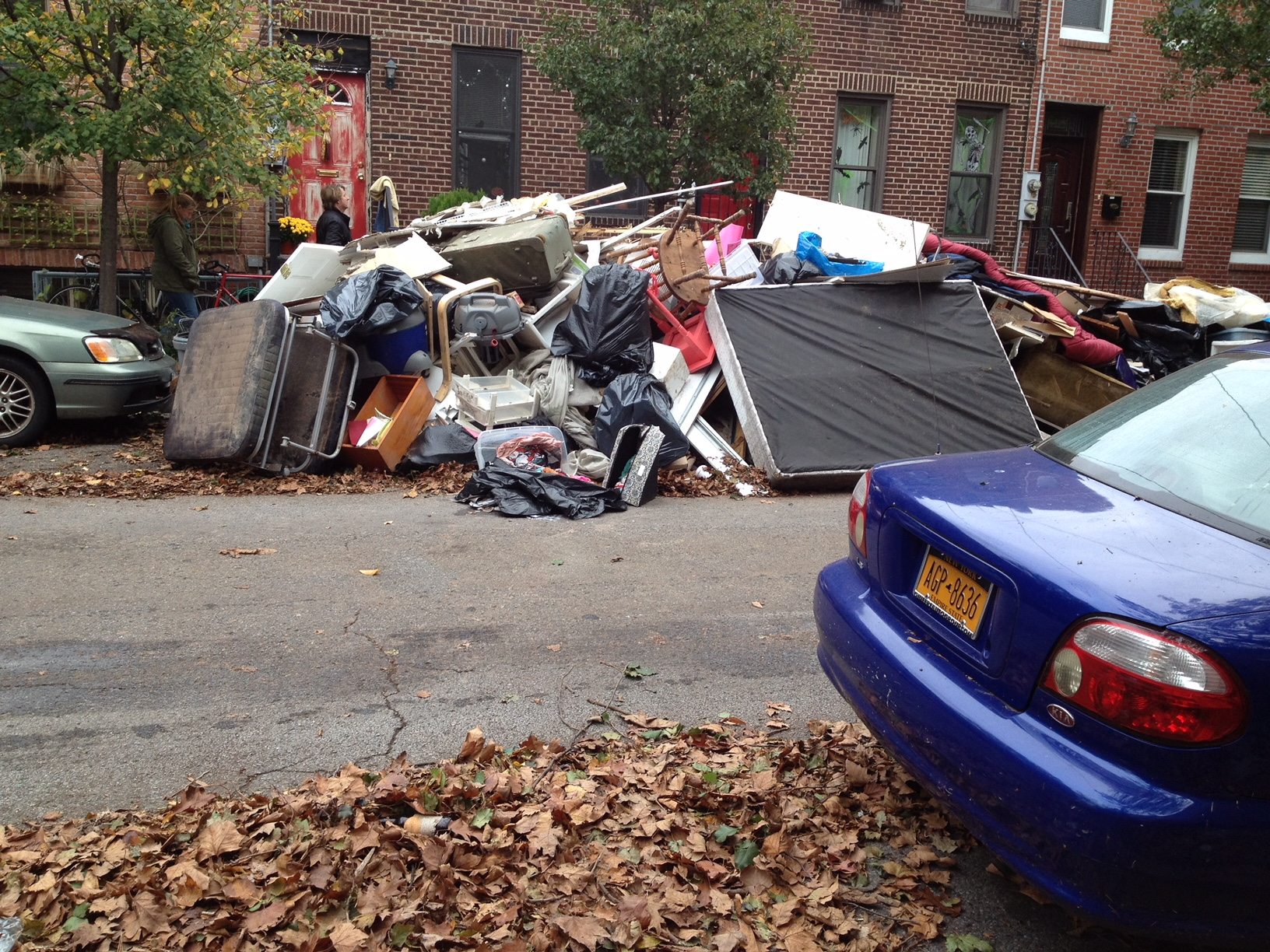 Small Business
Long before Red Hook was designated the most expensive neighborhood in Brooklyn, artist Scott Pfaffman purchased a former dry cleaning storefront on Van Brunt Street.
After acquiring the property in 1997, Pfaffman helped launch a variety of businesses in the space—first a saxophone repair shop, then a popular French restaurant called 360, then the space was headquarters of Red Hook Volunteers, and most recently a record store.
When NYC officials ordered Red Hook residents to evacuate as the Superstorm approached, Pfaffman chose to stay. "I remained to 'man' the pumps," he recalls, while his wife and two kids "decamped up the hill."
The water that crashed down Van Brunt Street caused significant damage to anything and everything in its path, including Pfaffman's home. Two boilers, two water heaters, electrical panels, and the washer/dryer were all destroyed by the saltwater. His personal library (consisting of 500-plus volumes), artwork, and archives were also devastated. Pfaffman adds that his property also suffered an oil spill, which required EPA monitoring and licensed, certified removal of contaminated soil and substrate.
"We were able to move back in on December 1, 2012, albeit in somewhat compromised circumstances," Pfaffman tells us, but "repairs are still ongoing."
When asked if he is ready for another Superstorm, he bluntly replies, "of course not."
Pfaffman says he and his family "entertain the possibility" of moving out of Red Hook, and have considered relocating to "higher ground from time to time," but ultimately have decided to stay put in the neighborhood.
"We have a comfortable house and really like the neighborhood," he explains. "We'll stay another 15 years and get the kids out of school, and then with the water lapping at our heels, we'll move to higher ground."
Red Hook Houses
Over at the Red Hook Houses, Hurricane Sandy knocked out power, heat, and hot water for the 6,000 residents of the NYCHA development for weeks. Saltwater destroyed the boilers, electrical panels, trash compactors, and more in the housing project's 28 buildings.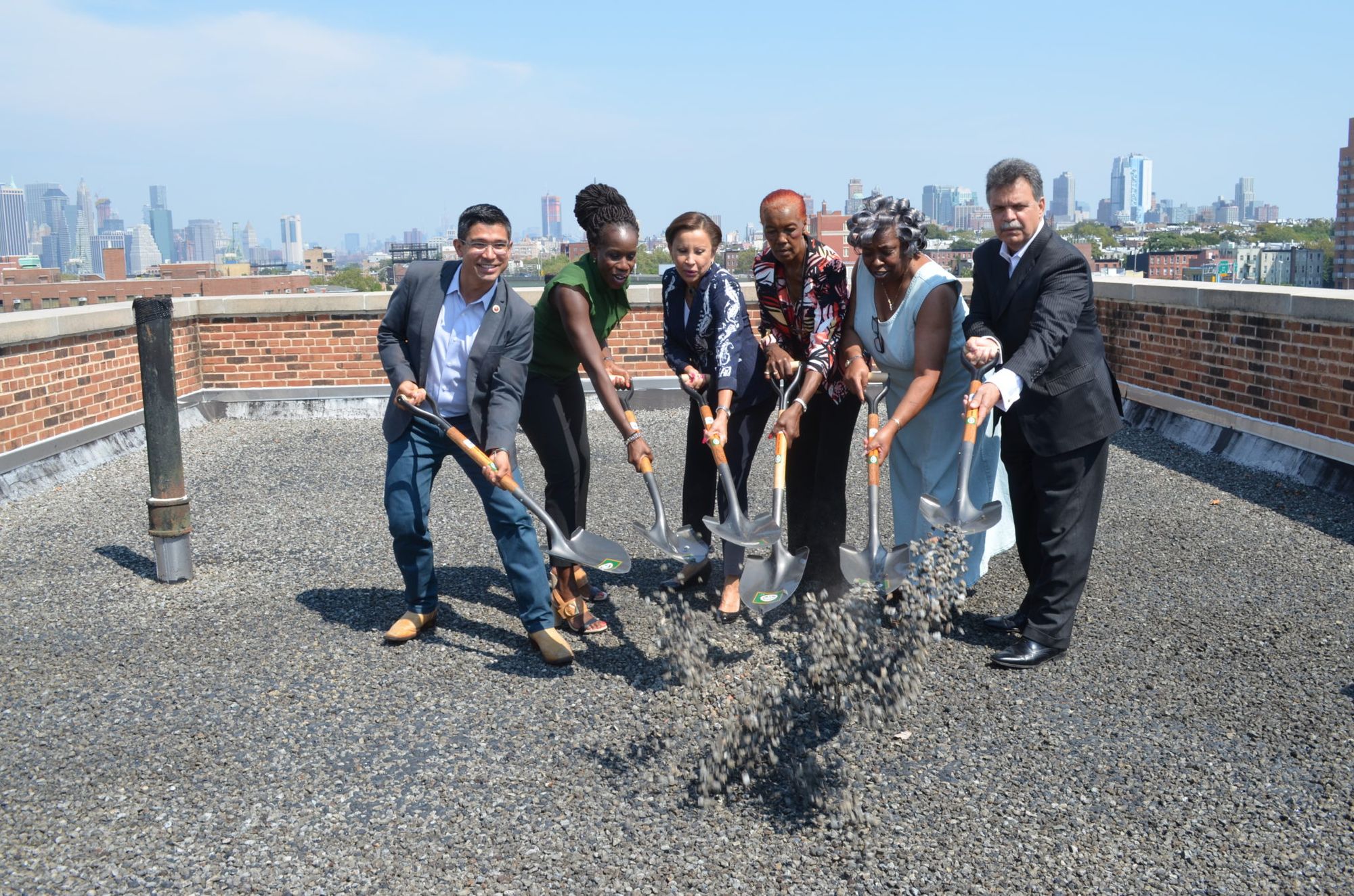 Following Hurricane Sandy, FEMA gave NYCHA $3 billion to repair damages caused by the storm at the 33 public housing developments across the city. In September 2017, five years after the storm, long-awaited roof repairs finally began at the Red Hook Houses which include providing new roofs, as well as repairing or replacing old parapets and railings, on all the development's residential buildings. The $63 million new roofing system will provide better insulation, reduce the amount of heat retained by the roofs, and eliminate water intrusion.
The roof project is part of a $500 million investment into the Red Hook Houses as part of NYCHA's Sandy Recovery to Resiliency Program. Along with roof repairs, the Red Hook Houses will see a new heating and hot water system installed, structural reinforcement, flood protections, and full backup power, as well as new playgrounds, improved retail spaces, and better community spaces.
Frances Brown, President of the Tenants Association at the Red Hook Houses, told BKLYNER in September that years after Sandy, residents still ask when repairs will be made to their units. "Their plaster is falling because of moisture that came from Sandy," she said, "A lot of times you plug in something and all your power goes out," she added.
Brown noted that earlier this year, Assembly Member Felix Ortiz helped the Red Hook Houses get new refrigerators and stoves for all 2,900 apartments, replacing the old ones that were damaged due to the electrical problems caused by Hurricane Sandy.
"When we have problems with things needing to get fixed, he's been very responsive," she said of Ortiz. "With help like that, I know things are going to get better," she added.
Fairway
On a bright, sunny day, Fairway's Red Hook outpost (480-500 Van Brunt Street) situated on the waterfront feels like an ideal location, with views of the Red Hook Channel and The Statue of Liberty, however, during Hurricane Sandy, the market couldn't have been in a more precarious position.
The 52,000-square-foot market, Fairway's largest outpost in New York, opened in Red Hook in a former warehouse building in 2006. The gourmet market offers fresh produce, fish, meats, cheeses, prepared foods, and international fare.
In preparation for the onslaught of Sandy, Eric Sneddon, a longtime Fairway employee and Assistant General Manager of the Red Hook store, recalls that the staff laid out sandbags and closed the large, exterior metal doors. "Obviously, it did not help," he adds.
"It was a 13-foot surge of water and it settled to about six feet for four days," he remembers. "We lost everything."
Photos of the aftermath show shopping carts packed with spoiled food being inventoried and disposed of behind the store.
"With 24-hour help from FEMA, we were back in about five months," according to Sneddon. The renovated facility features wider aisles along with a plan to move merchandise quickly should another storm loom, WNYC reported when the store reopened.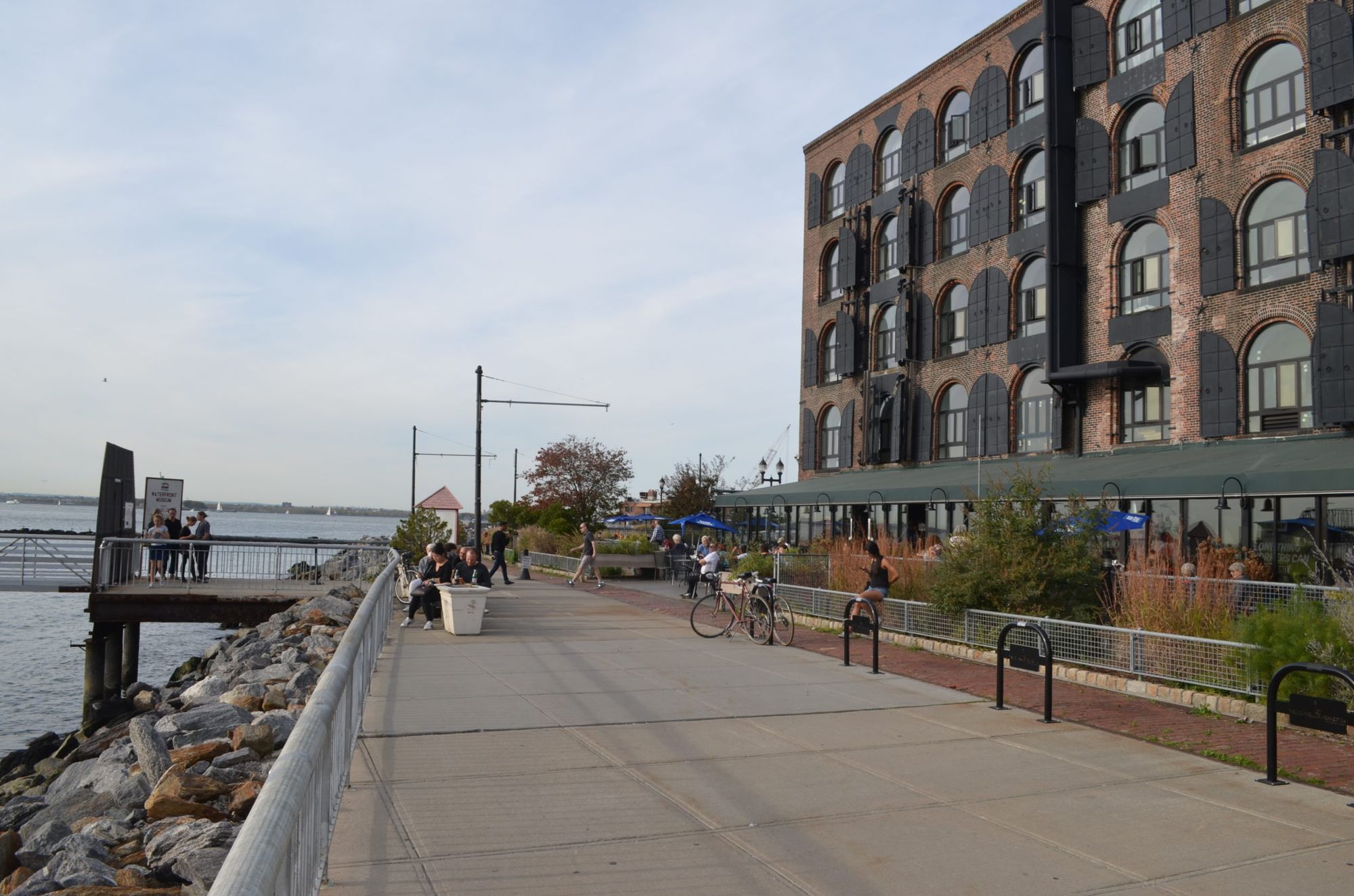 Fairway hosted a celebratory reopening on March 1, 2013 attended by former Mayor Michael Bloomberg, former Brooklyn Borough President Marty Markowitz, Senator Chuck Schumer, and Miss America at the time, Mallory Hagan, who assisted in the ribbon-cutting ceremony. Shoppers, locals, and nearby business owners also turned out to the event to show their support.
Sneddon says that Fairway has installed "state of the art flood gates" at the Red Hook store in case another Superstorm should strike. If one does, he advises locals to take it "seriously and not under estimate it. Assume the worst," he says, "and be grateful if it's not as bad."