2 Duck Goose Opens On 4th Avenue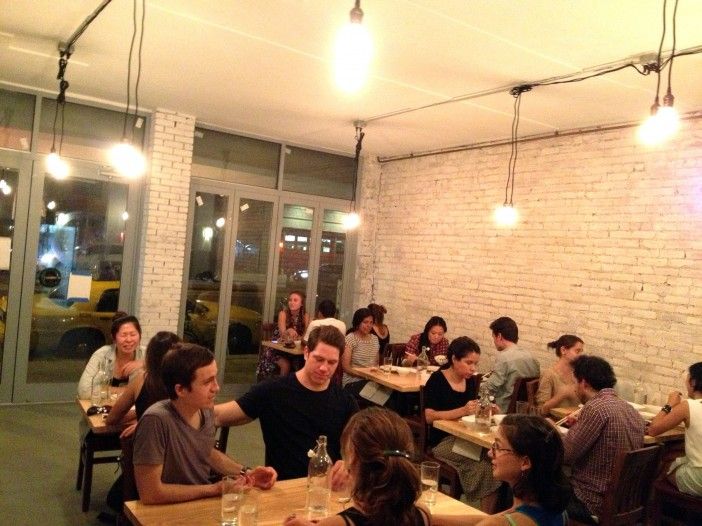 After a few weeks of private tastings, 2 Duck Goose is finally ready to open the public for dinner at 400 4th Avenue, on the corner of 6th Street.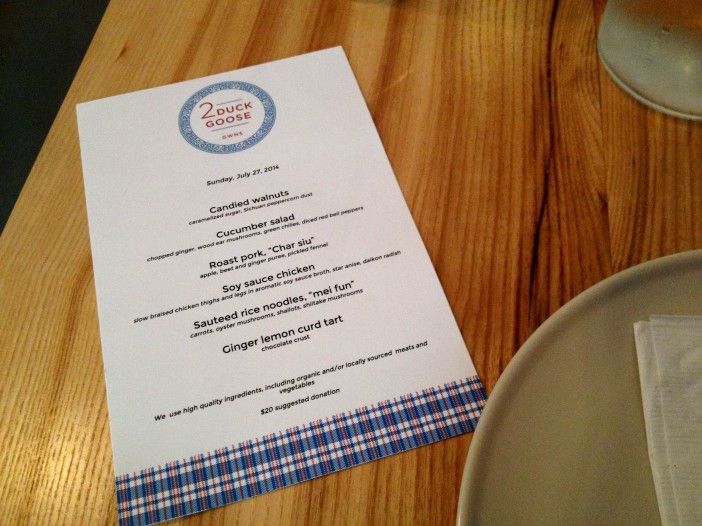 The restaurant is the brainchild of three friends, Kay Ch'ien, Ben Pope, and Alex, who are beyond pleased to be able to present their creative take on Cantonese food to the neighborhood.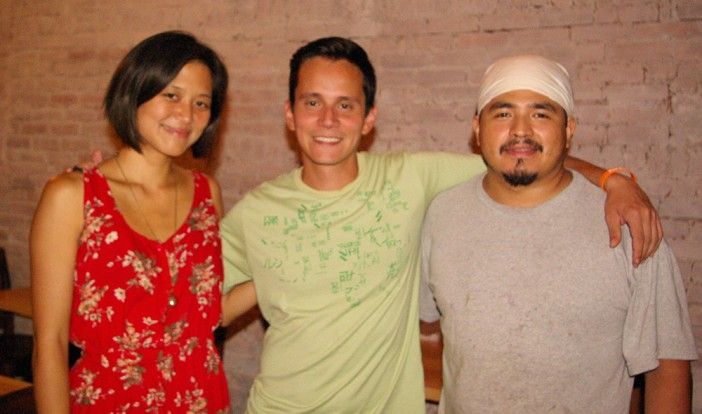 Partners Kay and Ben with Sous Chef Raul Vera Farfan
Kay and Ben, who are both Hong Kong natives now calling New York City their home, independently found themselves craving the nurturing meals of their childhood. Kay, who previously practiced entertainment law, and Ben who was attending the French Culinary Institute and working on the line in Manhattan, had not met at the time. And that's where their partner Alex comes in.
Branzino with pureed carrots and Chinese pickles
Alex, who is a close family friend and godfather to Kay's son, met Ben while playing soccer on the turf fields in the East Village. One evening after a rough game in terrible weather, the two went for dinner, where Ben shared his dream of opening a Cantonese restaurant where he could present his authentic recipes for all to enjoy. The next step was clear — to introduce Ben to Kay. It was quickly agreed that the three of them clicked as a team, and the idea of 2 Duck Goose was born.
Roast pork "Char siu" with apple, beet, and ginger puree and pickled fennel
Once the location was secured, Kay left the legal world to give 100 percent to her passion for food and entrepreneurship, while Ben spent a month experimenting with new recipes in addition to traveling home to Hong Kong to perfect his creations. The end result is tasty delicacies created with subtle flavors and quality ingredients, including humanely raised meats and locally sourced vegetables.
Paper bag fish: Branzino with tomato fondu and mushroom salad
"As we gear up to open to the public this week, we are excited to be bringing this food to Brooklyn," says Kay, who's not just a local business owner, but a neighbor. "I think people are going to love it."
Ginger lemon curd tart with chocolate crust
2 Duck Goose will begin their soft opening today, Thursday, July 31. For now, hours will be from 6-9pm, Wednesday through Sunday. Reservations are appreciated. Call 347-987-4808 or email info@2duckgoose.com for more information.