Zellnor Myrie's Inauguration, A New District 20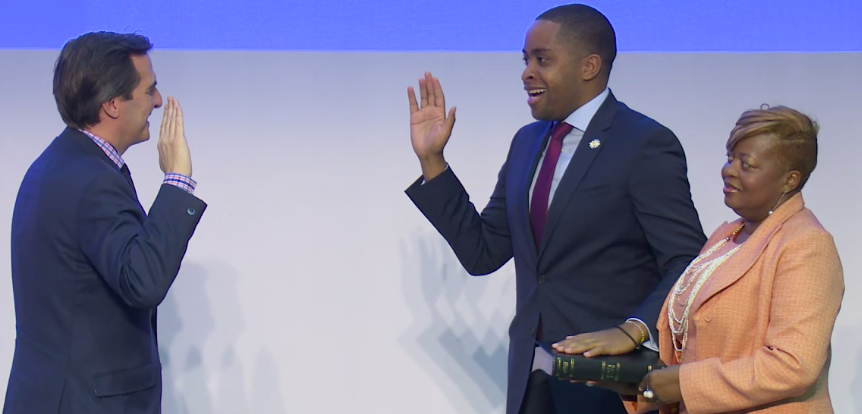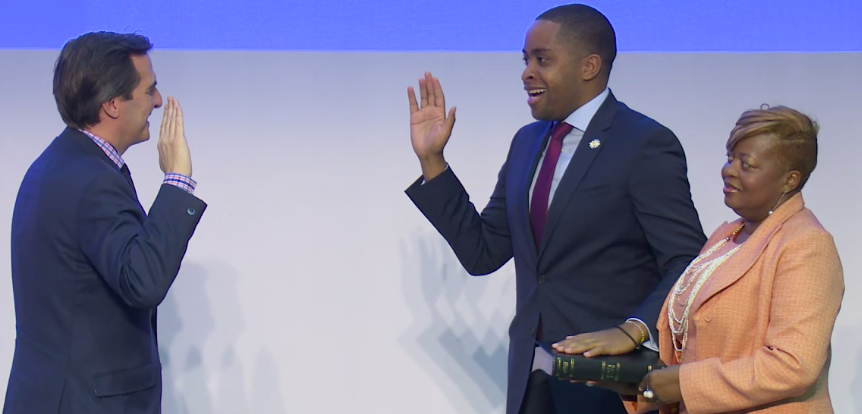 EAST FLATBUSH – State Sen. Zellnor Myrie, who along with several other freshman senators defeated former Independent Democratic Conference (IDC) incumbents, celebrated his inauguration in East Flatbush on Monday before a host of electeds and constituents where everyone spoke to a new senatorial district 20.
State Sen. Michael Gianaris, a Democrat, officiated the oath of office while the audience looked on from inside a crowded SUNY Downstate Medical Center auditorium. The multi-cultural ceremony featured acts from Ballet Folklorico of Sunset Park, the Chinese-American Planning Council Senior Dance Group and Organized Chaos, an all-male step team from Brooklyn Technical High School, Zellnor's alma mater.
U.S. Sen. Chuck Schumer, U.S. Congresswoman Yvette Clarke, NYS Attorney Letitia James also attended along with city and state lawmakers including, including Assemblymember Diana Richardson, who came out early in support of Zellnor following a social-media thrashing of his opponent, Jesse Hamilton, last summer.
"And with Zellnor's successful election, let me tell you right now, we sent a strong message to all elected officials that turncoats [who] sellout and deceive us will not be allowed to represent us," said Richardson whose district falls within a portion of the 20th senatorial district.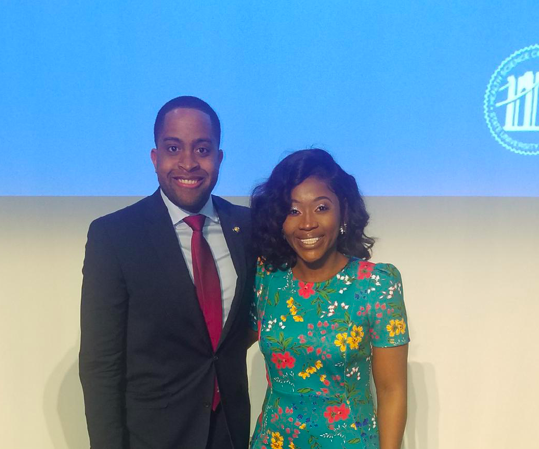 Myrie defeated former IDC member Hamilton, last September by more than 3,000 votes. The fall came after a swell of anti-IDC sentiment surfaced throughout the city charging the rogue Democrats with halting the progressive legislature.
Now with a Democratic majority, the state Senate passed—in its first month—the Reproductive Health Act, the José Peralta New York State DREAM Act and historic voter reform—the latter Myrie sponsored.
"Think about what he's already accomplished," said NYC Comptroller Scott Stringer who was also in attendance. "Early voting, early voting—the consolidation of state and local primaries — I'll give you a fact as comptroller— that's a savings of $50 million that can go to education and healthcare and housing. That's what he did".
Some said the son of immigrant parents, whose mother and father hail from Central America, has more work to do.  In a district where more than 40% of its constituents are foreign-born, Zellnor's district could face a backlash from President Trump's immigration policies. The attorney general spoke to what's ahead for the district ahead of a legislative battle about the right to exclude a citizen question on the 2020 Census.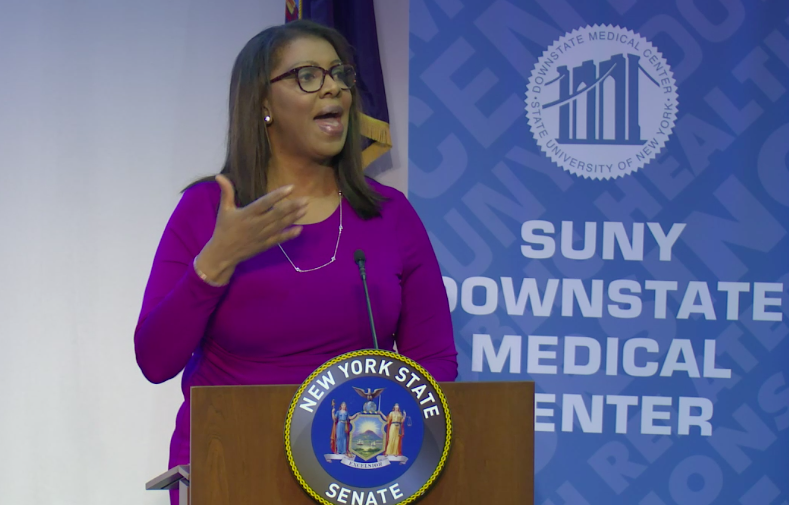 "We need the son of immigrants who happens to be an attorney to join me as we challenge the census as they put on the census a citizen question,"  said NY State Attorney General Letitia James, "a citizen question that will have a chilling effect on immigrants."
After graduating from Brooklyn Technical High School, the 32-year-old attended Fordham University and then Cornell Law School. He was joined on stage by his mother, Marcelina Cummings, who was a staunch supporter of the lawmaker's senatorial bid. Cummings came to the states from Costa Rica and worked as a factory worker initially.
Acknowledging the tenacity of his parents, the senator called for the same fearlessness from his constituents.
"We must follow the command to be courageous," said Myrie. "The problems that are facing our communities cannot be solved with the same solutions of yesterday. They require us to be courageous in our aspirations."
"We will be bold in our actions and we will be bold on how we attack them," said Myrie on how he's looking to tackle the issues plaguing the community, including housing and homelessness.
You can see his speech and the entire inauguration here.