Years Of Construction On 3rd Avenue Impacts Gowanus Small Businesses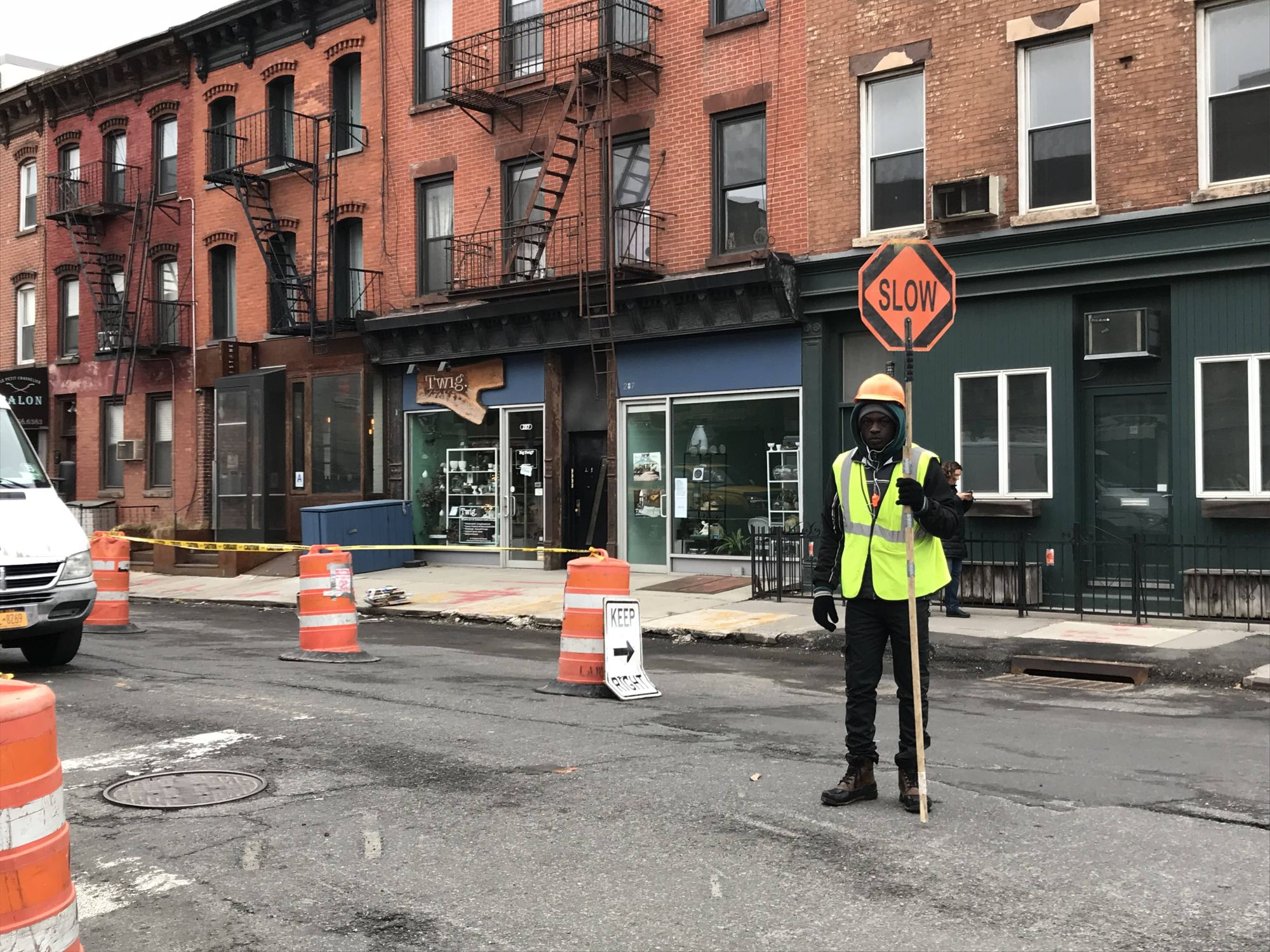 [UPDATED: Monday, March 5 at 10am] Council Member Brad Lander responded on Saturday, March 3, with the following statement:
"I'm genuinely sorry for what Twig Terrariums and other small businesses and residents on Third Avenue have been forced to endure. We love the small businesses in our neighborhood, and are so sorry to lose them. The high-level storm sewer (HLSS) project is necessary to prevent flooding and reduce sewage overflow into the Gowanus Canal—but its multi-year construction has indeed been a nightmare for many of its neighbors.
My office has spent many hours trying to lessen that impact, with multiple meetings of business owners, residents, DDC, DEP, and others. In some instances, we've been able to help—winning a hard-fought commitment to restore trees on Carroll Street and make other improvements, more clarity about the project timeline, abbreviated and better-noticed water shut-offs, and an agreement to consolidate equipment so we could reopen sidewalks faster. In other cases, sadly, we have not been able to win what we hoped, like restitution for lost business, and a faster overall timeline.
We'll keep doing all we can to better balance our very real long-term infrastructure needs with the impacts those projects have on the small businesses, residents, and blocks that make our neighborhoods the places we love."
GOWANUS – Years of problems stemming from seemingly endless construction on 3rd Avenue is forcing Twig Terrariums out of the Gowanus storefront it has occupied for the past six years.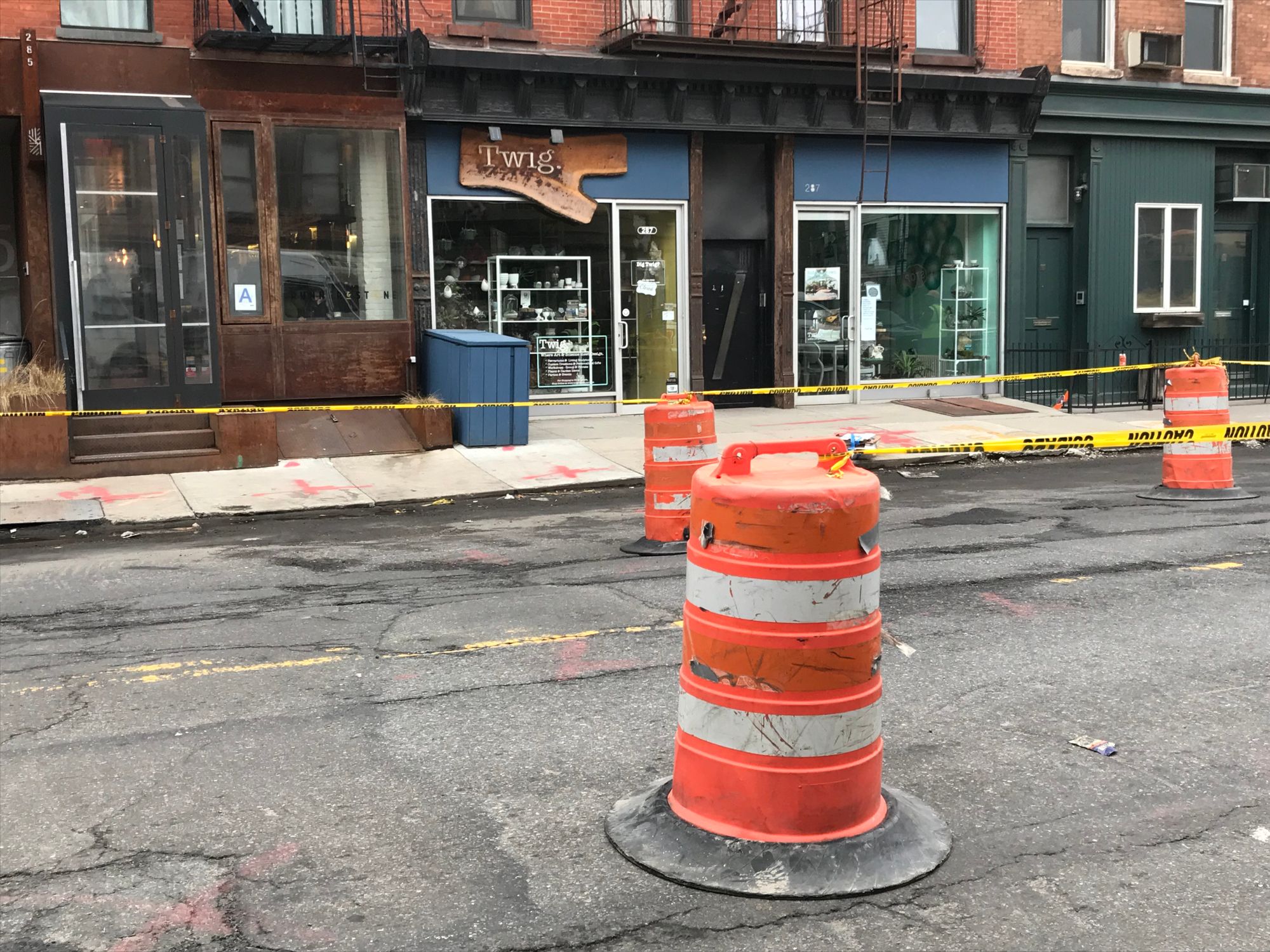 Owners Michelle Inciarrano and Katy Maslow opened the shop in 2011 at 287 3rd Avenue (between President & Carroll Streets). "We were looking for a spot in a Brooklyn neighborhood that was affordable, happening, readily accessible to public transportation, and had a strong community with children," Inciarrano told BKLYNER. "Gowanus was perfect because it was neatly sandwiched between Park Slope and Carroll Gardens—both hip neighborhoods, but not quite as developed as to warrant the high rents of either neighborhood."
The two business partners personalized their retail space by building a 14-foot-high paper mache tree right in the center of the shop. "We loved the neighborhood, the people, and the creative stores quickly popping up," Inciarrano adds.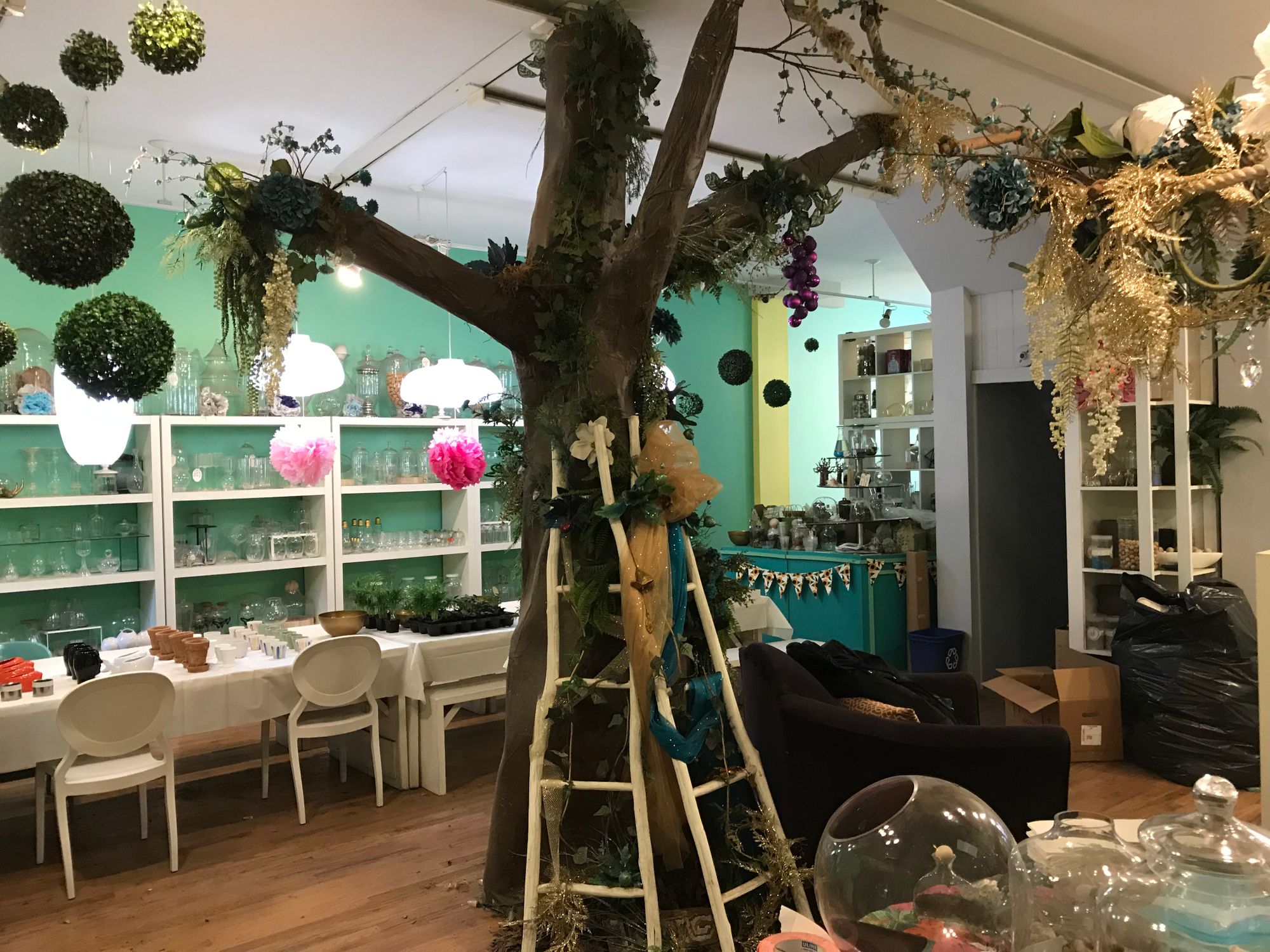 Unfortunately, the tranquility did not last long, as 3rd Avenue in Gowanus has been the center of major road work for several years.  "I can't recall a time when this block wasn't undergoing major construction of some kind," Inciarrano says, who dates the start of the work back to as early as 2012.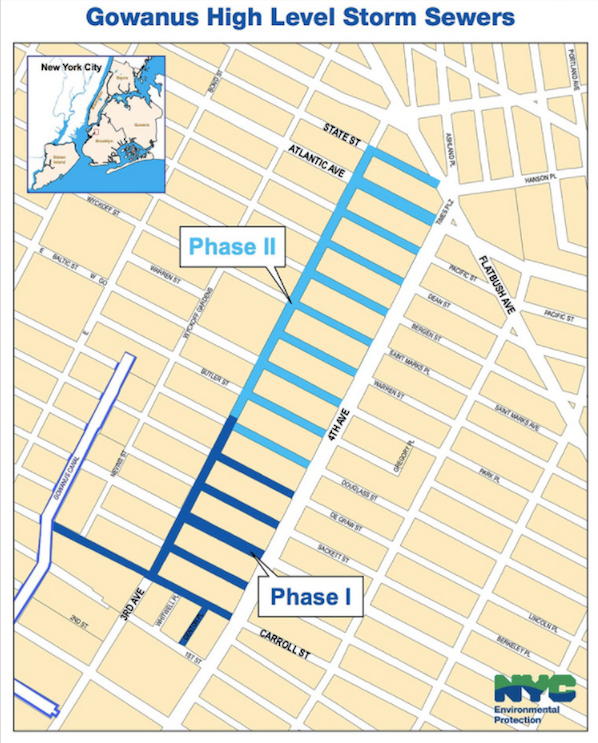 The construction currently being done on the storm and sanitary sewer lines is broken down into two phases. Phase 1 (from Carroll Street to Douglass Street) began in June 2016 and was scheduled to end by Spring 2018 while Phase 2 (from Butler Street to State Street) is scheduled to begin later this year and be completed by 2020.
"The project is on schedule to be completed in summer 2018," Daniel Leibel, a spokesperson for the NYC Department of Design and Construction (DDC) tells BKLYNER.
"This project will decrease the sewage load in Gowanus Canal, as the combined system is separated into independent storm sewer and sanitary sewer lines. This separation makes the local sewer system more resilient by increasing its capacity, and also contributes to the health of Gowanus Canal," Leibel adds.
In 2014, prior to this current project, roads in the area were dug up to move the power and gas lines in preparation for the work on the sewage lines.
"I would say it started maybe going back as far as 2012 or 2013. 2014 was really rough," said Joanne Manfredi, who opened Le Petite Chandelier Salon at 281 3rd Avenue in 2006.
"From 2014 to present we had complete street closures, we had no sidewalks, we had a moat, we had ramps going up into the stores," she continues. "Unfortunately for me [I had] a hard time getting new business in and hiring stylists because our curb appeal was awful. The clients [were] frustrated by not being able to find parking. The noise was tremendous. The buildings would shake. It's just been a complete nightmare."
According to Shannon Moran, owner of Triple Diamond Tattoo located one block north at 257 3rd Avenue, construction started during her shop's "first year and just progressed from there." Triple Diamond has been in Gowanus for six years. "There was one point when 3rd Avenue was down to one lane for two-way traffic, had no parking, and the sidewalks were dug out into deep trenches up to each doorway. We literally had a makeshift metal bridge from the road into our door. It was very upsetting."
"We only began receiving notices of the construction companies' plans and weekly work within this last year," Moran continues. "Before then, every day was a surprise—will we have a sidewalk? Will there be machinery parked in front of our window?"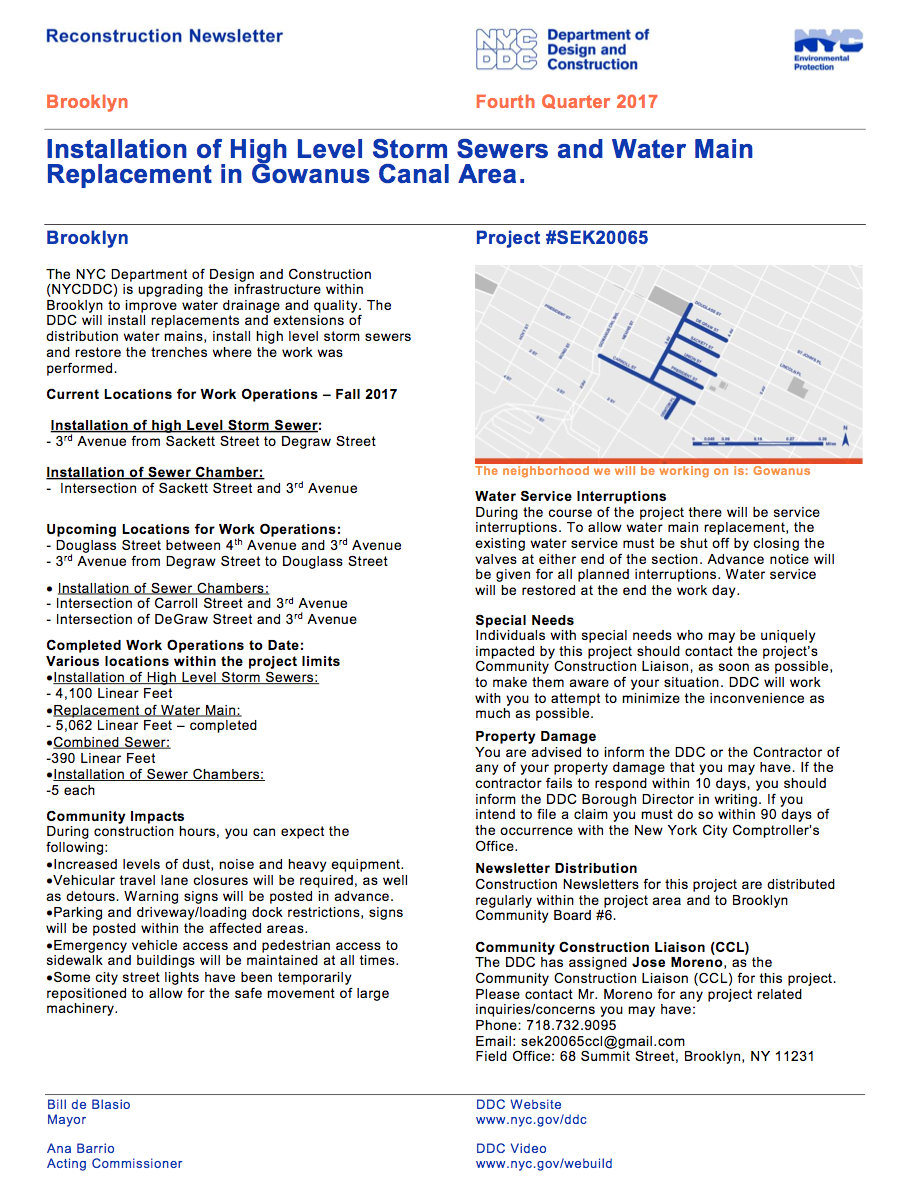 "Our walk-in business has absolutely suffered from the construction," Moran says. "How can people walk by if there is a trench in place of a sidewalk or if every corner is barricaded with construction gates and heavy machinery?"
Inciarrano concurs, noting that Twig has endured a loss in business caused by frequently torn-up sidewalks that impede foot traffic and make it dangerous for seniors and shoppers with disabilities to visit the store. Construction work, equipment left on the block for weeks, and crews taking up the limited available parking spaces "hinder deliveries, drop-offs, pick-ups, and street traffic," she notes.
"There have been eight- to ten-hour blocks of power/water shut-offs with often only one to two day's notice," she says, forcing Twig to cancel at the last minute some events that had been booked at the shop weeks in advance.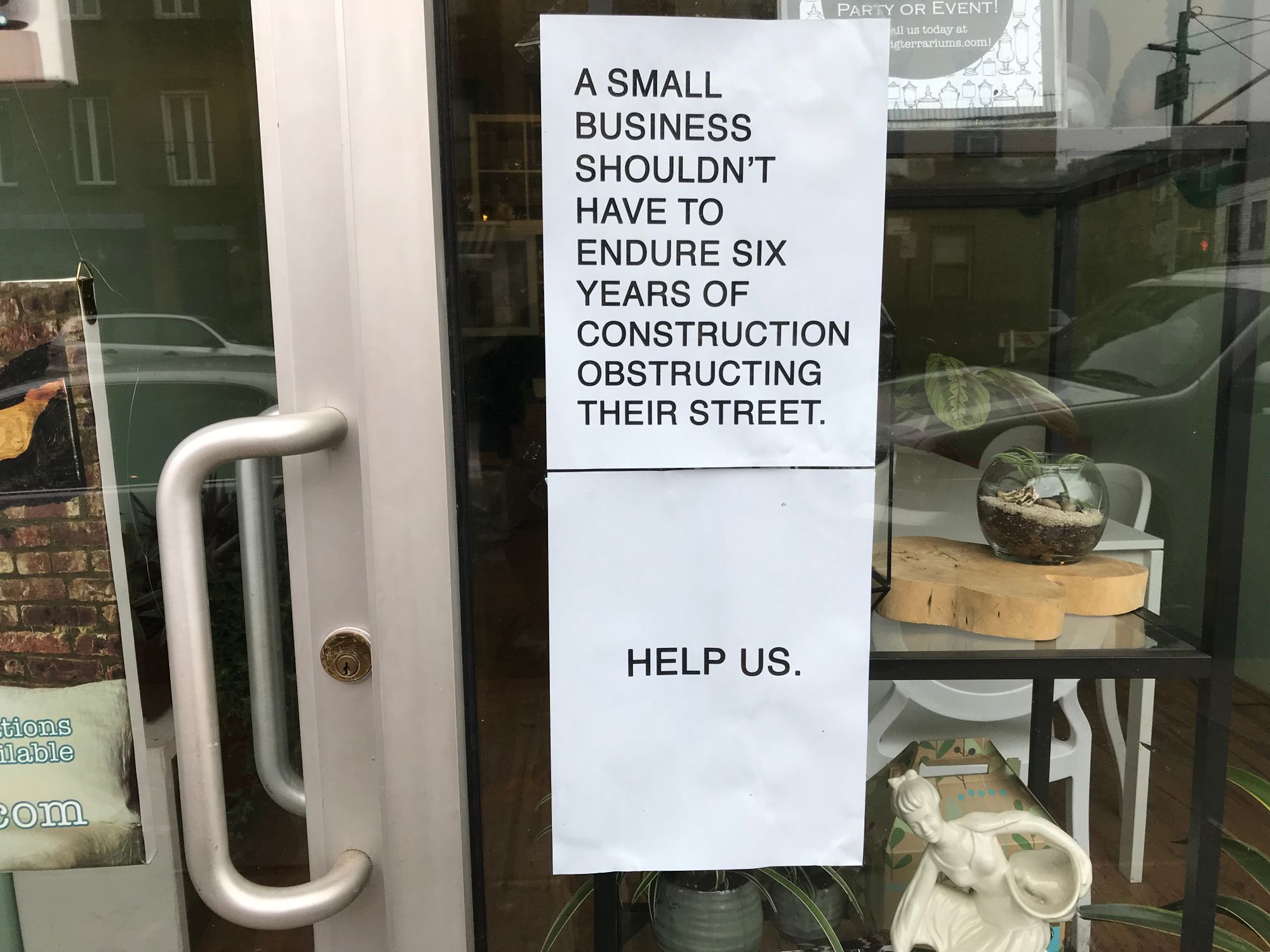 Twig has also suffered from "flooding, mildew, bugs, vermin, and the stink of sewage" due to problems created by the construction, according to Inciarrano.
Following a heavy rain fall in May 2017, a damaged sewer drain on the corner of Carroll Street and 3rd Avenue flooded Twig's basement and affected the building's sewage pipe which emitted a raw sewage smell and brought swarms of drain files, preventing Inciarrano and Maslow from working in the lower level. The smell traveled upstairs to the studio and retail space as well.
According to Inciarrano, complaints to her landlord, DDC, Council Member Brad Lander's office, Con Edison, and Small Business Services (SBS) failed to bring results. "The landlord wanted nothing to do with it. He was quite adamant that [the flooding in the basement] was our problem," she explains, adding that the rent on their storefront was increased during the ordeal.
The landlord, Jason Reyentovich, says that he called the phone number displayed on the trucks of the crews working on 3rd Avenue and that repairmen were sent soon after to fix the building's sewage line. He also confirmed raising Twig's rent after five years noting that he increased it lower than the market rate. He added that the new rent reflects the changes happening in the neighborhood.
Since the pipe was behind the wall Inciarrano argued that it was the landlord's responsibility to fix it, "but also [the construction crew's] because they worked on this," she says. "Nobody was willing to do anything." Regarding Council Member Lander, she says, "I don't think he cares at all about small business." Manfredi later added, "Brad Lander…he basically did nothing [about our problems]."
"Our office has been working on an individual basis with businesses to address concerns as they arose around water shut-offs and construction-related inconveniences," said a spokesperson for Lander's office in an email to BKLYNER. "In December 2016, our office convened a meeting with 3rd Avenue businesses, DDC, and SBS to make space for the businesses to speak directly to the agencies about their concerns…." BKLYNER requested additional details but did not hear back prior to posting.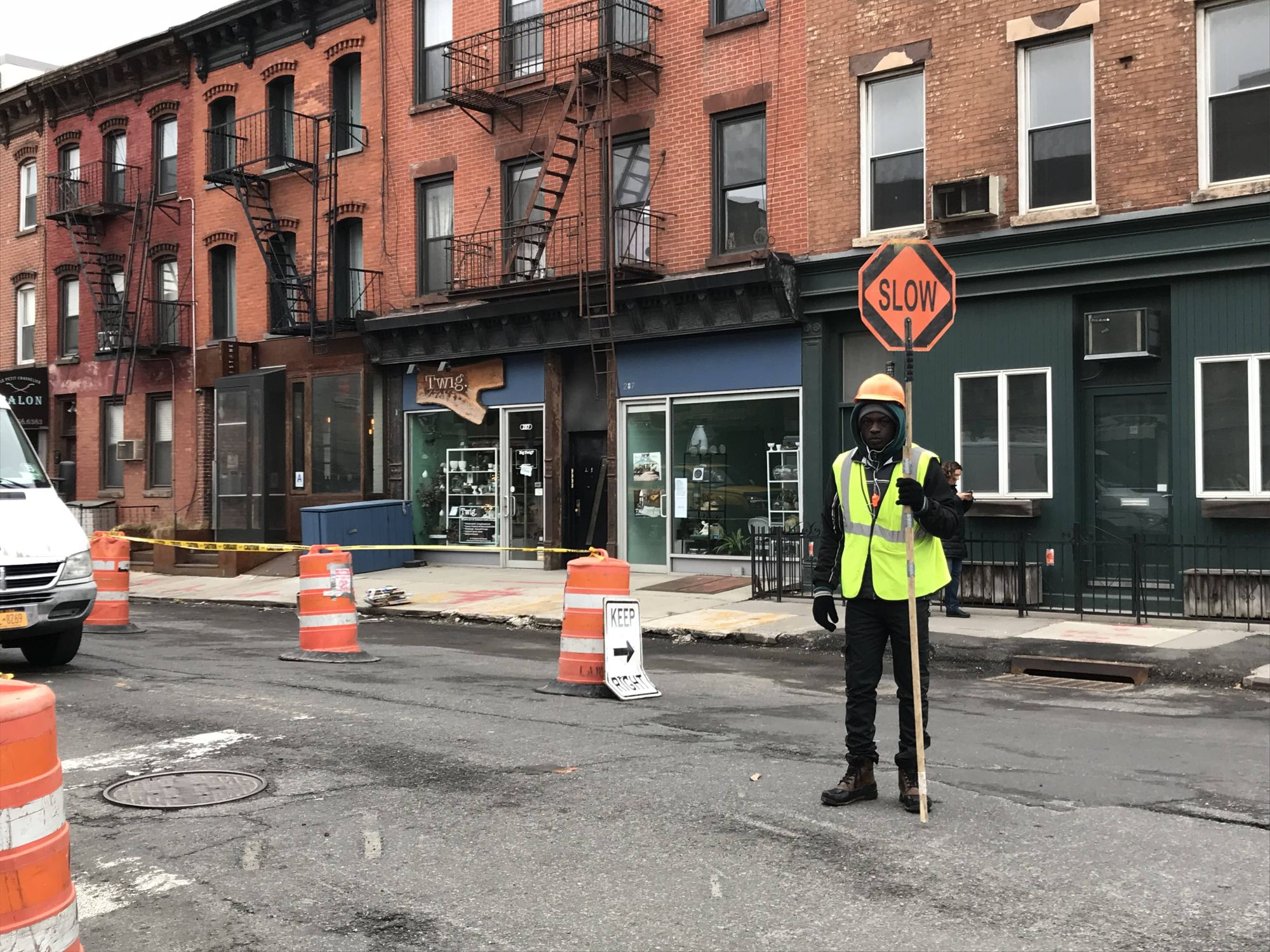 "I called many agencies in the beginning and it just resulted in a 'call this number or that company' maze," says Moran. "We have been shrugged off every time we have attempted. At some point you give up because you have to turn your efforts and attention to keeping your business going."
George Telmany, a Senior Business Advisor for the Staten Island Small Business Development Center, who also works in Bay Ridge, told BKLYNER that if the construction has lasted five years that local officials could assist businesses in finding grants to compensate for the "disruption of business." The Small Business Administration (SBA) is a Federal agency that provides support to entrepreneurs and connects business owners with local Small Business Development Centers (SBDC).
Robert Piechota, Director of the Brooklyn Small Business Development Center, explains that SBDCs serve as advocates for business owners. In similar situations involving disruptive construction, the local SBDC would explore all possibilities to assist businesses with remediation, including helping them appeal to the proper agencies and politicians, and determine ways to work around the obstacles, such as reducing their expenses, finding alternate sources for capital, or applying for loans.
Piechota strongly recommends that small businesses get involved with their community boards and business improvement districts (BIDs) to stay apprised of neighborhood information that might affect them. He also suggests they invest in business interruption insurance as well as a membership to the Brooklyn Chamber of Commerce.
"We work with small businesses regarding issues in their neighborhood that they feel may be impacting business and connect them with their local elected officials and relevant city agencies for help," according to a statement from the Brooklyn Chamber of Commerce. In 2016, during a major city street project, "a pizza shop encountered some water shortages and limited parking." The Chamber "helped facilitate conversations with the shop owner, Council Member Brad Lander's office, and DEP [Department of Environmental Protection]."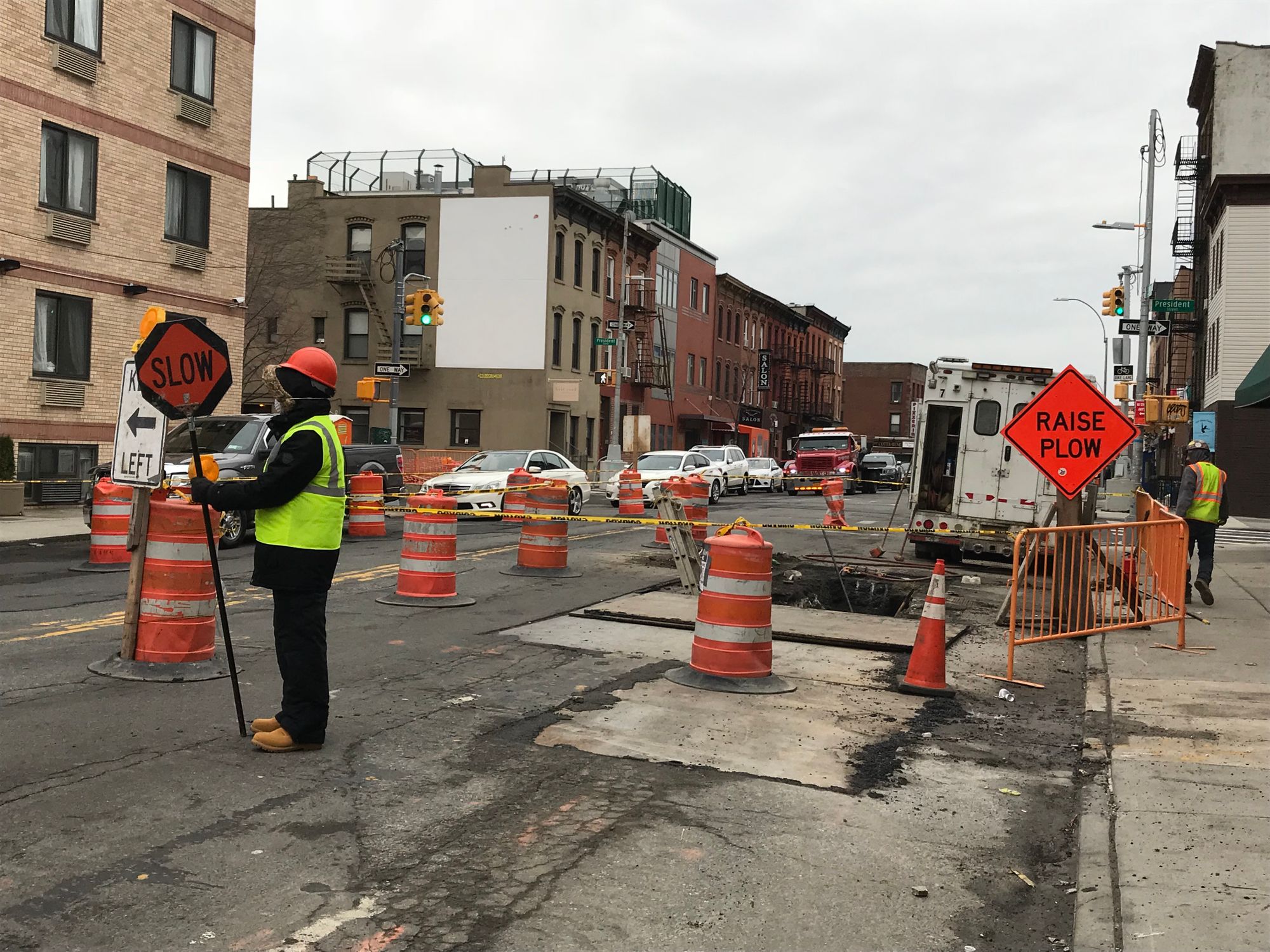 The DDC assigns full-time Community Construction Liaisons to projects. Jose Moreno is the liaison for the current Gowanus project. "The Community Construction Liaison manages the concerns and needs of local residents and businesses," the DDC's Leibel explains. "He also issues quarterly newsletters and weekly look-ahead schedules to the community so people know what's happening. Any local businesses that need to coordinate things such as deliveries should contact Jose Moreno. Small businesses that require other services can contact the NYC Department of Small Business Services."
Moreno can be reached at 718.732.9095 or sek20065ccl@gmail.com.
"I've dealt with the construction liaison," Manfredi said. "Jose did try, but it was totally out of control. Even now everybody is wondering why it's taking as long as it's taking."
"Honestly, more days than not, I want to run away," she adds. "I've had it. I like where I am. I like the location. You feel like the neighborhood is finally starting to take off—it would be nice if they'd finally fix the sidewalks and the streets."
"There's always stress with a small business, but this was well beyond," Inciarrano notes. "How can any city think that it's okay to do this in front of small businesses? Why can't they do the work at night?"
Since the neighborhood is mixed-use, the contractor is permitted to work from 7am to 6pm, Leibel explains, "though typical hours are from 7am to 3:30pm, Monday–Friday."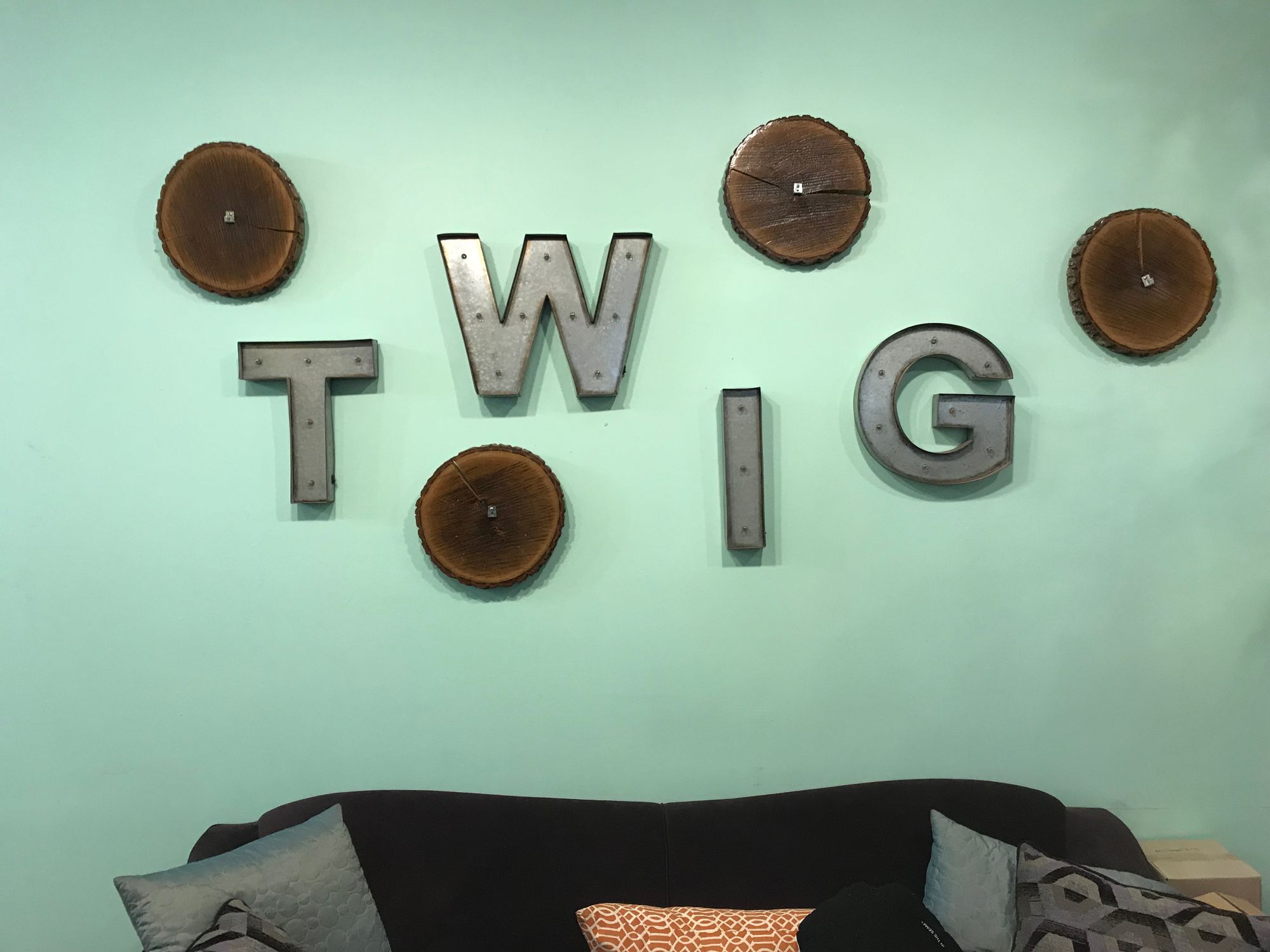 Inciarrano counters, "You're treating this like it's this incredible up-and-coming neighborhood with all these new developments…you can't do this. I understand the need to create infrastructure but you can't do it during the day and leave all this machinery around."
Inciarrano and Maslow are currently looking for a new space in the Ditmas Park/Kensington area and Twig will leave 3rd Avenue in April.
"We are so sad to see Twig go," Moran says. "We were part of the pioneering businesses here on 3rd avenue that led to the renaissance that followed. We feel a connection with them and really empathize with what they have gone through. We will miss them dearly."