Supporters of Wrongfully Arrested Teenager Storm Out After Confronting Inspector Giordano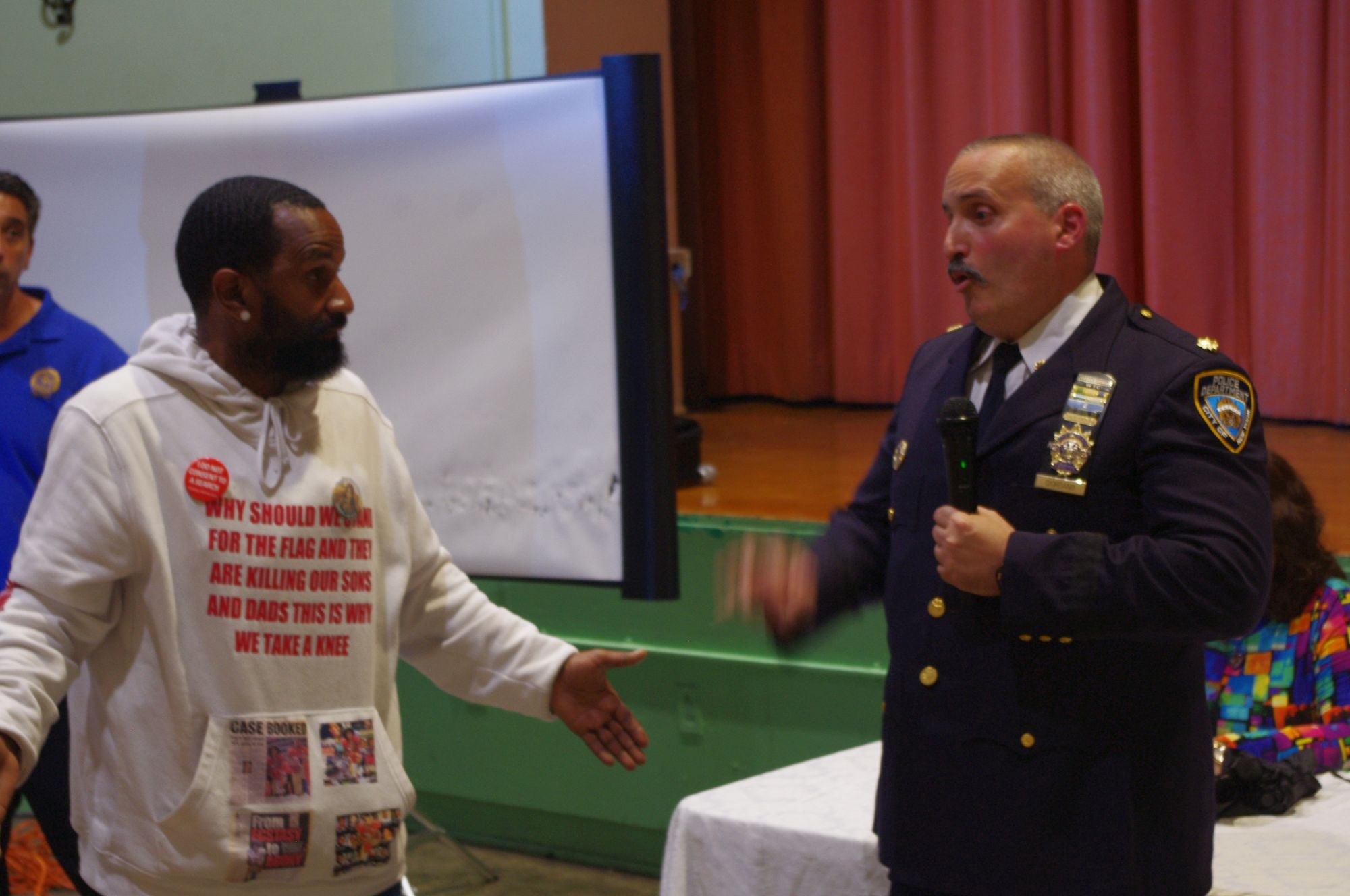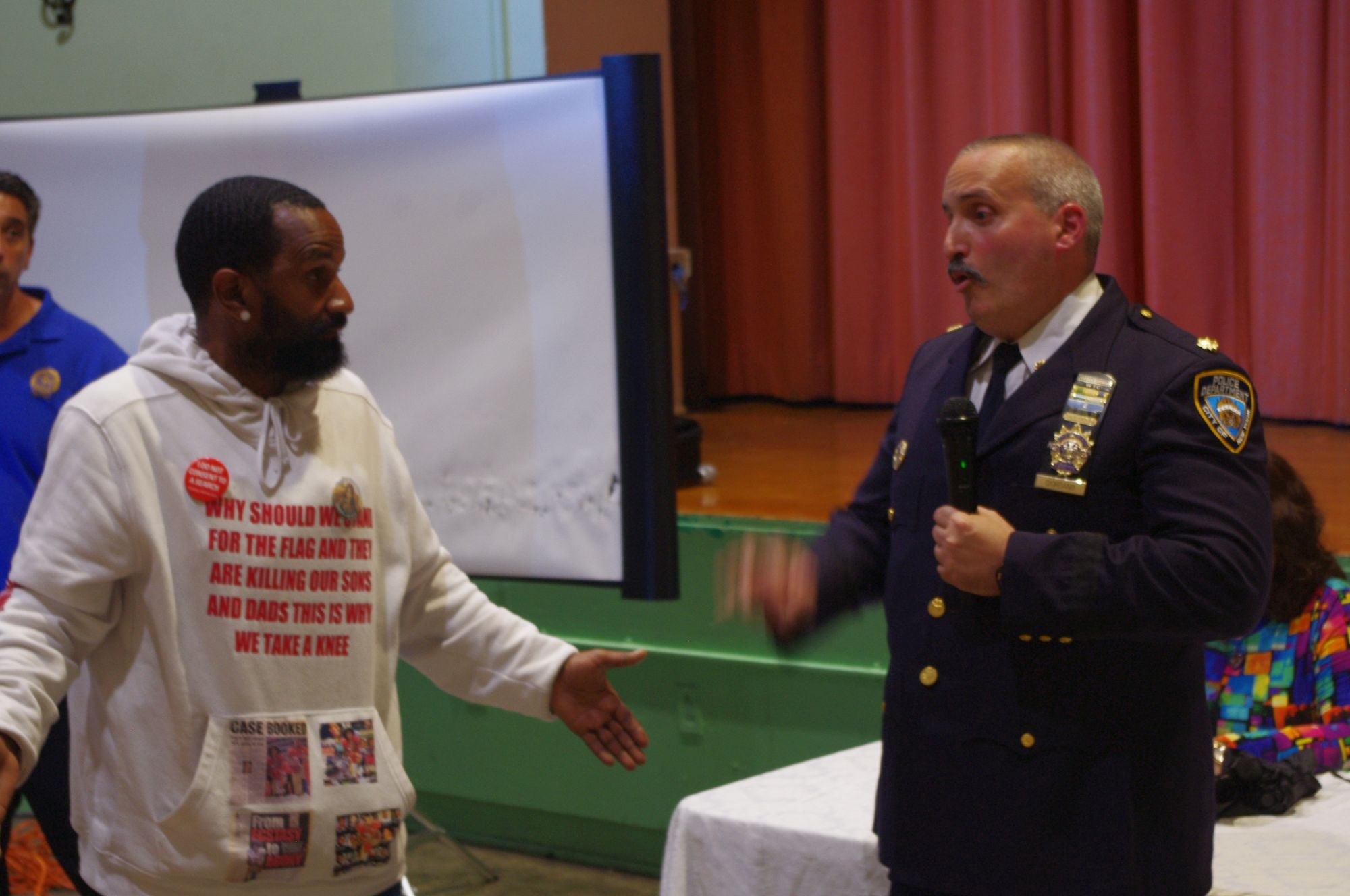 CROWN HEIGHTS—The lawyer and allies of a teenager who was wrongfully arrested last week stormed out of the 71st Precinct June Community Council meeting Thursday, while a representative of the local police station conveyed the police's telling of the incident.
Nicholas Simon, who is 17 years old, last Wednesday was dribbling a basketball and was suddenly apprehended in Crown Heights by a group of officers, who police say were responding to shots being fired in the area, as Simon was walking home from the park. Simon, who has sickle cell anemia and asthma, was handcuffed by multiple cops who emerged from a police car, video of the incident shows. According to Simon, the officers put their knees on his back and head and asking him to display a gun he did not have while they arrested him.
After the police officers hours later realized the 5'3" 119 lbs Simon, who says he has bruises from the police's actions, was not the alleged perpetrator, they cited him with disorderly conduct.
While Deputy Inspector Francis Giordano of the 71st Precinct was addressing residents at Thursday's Community Council meeting which took place at a local school, Simon's lawyer, Keith White, stood up and interrupted the inspector, claiming Giordano was misrepresenting what transpired, specifically the contention that the 17-year-old Simon was "combative" upon being apprehended.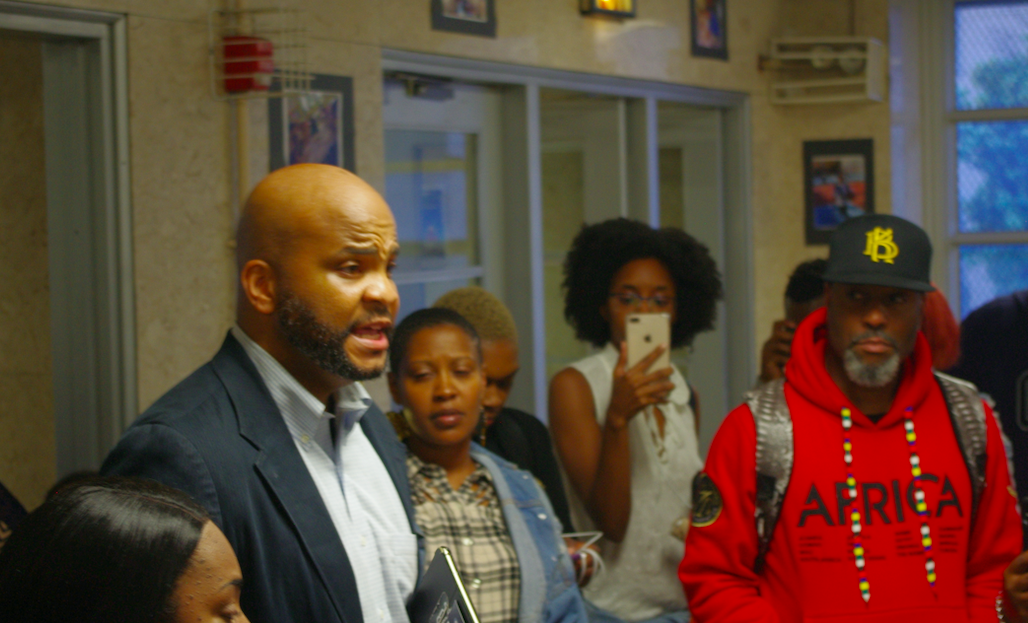 "There's video, that's not true," he said. "You cannot control this narrative."
Soon after, he and Simon's friends and family walked out of the room, gathered outside the auditorium in M.S. 61, and subsequently on the sidewalk outside.
Giordano said that, last Wednesday, around 6 p.m. 71st Precinct personnel were sent to a "shots fired" incident that had occurred at 394 Montgomery Street, between Rogers and Nostrand.
"Subsequent to that response," he continued, "the police officers arrived on the scene and there was an immediate request for a 1010, which is a request for emergency assistance, at the time of their arrival."
Then, a "foot pursuit" occurred in response to the shooting, and in turn "a 17-year-old male was stopped on Rogers Avenue in the vicinity of Montgomery Street," according to Giordano.
Simon, the inspector said, was "combative" at the stop. That's when White interjected. But the officer continued, telling White not to interrupt him.
In response to shots being fired, Giordano said, there were "two other stops related to it." Two other males were arrested, both of whom are, according to Giordano, "Crip gang members." One of them had a 32 caliber pistol and the other had a "metal knuckle knife" in his possession, he said.
After the alleged perpetrators were brought back to the police station, officers concluded that Simon "did not commit the shots fired," so he was "subsequently released from the station house."
"This is a traumatic event for a 17-year-old young man, and on behalf of the entire police department, I am sorry that this interaction caused this trauma to this young man," he said. "I cannot answer any other questions, other than what I have just spoken about, related to the incident."
He added that the precinct's community affairs team is attempting to meet with the family.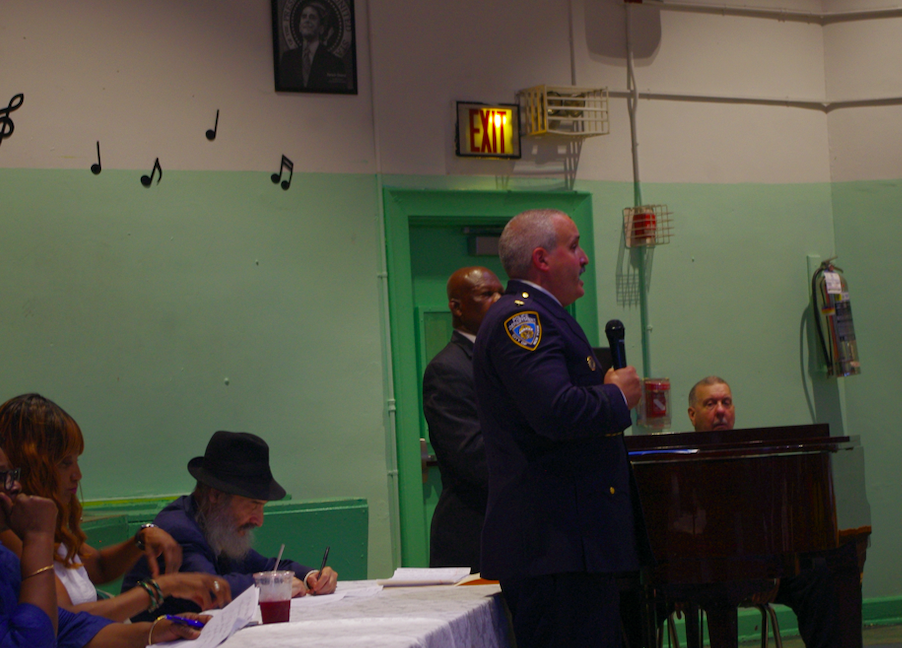 Outside the auditorium, White, the lawyer, and Simon's mother, Sparkle Roach, spoke to a few dozen people who were sympathetic to their interpretation of events.
"If we can't get the truth, then it's our job to expose and so sitting in that meeting is an insult to our intelligence," White said. "We're smarter than that. We're beautiful, brilliant people. We deserve better from our civil servants."
Roach thanked people congregated around her for their support, and like, White urged them to not let the incident fade away.
"We have to keep coming out and not let this be another incident that is swept under the rug," Roach said, adding people to make their voices heard so that more black people will not be "abused or victimized for no particular reason."
Meanwhile, most people who remained in the auditorium were not pleased by how the police handled the matter, both during and in the aftermath of the incident.
"You just fucked up that whole situation," said one man, who would not give his name, to Giordano.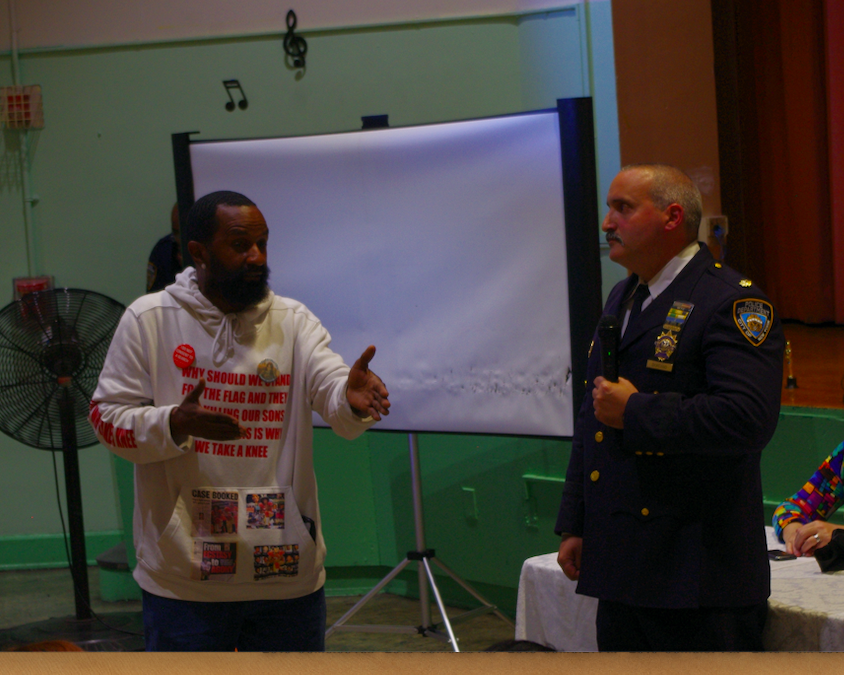 "Your officers did not conduct themselves properly when stopping that young man," another man said to Giordano, adding it was part of a pattern of how police interact with young black men. "I want to know why was this young man stopped. … We all know you've got to have a reason to stop somebody, you can't just hop out and stop somebody for no reason."
Giordano shied away from directly answering the question, citing ongoing litigation and an investigation.
"You're asking me specific legal questions related to this and there is an investigation that is being conducted related to this incident," he said, "and those facts will come out moving forward."