What The What: Reduce and Recycle?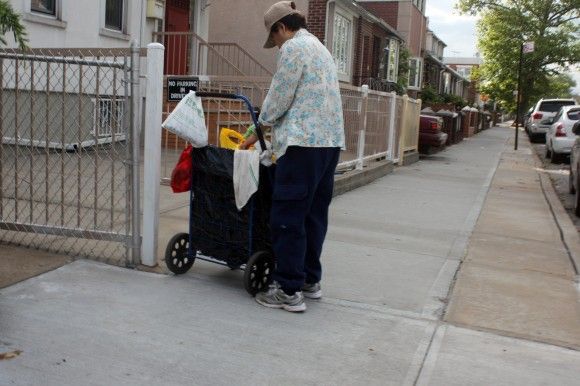 It's a common site: Elderly women and men pushing grocery carts filled with bottles and cans. Sometimes, they rifle through public bins and other times, it's private trash.
It's not easy work, especially for a septuagenarian, and the reward is often worth less than the effort. Yet, these men and women continue to pick Coke cans worth just nickels day after day.
Other issues come up when discussing neighborhood can collectors.
Tom, a West 7th Street resident, says he's gotten two sanitation tickets from the rubbish one collector left on his property after she was done digging in his bin. Now, he leaves a plastic bag with just cans and bottles on his wrought-iron gate so that there's no trash left behind.
"It's a pain," he says, "because I have to seperate my recycleables even more, but I refuse to get a ticket for someone else's mess."
There's another item for consideration. The Sanitation Department has been called out for poor recyclables sorting in the past. Plus, New Yorkers often throw bottles and cans in the trash, not into recycling bins. Something like 30 million single-use containers end up in the landfill everyday.
So, do the can collectors support the city and the environment in better sorting for plastics and aluminum or are they a neighborhood nuisance?
"What the What?" is a new photo feature looking at odd, weird and interesting things in the neighborhood. If you have photos of what the what happenings in Bensonhurst, Bath Beach, Dyker Heights or the surrounding areas send them to lvladimirova [at] bensonhurstbean [dot] com.