What is the "It" Bag of Park Slope?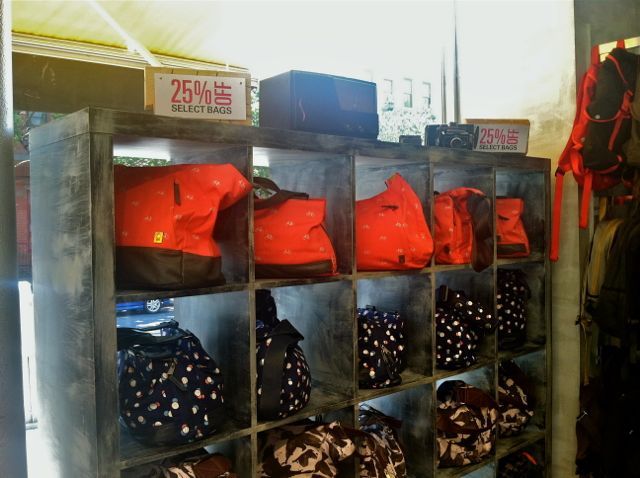 According to fashion site Refinery 29's "It Bags By Neighborhood," Chelsea girls tote black leather Lanvin satchels and "busy UES ladies" carry red J. Crew attaché cases. And those of us in the neighborhood of "Brooklyn" carry this Essl Austrian backpack:
Whether you're toting home wares from one of the awesome flea markets, packing your towel for McCarren park, or are just riding home from work in Manhattan, many Brooklyn-centric activities are best accessed by bike. And biking is, you guessed it, best served with a backpack. We're into the natural, light feel of this taupe one, and it just so happens to be eco-friendly, too.
Well, okay. I guess if you're gonna pick a bag for "Brooklyn," this one's as good as any? But if we're talking Park Slope specifically (which has the advantage of actually being a neighborhood), I'd argue the Essl ain't it. So here's the question, and a pressing question it is (also, a great first-date ice-breaker!): if we were a bag, what bag would we be? Let's do this, Refinery 29:
The Ubiquitous Free-When-You-Join Park Slope Food Coop Bag?
Maybe you're filling up on oh-so-in-season beet greens for one of your super-swank dinner parties. Maybe you're toting a post-yoga change of clothes. Or maybe you've let your membership lapse because oy vey, but nothing gives you the same sense of neighborhood pride/neighborhood self-parody like this gotta-have-it uber-basic. We're into the bag's super-trendy neon accents, and it just so happens to be eco-friendly, too.
The Brooklyn Industries Purse-That-Can-Double-As-A-Diaper-Or-Laptop-Bag?
Back in the day, you moved to Brooklyn to get more space. Now, the cultural cache is enough to drag one-time Manhattanites across the river. Which is why this bag — one part hip, one part enormous — is the perfect match for The Slope. From the laptop-toting freelancer to the baby-toting still-cool mom to the I-always-bring-six-changes-of-clothes-and-no-other-bag-is-big-enough auditioning actress, the ladies of Brownstone Brooklyn are a perfect fit for the Brooklyn Industries' brand of practical chic.
The My-First-Bag Bag?
Whimsical, fun, and just plain young, there's no neighborhood in Brooklyn quite as steeped in youth culture as Park Slope. Home of the babyccino, Rolie Polie Guacamole, and an unprecedented number of day care centers, the neighborhood's an incubator for some of the borough's youngest talent. Which is why we thought it appropriate to name this too-cute Skip Hop Zoo Pack in "Dog" to take you from pre-K to swimming lessons and back again.