Weiner Is Polling Second In Mayoral Race, But Still Faces A Hard Road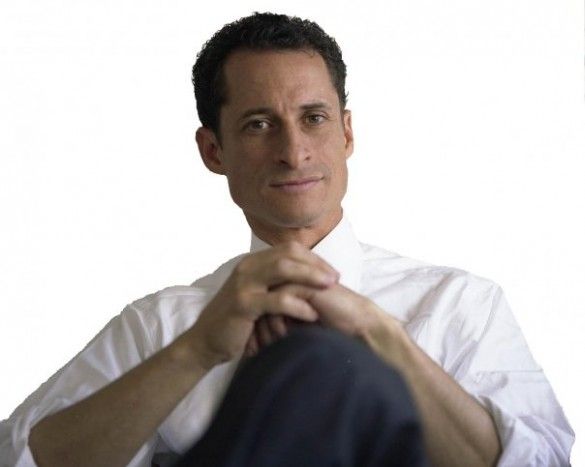 As the hype grows over Anthony Weiner's possible return to New York politics, analysts far and wide are weighing in on the question of what the chances really are for the former congressman. While early polling has Weiner running in second place behind City Council Speaker Christine Quinn, and some analysts speculate that Weiner's entry will damage other contenders' campaigns, polling Svengali Nate Silver is predicting that Weiner's chances to actually win are remote, according to a New York Times report.
In tracking Weiner's first steps in his attempt to recover politically from the texting scandal, the outward signs look good. He has currently leapfrogged the other contenders in the Democratic field, polling in second place with 15 percent. He only trails Quinn, who is leading the field with 26 percent. And, let's keep in mind, he's not even in the race yet. (Veteran political reporter Errol Louis, who recently conducted the first television interview with Weiner since his resignation, said a Weiner run is "all-but-certain."
Looking beyond the numbers, the New York Daily News speculates that Weiner's long history in representing moderate to conservative Democrats in Southern Brooklyn could undermine Quinn's strong attempts at making inroads in this area. The Daily News also threw cold water on Republicans who think that Weiner's entry will only weaken Democrats and bring embarrassment to the party. The Daily News highlighted Weiner's undeniably detailed and comprehensive list of policy plans that indicate a lead in the race for new ideas:
None of them has developed the kind of policy proposals — some quixotic, others intriguing — that Weiner released in his 64-point "Keys to the City" paper this week.
Weiner's call for stepped-up ferry service to Rockaway, Sheepshead Bay, Riverdale and Harlem is an idea that should have been tried long ago in our city of islands. His call to build new federally subsidized senior housing on hospital parking lots seems sensible. And his idea of making food stamps carry double the value when spent on fresh fruits and vegetables takes New York toward better health using an incentive rather than a punitive tax.
If Republicans don't start promoting their own, distinct policies, they could easily end up playing catchup in the battle of ideas. And I doubt that anything in the lives of first-time candidates Joe Lhota, John Catsimatidis and George McDonald has prepared them for the kind of withering verbal tirades Weiner used to launch, night after night, on TV and in the well of the House of Representatives.
Despite the positive press Weiner is currently basking in, according to the country's most famed statistician, Nate Silver, Weiner's chances to actually win the race for mayor are remote. If you don't remember, Silver was the guy who was practically flawless in calling the 2012 Presidential election, humiliating naysayers who doubted him with accurate predictions of all 50 states in the weeks leading up to the election. According to Silver, while it's true that Weiner is currently polling in second place, he also has a big lead among Democratic voters who view him unfavorably, coming in at 41 percent. By contrast, Quinn is polling at 23 percent when it comes to voters who view her unfavorably. This is bad news for Weiner:
This is the most problematic category for Mr. Weiner, because 41 percent of Democrats view him unfavorably, far more than for any of the other candidates. In general, it is extremely difficult for a candidate to flip voters into being supporters once they have already established a negative view of him — especially in the midst of what is likely to be a nasty and contentious primary. Thus, the more Democrats fall into this category, the harder it will be for a candidate to add support.
Silver's analysis predicts that Weiner, who is the most familiar to all voters, is also a big detriment as well. Unfamiliarity can be a strength for a candidate looking to make an impression on undecided voters in coming debates and media blitzes. With the slim margin of only 15 percent of likely voters not recognizing Weiner, he has the smallest potential for growth, especially considering the amount of voters who view him unfavorably.
In summation, Silver sees the latest polling as bad news for Weiner, attributing his second place status to name recognition alone. Still, he predicts that Weiner will receive a disproportionate amount of press attention. If Weiner is clever enough to turn all the publicity to his advantage, it's possible he can improve his standing with the demographic that currently has no desire to vote for him. Silver also notes that he is currently building a database of polling from every previous New York mayoral election. His current analysis is based on trends from presidential and congressional races, different animals than New York mayoral elections. This database should allow Silver to more accurately compare and contextualize Weiner's chances once it is completed.