Weekend Crime Blotter: Statues Smashed at Williamsburg Church, Cuffed Con Escape Cops in Brownsville & More
WILLIAMSBURG – A Williamsburg church was vandalized in the early hours of Sunday, December 2, police confirmed.
The suspect allegedly urinated on two angel statues outside the Our Lady of Consolation Roman Catholic Church, at 184 Metropolitan Avenue, before pushing them over, where they smashed on the ground.
Police said the suspect fled south on Metropolitan, towards Bedford Avenue. The NYPD Hate Crimes Task Force is investigating the incident. Surveillance video can be seen below:
CANARSIE – Police found a dead body at the end of the line on the L train this weekend.
After a 911 call was made around 10:30 pm, police officers responded to the Rockaway Parkway L station in Canarsie, where they found a man unconscious and unresponsive with a cut above his eye.
EMS transported the man to Brookdale Hospital, where he was pronounced deceased, police said. The medical examiner will determine the cause of death.
The name of the deceased has not yet been released, pending family notification.
BROWNSVILLE – A handcuffed man escaped from police custody in Brownsville on Saturday, fleeing a police car near Thomas Boyland Street and Livonia Avenue, police said.
Tyrone Johnson, 24, has his hands cuffed behind his back around 4:30 am on Saturday, December 1, when he escaped the police vehicle.
The Brooklyn man had previously been arrested for drug possession, and a photo of the escapee can be seen below:
CYPRESS HILLS – A man inappropriately touched a woman while on the A train last Friday, but she was able to snap a picture of the suspect as he slept.
The incident occurred on a northbound A train at Grant Avenue station on Friday, November 30, police said. Around 8:30 pm, a man sleeping on the train woke up, groped the thigh of a 20-year-old woman, then fell back asleep.
Before leaving the train, the victim took a cell phone picture of the man in question, which can be seen below: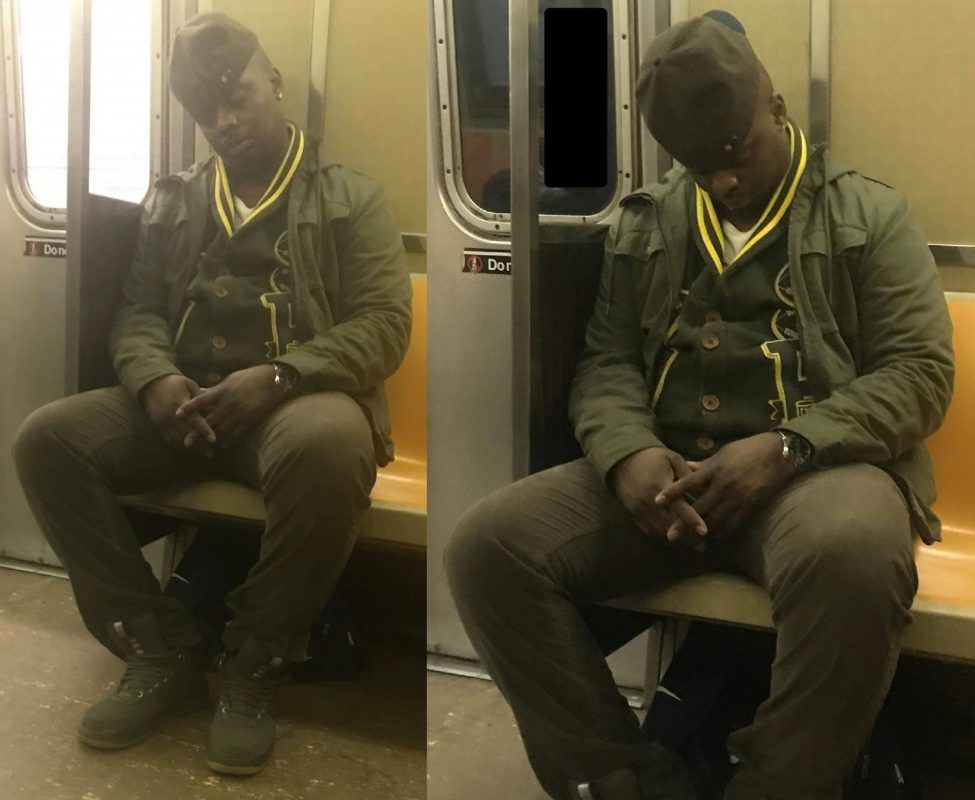 BROWNSVILLE – Another subway creep was caught on camera last week, this time on a southbound 3 train out of Junius Street station.
The suspect boarded the train on Tuesday, November 27, around 3:00 pm, sitting opposite a 33-year-old woman. He then exposed himself in plain view until exiting the train at Livonia and Van Siclen, police said.
The woman snapped a shot of the suspect's face, which can be seen below:
SUNSET PARK – Finally, police are looking for a pair of teenagers in a robbery that took place in Sunset Park back in October.
According to police, around 4:20 pm on Thursday, October 25, to teenagers snuck up behind their victim, a 14-year-old boy, and punched him, then threw him to the ground. Police said the two stole his iPhone 7 before fleeing.
The victim refused medical attention at the scene. Surveillance video of the two young suspects can be seen below:
Anyone with information in regard to the above incidents is asked to call the NYPD's Crime Stoppers Hotline at 1-800-577-TIPS (8477) or for Spanish, 1-888-57-PISTA (74782). The public can also submit their tips by logging onto the CrimeStoppers website at WWW.NYPDCRIMESTOPPERS.COM, on Twitter @NYPDTips or by texting their tips to 274637 (CRIMES) then enter TIP577. All calls are strictly confidential.