Weekday Fun: The Best Events May 18-20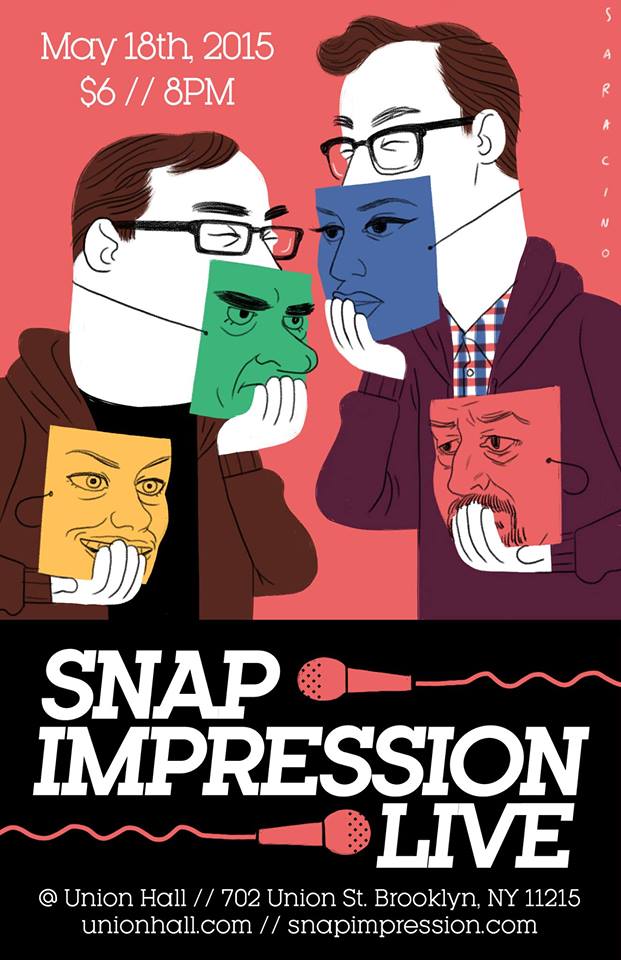 We've got a bit of rain in the forecast, but if you can brave it for a quick walk, there are some fun events that aren't too far out of your way — from a show with comedians doing off-the-cuff impressions, to a workshop on alternative lending, to a pub quiz. Check out the details on those, and more, below!
For even more things to do around Brooklyn, and to add your own upcoming event (some of which we'll feature in this roundup in the future!), check out our calendar.
Caution: Criminal INjustice
When: Monday, May 18, 7pm
Where: Central Library, Dweck Center, 10 Grand Army Plaza
What: Based on the real-life experiences of the actors, this original play will address the challenges of racism, false accusations, and poor legal representation in the criminal justice system.
How much: Free, but RSVP to make sure you get a seat.
Snap Impression Live
When: Monday, May 18, 8pm
Where: Union Hall, 702 Union Street
What: Check out the live version of this gameshow podcast that pits comedians against each other to see who can do the best off-the-cuff impressions of celebrities, fictional characters, and historical personages. Featuring Eliot Glazer, Aparna Nancherla, Beth Hoyt, Andy Beckerman, and Ramsey Ess.
How much: $6, tickets available in advance.
Alternative Lending: A Guide To Investors, Equity, And Crowd Funding
When: Tuesday, May 19, 6:30pm
Where: The Old Stone House, 336 3rd Street
What: Lo Thinking about taking out a loan for your business? Learn about alternative lending options that can help keep your cash flow current without cutting into your bottom line in this course.
How much: $10, tickets available in advance.
Author Talk: Nell Zink
When: Tuesday, May 19, 7pm
Where: Community Bookstore, 143 7th Avenue
What: Author Nell Zink will discuss her novel Mislaid, about "a woman who discovers harsh truths about class, race, and sexuality in contemporary America when she tries to remake a life in shambles by moving to a housing project and passing as black."
How much: Free!
Secret Science Club Presents Computational Geneticist Joe Pickrell
When: Tuesday, May 19, 8pm
Where: The Bell House, 149 7th Street
What: We can learn a lot about our ancient ancestors through artifacts, cave paintings, and more — but what about DNA? Geneticist Joe Pickrell compares and contrasts the the genetic code of living humans and those who are "looooong dead," and finds some cool stuff.
How much: Free!
Shape Up NYC: Glutes In Gear
When: Wednesday, May 20, 6-7pm
Where: Prospect Park, Audubon Center
What: Looking for a belly-busting, booty shaping workout? This two-part class focuses on high-endurance cardio and mat work to build your core, and flatten and tighten your abs and glutes. No registration is required, but be sure to bring your own mat.
How much: Free!
Geeks Who Drink Pub Quiz
When: Wednesday, May 20, 8:30pm
Where: The Rock Shop, 249 4th Avenue
What: Teams of up to six players will compete for bar gift certificates and bragging rights, plus there are chances to win free pints (or gift-certificate equivalents) for answering five bonus questions throughout the evening, and there are some kinds of "bizarre prizes" for their weekly Bonus Email Question.
How much: Free!
Bruce Matthews On "Schelling In The Anthropocene: Thinking Beyond The Annihilation Of Nature"
When: Wednesday, May 20, 7pm
Where: Central Library, InfoCommons Lab, 10 Grand Army Plaza
What: In this final talk of the second year of the monthly series Brooklyn Public Philosophers, Bruce Matthews of Duke University will discuss the mass extinctions and sweeping ecological changes caused by human behavior, and how the work of the 19th century German philosopher F.W.J. Schelling can help us mitigate, or possibly stop, them.
How much: Free!