Wednesday Crime Blotter: Home-Invasion on Christmas Morning, Teacher Assaults Developmentally Disabled Student & More
CONEY ISLAND – On Christmas morning, a home-invasion robbery sent an 88-year-old woman to the hospital, and now police are hoping to track down the suspect.
Around 6:45 am on Tuesday, December 25, the suspect entered the victim's apartment, near Surf Avenue and West 25th Street, through an unsecured door, police said. The burglar then sat the elderly woman down on the bed while he rummaged through her things.
When the woman tried to stand up, the suspect punched her in the face, said police. She was able to activate her medical alert bracelet, but when the burglar noticed, he punched her again, then fled the apartment.
The victim was treated for her injuries at NYC Health and Hospitals Coney Island, police said. Surveillance images of the suspect can be seen below: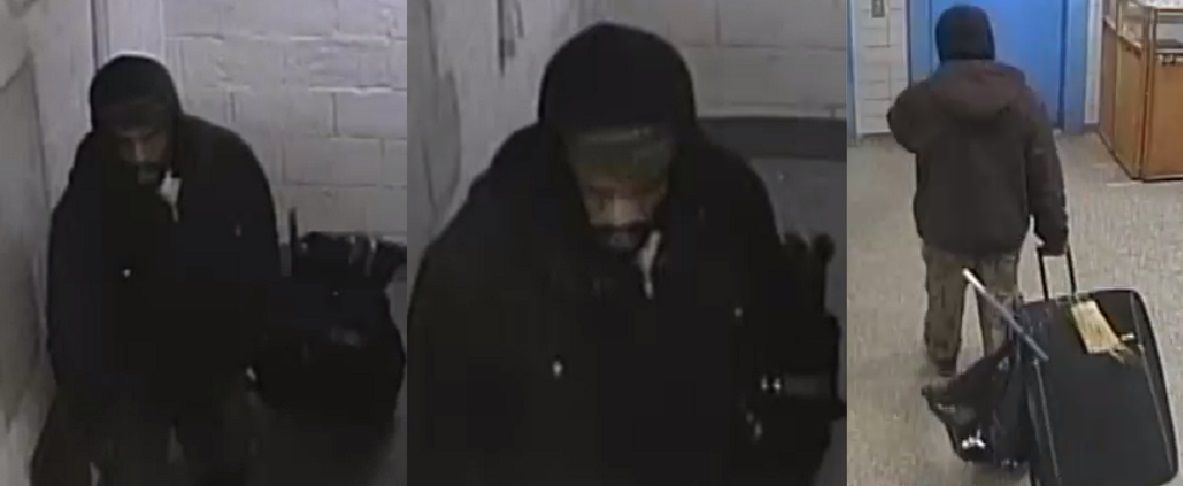 GRAVESEND – A teacher at a school for students with developmental disabilities in Gravesend was arrested last week for allegedly striking a 20-year-old autistic student 10 times with a wooden ruler.
Aries Baluyot, 44, a teacher at P.S. K721 on Avenue X, was arrested by NYPD on Friday, December 21, after the student's father saw the bruising on his son's upper thigh and reported the alleged abuse.
"This alleged behavior is deeply disturbing and has no place in our schools," said a Department of Education spokesman in a statement. "He's being suspended without pay."
Baluyot, a teacher at the school for 20 years, was released on his own recognizance, police said.
CLINTON HILL – A man is wanted after two brazen robberies last Friday, one in Clinton Hill and the other, hours later, in Gowanus. He was caught on camera both times.
First, around 5:45 pm, the suspect entered Ken Marble, Inc. at 156 Flushing Avenue, across from the Brooklyn Navy Yard, police said. Displaying a gun, he demanded one of the employees hand over her purse, then forcibly stole the item from the woman, fleeing with her iPhone 5 and $800 cash.
Then, around 8:15 pm, at a taxi garage at 330 Butler Street, just off 4th Avenue, the man entered the building with gun and demanded property. This time, he was stymied, fleeing the premises without any proceeds, police said.
BROWNSVILLE – Last Wednesday, an 18-year-old was assaulted and robbed by a group of four men on the platform at Junius Street Station in Brownsville.
Exiting a southbound train around 10:45 pm on Wednesday, December 19, the young man was jumped from behind by four assailants, who punched and kicked the man repeatedly, breaking his nose and causing bruising to his head. They then stole his phone, wallet and headphones, about $1500 worth of goods, police said.
EMS transported the victim to a nearby hospital, where he was treated for his injuries and released, police said. Surveillance video of his assailants can be seen below:
CYPRESS HILLS – Finally, a man is wanted after grabbing a woman and nearly throwing her onto the J train tracks in Cypress Hills last week in a terrifying assault.
On Tuesday, December 18, around 1:20 am, the assailant grabbed a 19-year-old woman and demanded she perform a sexual act on him, dragging her by the hair, police said. Then, the man attempted to throw her onto the subway tracks.
The victim resisted and the man fled the subway, police said. Surveillance video of the suspect can be seen below:
Anyone with information in regard to any of the incidents above is asked to call the NYPD's Crime Stoppers Hotline at 1-800-577-TIPS (8477) or for Spanish, 1-888-57-PISTA (74782). The public can also submit their tips by logging onto the CrimeStoppers website at WWW.NYPDCRIMESTOPPERS.COM, on Twitter @NYPDTips or by texting their tips to 274637 (CRIMES) then enter TIP577. All calls are strictly confidential.