Wednesday Crime Blotter: Another Bank Robbery, A Southern Brooklyn Crime Spree and More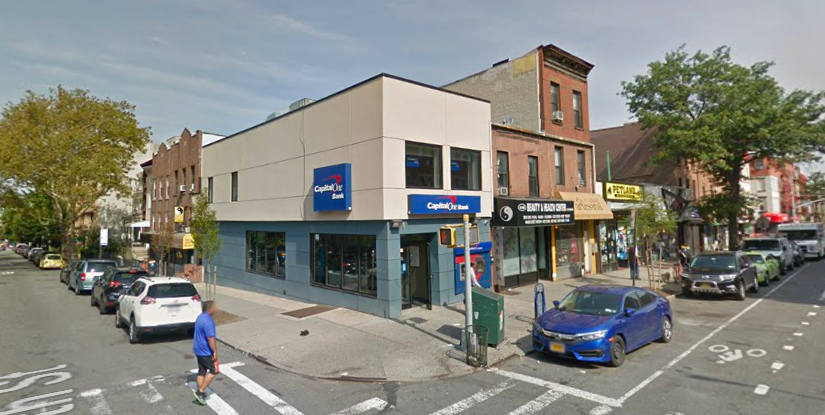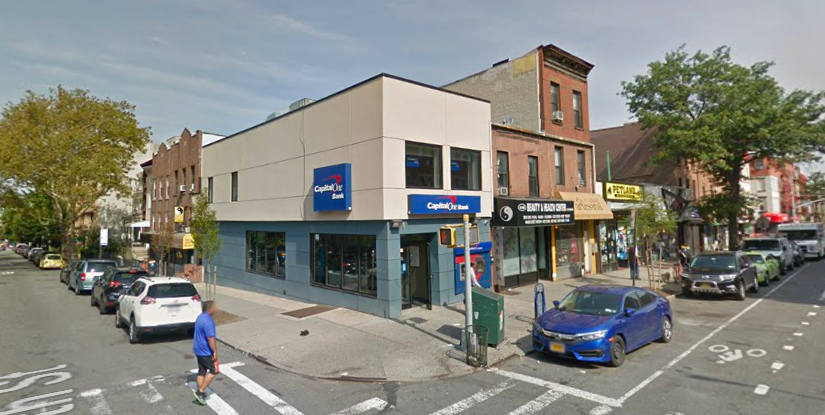 PARK SLOPE – Police are looking for the suspect behind a brazen noontime robbery of a 5th Avenue bank that occurred yesterday in Park Slope.
Just before 12:00 pm on Tuesday, January 16, a man walked into the Capital One Savings Bank at 516 5th Avenue and 13th Street, approached the bank teller, and passed a note demanding money, said police. The teller complied, handing over an undetermined amount of cash.
The robber fled on foot, heading north up 5th Street. Police described the suspect as a white man, 30-35 years old and 6'0″. He was last seen wearing a black hooded coat and black sunglasses. Surveillance video of the incident can be seen below:
SOUTHERN BROOKLYN – Police are looking for a man wanted in connection with a string of armed robberies that took place in the course of one night in Bensonhurst and Gravesend earlier this month.
On Thursday, January 4, just before midnight, the suspect approached a 27-year old man outside 7703 New Utrecht Avenue, pulling out a handgun and demanding money, said police. The suspect stole the man's backpack, which contained $100 cash, and fled.
Moments later, the suspect struck again, approaching a 29-year old man in front of a nearby residence, asking if the victim had change for $5, said police. When the man said no, the robber pulled out his gun, demanding money from the victim—which amounted to $4. The robber fled southbound on New Utrecht Avenue.
About 30 minutes later, as the night of Thursday, January 4 became the early hours of Friday, January 5, the armed robber struck again, this time near 78th Street and 19th Avenue. Along with two companions, the suspect hailed a cab and took it to West 13th Street and Avenue V, where they proceeded to rob the cab driver, said police. The suspect took his property while an accomplice stole the cabbie's cell phone, then fled south into the Marlborough Houses.
Shortly thereafter, police arrested the accomplice: Ruhul Shordar, an 18-year old man who lived nearby. He has been charged with robbery.
But even with Shordar in custody, our main suspect wasn't done with his crime spree.
At about 3:00 am, he approached a 28-year old man outside of 2835 86th Street, once again pulling a gun and demanding money, said police. The would-be victim refused, and after a brief struggle, managed to escape.
Finally, just moments later, the suspect approached his final victim of the night, a 20-year old male, asking him if he had change for $10, said police. The victim replied that he didn't have any money, and the suspect once again pulled his handgun. This time, he took $320 from his victim, before fleeing westbound down 86th Street.
Police described the suspect as a black man, 25-30 years old, and 5'8″, last seen wearing all black clothing. Surveillance footage of the suspect can be seen below:
SHEEPSHEAD BAY – Police are looking for a group of suspects after an argument turned into a robbery in the last days of 2017.
At 11:40 pm on Thursday, December 22, two men were sitting in their car in front of the Shlomo Pharmacy at 2092 Coney Island Avenue, between Kings Highway and Avenue R. The 20- and 23-year old men were approached by a group of six—4 men and 2 women—and proceeded to get into a verbal altercation, said police.
The situation escalated when one of the men in the group pulled a gun, demanding the two victims exit the car and hand over their money, said police. While they did so, another man from the group got in the car, driving away southbound on Coney Island Avenue. The rest of the group fled on foot, said police.
NYPD officers responding to the scene were able to recover the vehicle shortly thereafter, abandoned a few blocks away at 1870 East 7th Street. Surveillance footage of the group wanted for questioning in connection with the incident can be seen below:
Anyone with information in regard to any of these incidents is asked to call the NYPD's Crime Stoppers Hotline at 1-800-577-TIPS (8477) or for Spanish, 1-888-57-PISTA (74782). The public can also submit their tips by logging onto the Crime stoppers website at WWW.NYPDCRIMESTOPPERS.COM or by texting their tips to 274637 (CRIMES) then enter TIP577. All calls are strictly confidential.