Wednesday Crime Blotter: A Boerum Hill Bank Robbery, A Stolen Purse Full Of Cash and More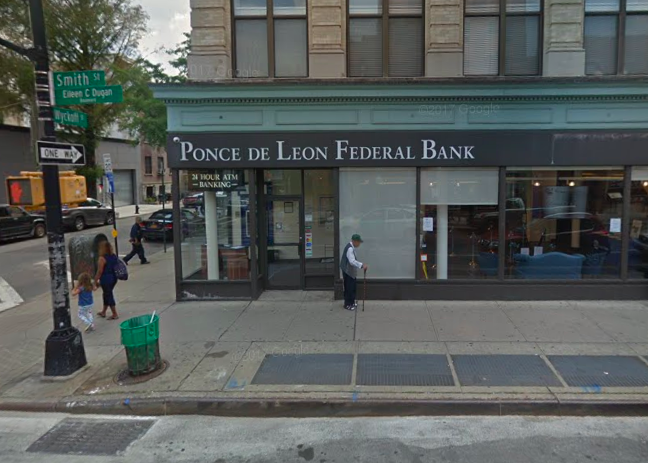 There's already been a bank robbery in the New Year, plus we catch up with a slew of holiday crimes as new information is made available for the public. Check out the Crime Blotter round-up: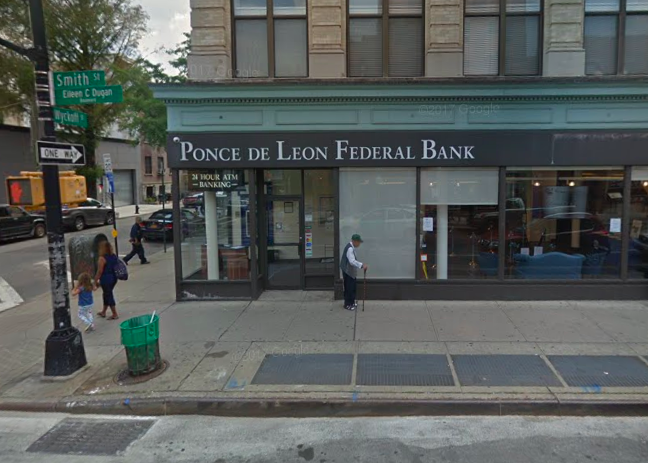 BOERUM HILL – Ringing in the New Year with a bank robbery, a man made off with $1500 in cash from Ponce De Leon Federal Bank on the morning of January, 1.
The man entered the bank at 169 Smith Street just before 11:00 am, passing the teller a note demanding money, said police. The teller complied and the man fled with the cash, but not before getting caught on security cameras.
Police described the suspect as a black man, 35-40 years old, with a dark complexion. He was last seen wearing black pants and a dark coat, with an orange bandana covering his face.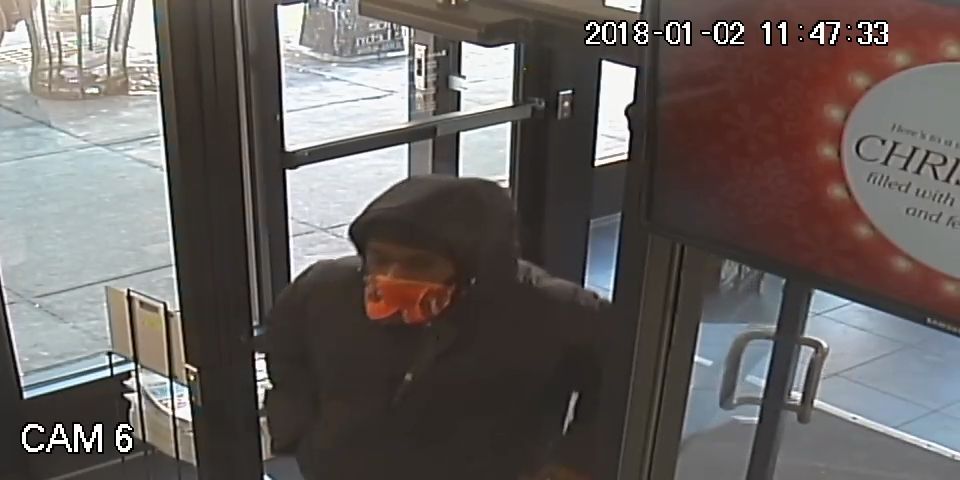 BROWNSVILLE – Three men are wanted in connection the armed robbery of a 16-year old outside a Brownsville apartment on the day after Christmas.
The three suspects approached their victim on the street around 6:40 pm on Tuesday, December 26, said police. Showing the teenage boy a firearm and pushing him into the vestibule of the building at 701 Ralph Avenue and Sutter Avenue, the suspects proceeded to rob him of his iPhone 6, his wallet, and his Jordan sneakers.
Police described all three of the suspects as black men. Two were dressed in black, wearing ski masks, while the third was wearing a blue Hollister jacket. His picture can be seen below: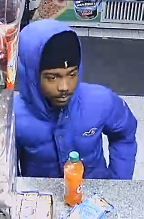 GRAVESEND – Police are looking for a middle-aged woman who stole a purse full of cash off a freezer case in a Kings Highway supermarket on Christmas Eve.
Around 6:00 pm on Sunday, December 24, an 86-year old woman, soon to be the victim of a grand larceny, left a black handbag with $6,200 cash unattended while she shopped in the Key Foods at 319 Kings Highway, said police. At some point, an unknown individual swiped the bag and fled.
Security camera footage allowed the police to get a look at the suspect, who they describe as a white woman, 45-55 years old, around 5'7″ and about 180 lbs. She has a light complexion and blonde hair, and was last seen wearing a black jacket, black shirt, blue jeans and brown shoes. A photo can be seen below:
CLINTON HILL – Two teens are wanted in connection with an armed robbery on a playground near the Pratt Institute in late December.
Around 2:30 pm on Thursday, December 21, two male teenagers approached two 13-year old victims at the Pratt Playground on Emerson Place and Willoughby Avenue, said police. One of the robbers asked the boys for the time, while the second revealed a handgun. The two thieves demanded the victims backpacks and cell phones, and when they complied, the young robbers fled on foot, leaving the kids unharmed, said police.
The NYPD released security footage that shows the two suspects. Police described the first as black male, 15-17 years old, last seen wearing a gray hoodie, black coat, dark colored pants and white sneakers. The second was described as a Hispanic male with a light complexion, 15-17 years old, last seen wearing a blue hoodie, black coat, green sweatpants and black sneakers with white shoe laces.
FLATBUSH-DITMAS PARK – Police are looking for a burglar who broke into a residence in the vicinity of Crooke Avenue and St. Pauls Place, just south of Prospect Park, in mid-December.
On Tuesday, December 19, the suspect gained entry into the residence through an unlocked window around 1:00 pm, said police. Inside, the brazen daylight burglar stole a computer, a PlayStation, a camera, and some clothing before leaving through the font door, carrying the items in what appears to be a garbage can.
The suspect can be seen from multiple angles in the surveillance video recovered by the NYPD below. Police describe him as a Hispanic man, between 5'9″ and 6'0″, last seen wearing a blue shirt and black pants.
EAST FLATBUSH – Police are seeking the public's assistance in finding the man who committed a pair of robberies at two Church Avenue delis on Sunday, December 10.
Just before 9:00 am, the suspect entered El Vacilon Grocery Corp., at 9521 Church Avenue, grabbing a butcher's knife from behind the counter and menacing the store clerks, said police. The man wanted a cigarette lighter, but was tossed from the store without one.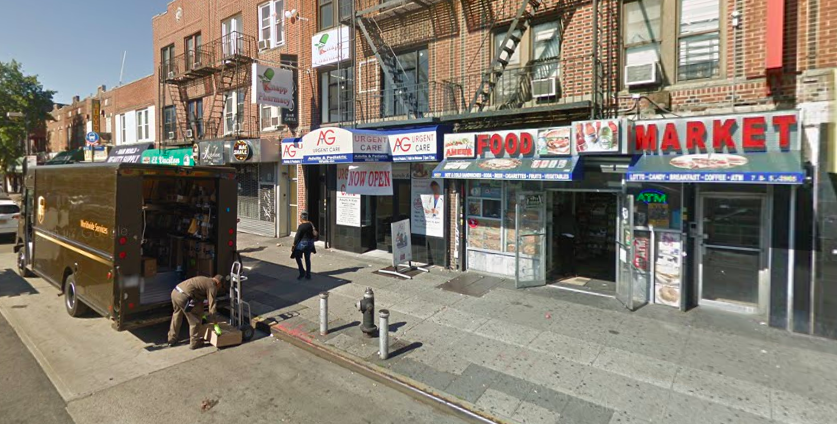 Then, he walked down a few doors to Ameer Food Market, at 9527 Church Avenue, demanding cigarettes from the clerk, said police. The suspect was informed that the location didn't carry cigarettes, then tried to get behind the counter. Police said the man produced a firearm before fleeing the scene.
Police described the suspect as a black man, between 21 and 28 years old, around 140 lbs., with short hair and brown eyes. He can be seen in the photo below: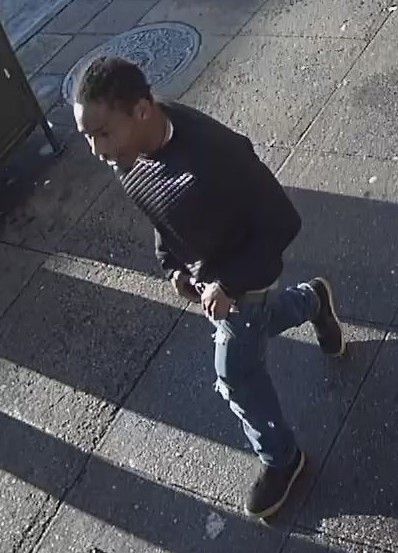 Anyone with information in regard to these incidents is asked to call the NYPD's Crime Stoppers Hotline at 1-800-577-TIPS (8477) or for Spanish, 1-888-57-PISTA (74782).  The public can also submit their tips by logging onto the Crime stoppers website at WWW.NYPDCRIMESTOPPERS.COM or by texting their tips to 274637 (CRIMES) then enter TIP577. All calls are strictly confidential.