Volunteers Needed: Coastal Cleanup Day At Kaiser Park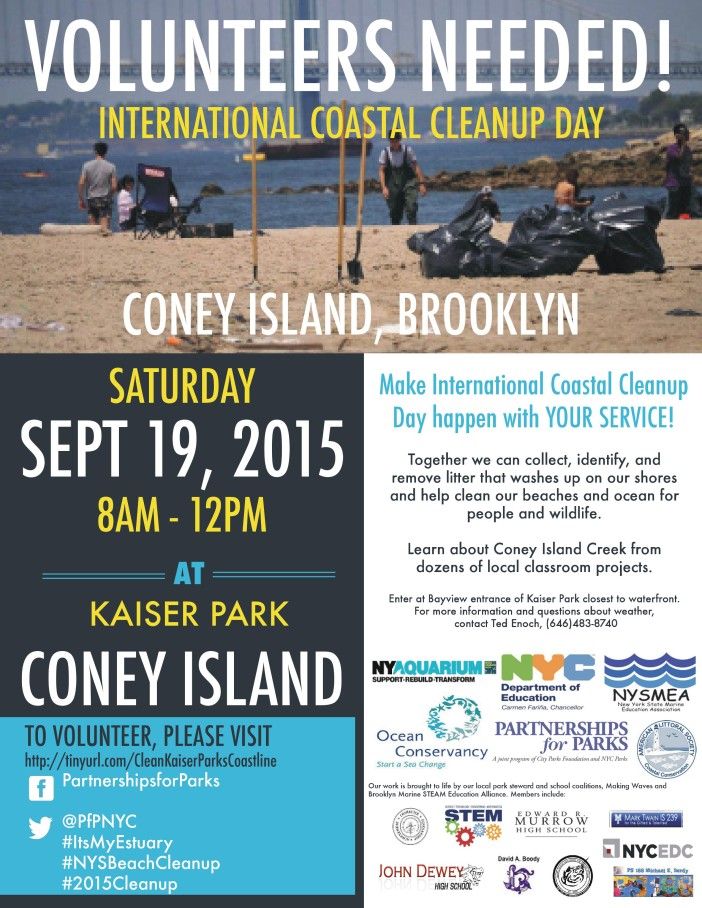 Get your hands dirty for a great cause.
The Wildlife Conservation Society's New York Aquarium Education Department and Partnerships for Parks' Catalyst Program are looking for volunteers to help them collect, identify, and clean up litter along the shoreline of Kaiser Park.
The International Coastal Cleanup Day will take place on Saturday September 19, from 8am-12pm, and will meet at the Bayview Avenue entrance of the park.
Volunteers of all ages are welcome, but those under 15 should be accompanied by an adult, those under 18 must have parental consent. All ages must have completed signed waiver and photo release forms. Volunteers can register here.
In addition, seven local schools will be participating in a Marine STEM Field Day, providing educational demonstrations about Coney Island Creek all morning.
Here's the schedule, according the the New York Aquarium website:
8–9: Oyster Monitoring with STEM Field Stations
9–9:45: Water Chemistry Demonstration with John Dewey High School (JDHS)
9–11: Crafts and Local wildlife/Environmental Issues with JDHS
10–10:30: Robotics Demonstration with JDHS
10:30–11: Sand Mole Crab Demo with NYA
11–11:45: Robotics Demonstration with JDHS
11–12: Debris weigh Station and survey
11:15–12: Water Chemistry Demonstration with JDHS
11:15-–12: Seine netting with JDHS
Volunteers should wear closed-toed shoes, sun screen, and a sun hat.