Village Voice Names Di Fara, Totonno's The Two Best Pizzerias In New York City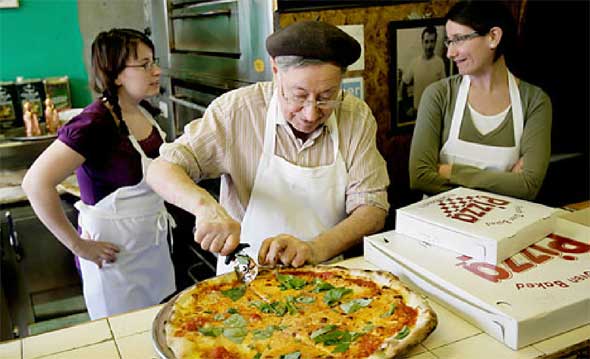 I suppose it hardly ranks as news anymore when Midwood's Di Fara Pizza and Coney Island's Totonno's make a New York City top-10 pizza list, but it's still worth a mention here anyway.
Village Voice is the latest to dub the two Southern Brooklyn pizzeria's the first and second best, respectively, pies in town, with a top 10 list published on Tuesday.
Of Di Fara (1424 Avenue J), they write:
The Big Apple's patron saint of basil sprinkling, Dom DeMarco has presided over this Midwood dough shrine since 1964 turning out gorgeous, imperfect rounds that are occasionally on the burnt side. No matter, even burnt this stuff is better than most. Whatever gruesome rituals had to be performed to achieve pizza this ethereal, we'll gladly look the other way. Some folks will tell you to get there early, but we prefer to double down on delicious by placing an order at Di Fara and then walking around the corner to split one of the Italian comfort food dishes served at sister restaurant MD Kitchen. What's better than a two-hour wait (most things)? A two-hour wait with shrimp parmigiana.
Of Totonno's (1524 Neptune Avenue):
A beloved slice of historic New York City, Totonno's has risen from the ashes twice in the past five years; first from a 2009 fire and then from Hurricane Sandy. Then again, half a decade is a drop in the bucket for the Coney Island pizzeria, which opened in 1924. Thanks to one of the most seasoned coal-fired ovens in town, the pizzas all bear puffed, char-speckled crusts sturdy enough to support generous layers of sweet, herbal tomato sauce and melted fresh mozzarella. The pizzeria is as busy as ever post-storm reconstruction. With any luck, it'll stay that way well into the future.
Reps from Di Fara's took to Facebook to express their gratitude to their patrons, writing simply, "Thank you again and again !!"
Of course, the news vindicates mayoral candidate Bill de Blasio somewhat, after he was blasted by the Daily News for choosing Di Fara's as his favorite joint, a decision that they said shows he's in bed with the one percent.
It doesn't do much for his rival Joe Lhota, though. Of the top 10 pizzerias named by Village Voice, seven were in Brooklyn, two were in Manhattan, and one was in Staten Island. Queens, where he said he gets his favorite slice from a pizzeria of which he couldn't remember the name, has no good pizza. And certainly no good buffalo chicken pizza. Because there's no such thing as good buffalo chicken pizza.
What the hell, Joe. What the hell.