Video Shows Cyclists Navigating Flushing Bike Lane Flatbed Convention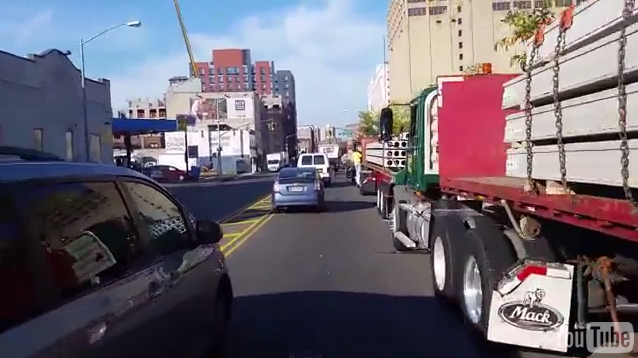 Gothamist's John Del Signore posted the above video today of a scary situation on Flushing Avenue, where it seems massive trucks have taken up residence in the westbound bike lane. The presence of the trucks, which appear to be carrying construction materials, force Del Signore and other riders in the recording into the main traffic lane, awfully close alongside briskly moving cars.
Anyone we know whose ridden a bike in NYC before has dealt the occasional bike lane blockage, but between its amount (and length) of vehicles and the number of passing cars on Flushing as opposed to, say, a side street, this line of trucks seems like a truly unique and terrifying accomplishment. Del Signore passes six flatbeds in the video, which shows his ride only from roughly Washington to Clinton Avenue, in under a minute.
"[I]n my experience, police do not ticket trucks," said attorney Steve Vaccaro in a statement to the site, "because they assume they are making deliveries and that it is OK for them to block bikes [sic] lanes (something that is not true)."
Vaccaro notes, however, that Chief Thomas Chan of the NYPD Transportation Bureau said only this week at a press conference that of the 7,000 bike-related tickets issued so far as part of the Vision Zero enforcement initiative, "about 60% went to cyclists and about 40% went to motorists blocking bike lanes."
The DOT offers a helpful diagram and tips for drivers, commercial or otherwise, who are considering parking in  a bike lane. Hint: it's not legal.
"There was a similar convoy parked along that same stretch last week, with some of the drivers also standing on the traffic side of their vehicles," said one Gothamist reader. "That area of Flushing inevitably has some kind of hazard, whether it's an idling truck (or six) or some confused motorist just hanging out in the bike lane. I get that we all need to share the road to a certain extent, but being forced into the single lane of (often very fast moving) cars is really scary."
"This is the worst bike lane in all of NYC. So many near death experiences," wrote another.
However, when a recent report noted that 25% of traffic on Flushing Avenue is made up of bicyclists and pedestrians, the majority of our poll respondents said they felt quite safe on the road. So the question is, are all these trucks in the bike lane a new development? Have you experienced an increase frightening (or simply annoying) experiences with blocked bike lanes on Flushing lately, or is this simply a case of "same old, same old" that happened to get uploaded to YouTube?