Uzbek-Korean "Cafe At Your Mother-In-Law" Mulling Expansion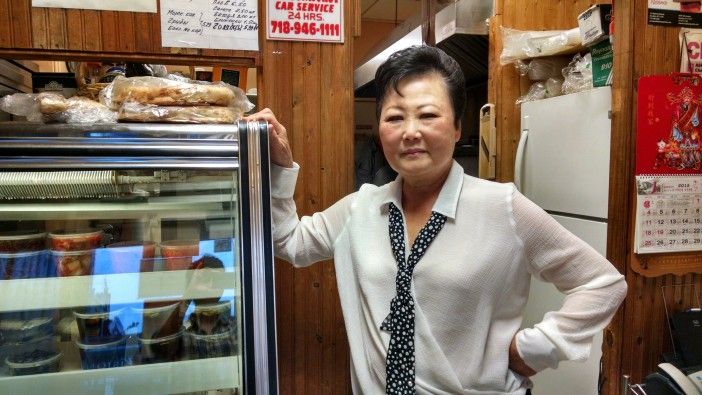 The owners of Uzbek-Korean fusion restaurant Cafe At Your Mother-in-Law, with locations in Brighton Beach and Bensonhurst, is considering further expansion and even franchising.
We met up with them at their Bensonhurst location, tucked into 19th Avenue just off of 86th Street, where the eatery's orange sign is easy to miss if you don't read Russian (the English letters read "Eddie Fancy Foods"), to discuss the business' history, taste the menu, and talk about the future.
Aside from a refrigerator displaying fresh salads, the wood-paneled store does feel like it could easily be your mother-in-law's kitchen. There is one small dining table, and another that functions as a desk. The second table is usually strewn with a notebook and pen, a portable telephone, and has a vase of fresh flowers. From the calendar tacked near the kitchen, to the decorative beads that hang in the doorway, nothing would indicate that At Your Mother-in-Law is a thriving restaurant business on the verge of expansion.
At Your Mother-in-Law is billed as a Russian-Uzbek-Korean restaurant, but rather than fusion, the small eatery offers an unlikely pairing experience – hearty Russian and Uzbek main dishes alongside Korea's brightly flavored soups and salads.
There is a backstory to the distinctive cuisine. During the 1930s, Stalin forcibly relocated more than 30,000 ethnically Korean families, or Koryo Saram, from the Far East border of the Soviet Union to Central Asia. With them they brought the fiery flavors of Korea, and over the course of several generations, adopted many of the milder, meatier recipes of Russia and Uzbekistan.
After the fall of the Soviet Union, many Koryo Saram joined the wave of immigration from Central Asia to Southern Brooklyn, settling in neighborhoods like Bay Ridge, Brighton Beach, and Bensonhurst.
Owner Elza Kan, a 68-year-old grandmother of four, can usually be found manning the kitchen herself, chatting in Russian with long-time customers who stop in to get dinner to-go. Since Kan speaks only Russian, we communicated with the help of a Russian-speaking friend and her daughter, Svetlana Kim.
Like many immigrants, Kan has had her share of struggles. In the early 1990s, Kan's husband died, and she found it difficult to support her three children in post-Soviet Tashkent. After following her eldest daughter to Bensonhurst in 2001 to help with babysitting, Kan started making cold Korean and Russian salads in her basement, selling them to local Russian markets.
Within a few months, Kan had saved enough money to bring the rest of her family over and open her first store, still located at 8611 19th Avenue in Bensonhurst. Through word of mouth, the business grew, and by 2005, Kan opened a popular sit-down restaurant in Brighton Beach (3071 Brighton 4th Street), also called At Your Mother-In-Law.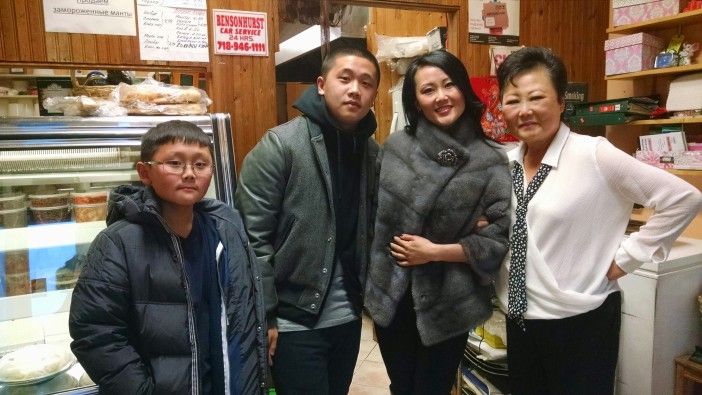 Many of Kan's growing brood of children, grandchildren, and in-laws now work in the family business. Kan's daughter, Svetlana, says hiring family members just made sense, since elements of the cuisine are unique to both Russians and Koreans.
"It's hard to find cooks in Brooklyn who can cook the food that we do," she says. "And my mother is the most family-oriented person you've ever met."
Kan's family-centeredness is evident in everything from the low-key, homey decor, to the company's name. The parent company used to be called Elza Fancy Foods, but after Kan's grandson, Eduard Nagoy, died from cancer in 2013, she changed the name. Now the company is Eddie Fancy Foods, in her grandson's memory.
"We're not like a big chain that just cares about efficiency. We care about the food we make," says Vecheslav Kim, 16, Kan's grandson and a junior at Midwood High School. "Like my grandmother, if she doesn't make a good batch, she throws it out."
In 2010, At Your Mother-in-Law was reviewed in the New York Times, followed by write-ups in the Village Voice and Serious Eats. Since then, business exploded, particularly at the Brighton restaurant which, in addition to their loyal Russian patrons, sees a large number of tourists – including many Koreans from Seoul.
"People have been finding and recommending us on Yelp. It's very hard in the summers, we have a line outside. So now we're thinking about expansion," says Vecheslav, who works as a server at the Brighton location and hopes to take over the business someday.
Svetlana, who recently moved to New Jersey, tells us they are thinking of opening new locations and turning the business into a franchise. She believes that part of the restaurant's success can be attributed to its combination of familiar comfort foods and unexpected flavors.
"Whether you are Russian or Korean, there is something new for everyone," she says.
Many tourists come to At Your Mother-in-Law for the Kuksu ($7.50), a colorful beef soup with Korean noodles, topped with pickled cucumber, cabbage, and dill, and sprinkled with sesame seeds. Because the restaurant's largely Russian customer base may not be accustomed to spicy foods, two versions of the soup are offered: hot and mild. The spicy version, which I tried, was complex, flavorful and delicious, but not all that spicy.
Another popular soup is Kan's Lagman ($5.99), an Uzbek staple, which is richer in flavor than the soup might be at your standard Uzbek restaurant.
The Salad Olivier is identical to the Russian potato salad, and the pillowy beef dumplings, or Manti, are comparable to the Uzbek dish – served with a side of sour cream. Meanwhile, the Kan's Plov ($6.50) is a more pared down version – minus the raisins and chickpeas – than classic Uzbek Plov.
Another popular main dish is the Georgian Chicken Tabaka ($9.99), which is a whole chicken flattened by a brick and smothered in garlic, dill, and paprika.
The dining experience is not complete without ordering a selection of Kan's salads, such as her simple, pickled carrot salad ($3.69/lb), which is sprinkled with red pepper, or her vinegary Fish Hye ($7.99/lb). The second time I visited Kan, she urged me to try a stuffed pepper (an appetizer I recognized from my own Russian grandmother's kitchen) alongside the carrot salad, which turned out to be a crisp compliment to the cumin-flavored beef and rice. The cucumber cha ($4.29/lb) is also refreshing and delicious when paired with a meaty main.
Another must-try are the Samsas: Filled with savory pumpkin or beef, they are flaky and delicious, and at $3 a piece, you can't go wrong.
Wash it all down with sweet apple Compot (punch) or black tea, for a well-rounded meal.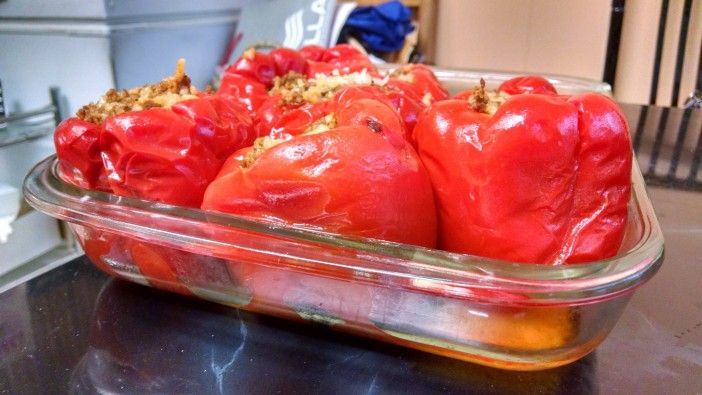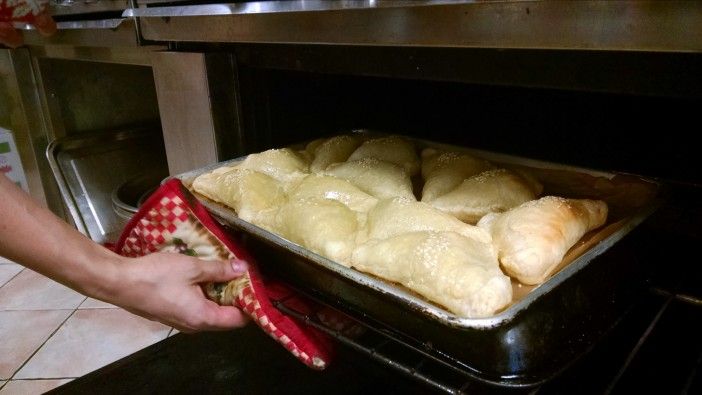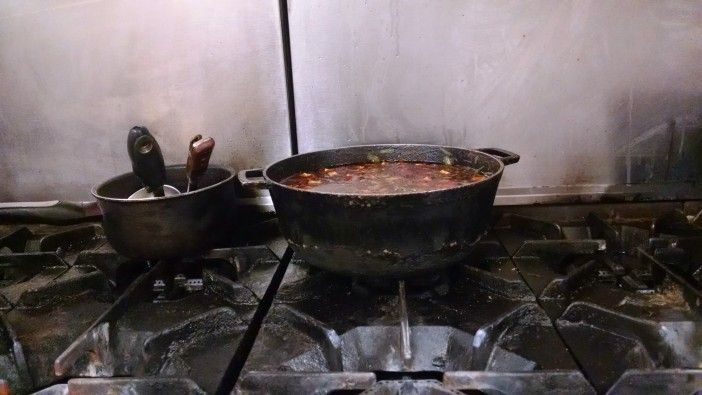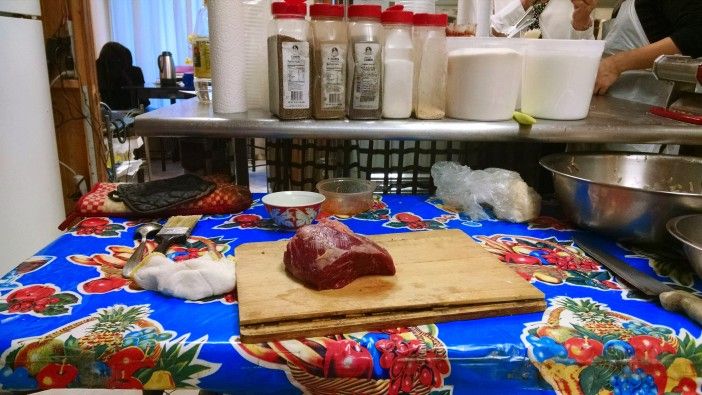 Visit Cafe At Your Mother-in-Law in Bensonhurst (8611 19th Avenue) or the Brighton location (3071 Brighton 4th Street), or place an order by calling: (718) 942-4088. Also check out their page on Yelp.
Correction (January 31, 6pm): A previous version of this article identified the dumplings pictured as Pelmeni when they are in fact Manti.