Unicyclists Traverse Sheepshead Bridges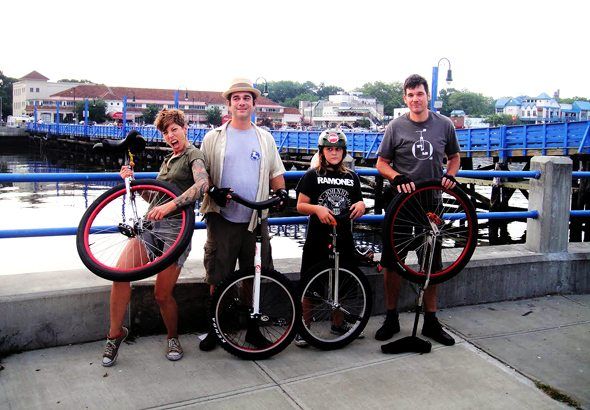 Sheepshead Bay — not exactly known for its wealth of bridges — but a cluster of happy unicyclists (yes, you read that correctly) are happily cycling their tuccheses around the borough on a single wheel, and recently made their way over what passes for "bridges" in our neck of the woods.
Stephanie Monseu, Keith Nelson, Rob Hickman, and Caleb Hickman, who operate the blog, "UNICYCLE NYC BRIDGE TOUR," write that, "There are 2,078 bridges in New York City. We have been making weekly treks to cross every one of them… on unicycles." The unicycling quartet has thus far traveled over the Knapp Street overpass over Shore Parkway, the pedestrian overpass at East 14th Street over Shore Parkway, and the Ocean Avenue Footbridge at Emmons Avenue, just three of the 223 bridges that they've already crossed.
They do need to be commended for their creativity. One can decide to take up unicycling, and one can set out to ride their bike over the city's bridges, but it takes a truly special mind to combine the two and say, "Let's unicycle over every bridge in New York City."
As the saying goes, everyone needs a hobby.