Tunnel to Towers 5K Race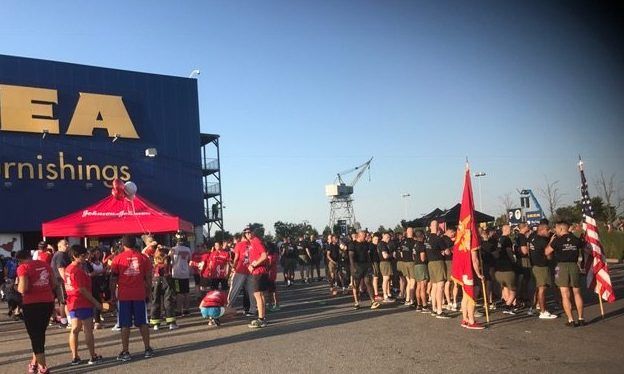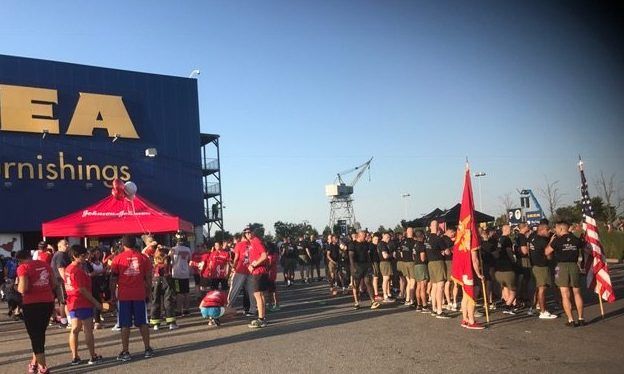 By Bryan Vazquez
RED HOOK- It was a hot Sunday morning in Red Hook for the 6th annual Tunnel to Towers 5K Run and Walk race yesterday.
The event pays homage to the FDNY firefighter Stephen Siller, who is known for his bravery as a firefighter during the fateful 9/11. He made a brutal run through the Brooklyn Battery Tunnel (now known as the Hugh L. Carey) with 60 pounds of his personal gear, to lower Manhattan that morning.
Stephen Siller Tunnel to Towers Foundation, run by his family, partners with companies like Home Depot, GMC, Johnson & Johnson, who were at the event to run and support, to raise money for first responders, families of fallen firefighters, and military vets. The Long Island University baseball team, military groups, and fire department teams from Jones Beach to New Jersey to Massachusetts, also participated in this event.
John Healy, 40, heard about the event through social media as his fire department team from Norwell, Massachusetts came for their first time. "To me, this marathon represents Stephen Siller's story and how it brings people together."
The race started by the Brooklyn IKEA in the Red Hook neighborhood and ended at the Battery Park City in Manhattan. Third-year runner and Jones Beach State Park representative David Turkheimer, 55, recalls his first time at the marathon. "Running that tunnel is breathtaking. My first time making it to the other side of the tunnel I couldn't help but cry."
A close friend of David's was a Captain for the FDNY during 9/11 and he stayed to make sure he cleared the building along with two of his guys. "It represents that one should never forget, but the Sillers want to give back and raise money for the families who need it."
The new but eager FDNY firefighter Joe Felder, 24, mentions that this marathon "…represents awareness. People are still fighting battles physically and mentally [from 9/11] and that's why this is so important."