Top Brgr: Burger Joint Coming To Emmons Avenue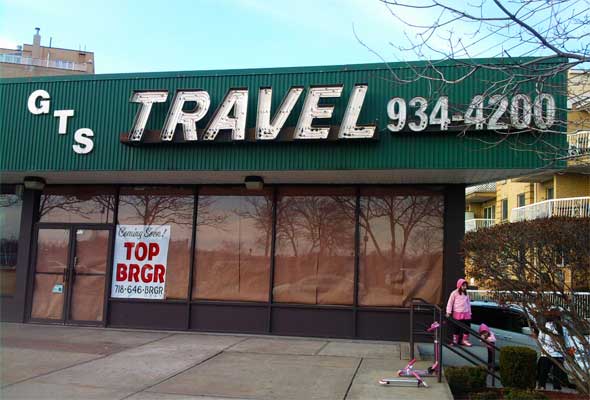 You know times are tough when businesses are skimping on letters in their signage. But hopefully a new business opening implies the local economy is turning around.
Top Brgr is opening up at 2267 Emmons Avenue, the former site of Gayety Travel Service (GTS) Travel Agency, which recently moved locations. Little is known about the burger joint yet, and the phone number on the sign is not yet connected.
This means that the entire Emmons Avenue shopping center between Dooley Street and East 23rd Street is now entirely food businesses. With a large area for sidewalk seating, it will continue to draw nice crowds during the spring and summer seasons. We do have to wonder what this means for the Dessert Palace, though, which previously used the travel agency's sidewalk space for food-goers in the evening.
Maybe they can make up the hit to their bottom line by leasing some vowels to the new business.
Thanks to ShadowLock and Marina K. for the tip.