Today is Primary Day: Brooklyn Voter's Guide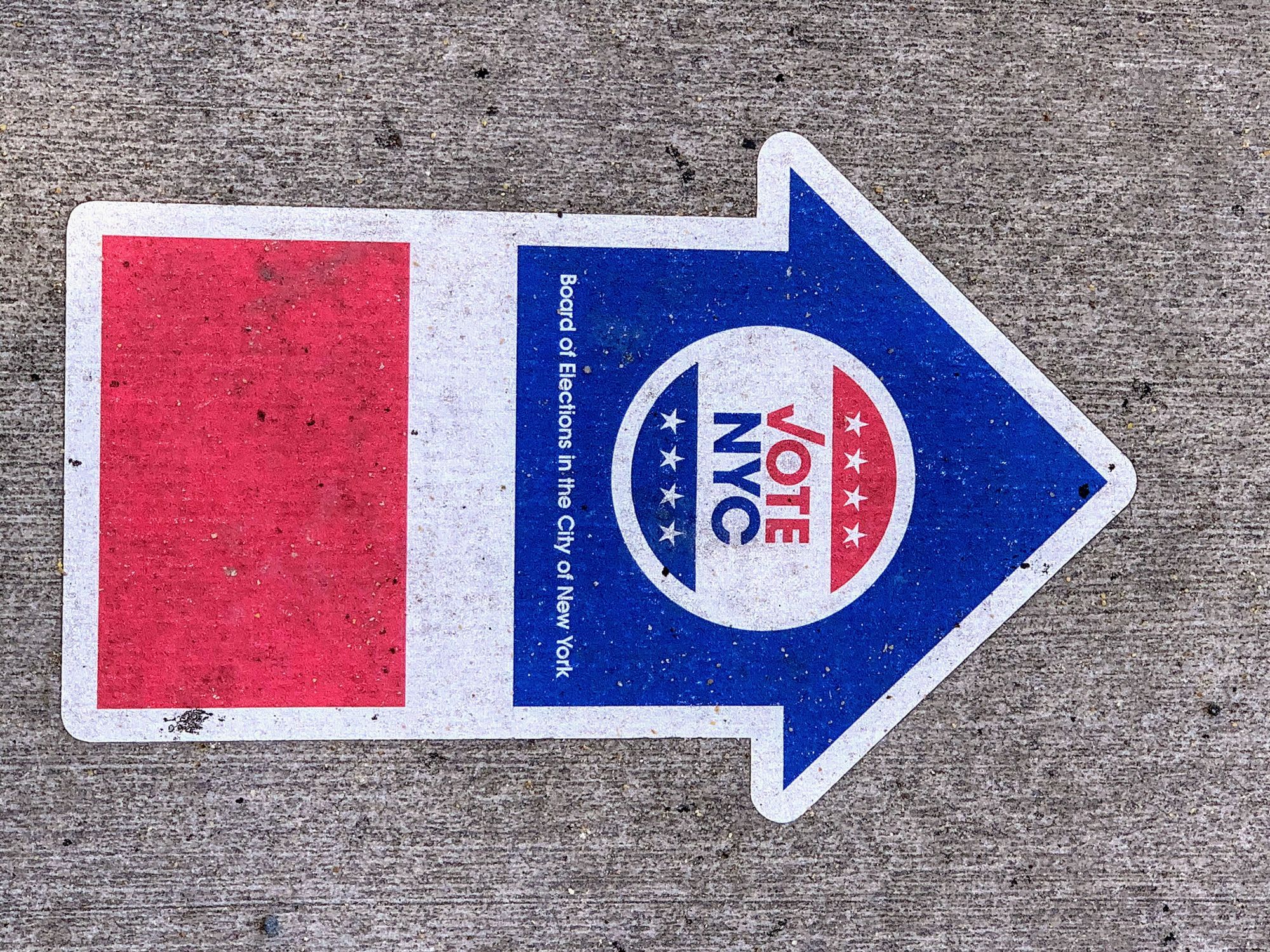 As a new American, it took me a while to realize what really matters when it comes to voting. Here in NYC, it is primaries, particularly Democratic primaries. Even Republicans are Democrats in this town.
The primaries this June 28 are for Assembly, County, and Statewide races. Early voting turnout so far has been far from encouraging, and it would be a shame to see today setting new record lows. In times like these, the votes of those who do show up will matter even more.
Controversy: The Brooklyn Democratic Party has gone to extreme lengths to keep power, faking signatures, running people for seats without their knowing, even dead ones, and playing with the power to assign who allocates lucrative poll working spots. Good government groups have asked DA Gonzales to investigate them; that's how bad it is.  A broad group of people, including Congresswoman Nydia Velazquez, who want to see the party run better and observe its rules, are running their lists of candidates.
Note: You need to do a few things before you head out the door. Since all the districts across the city were redrawn following the last census, please check if you now live in a new district and your current polling place. The page will also give you a link to your sample ballot at the top of the page, depending on the party you are registered. That way, you can research who to vote for rather than panic at seeing long lists of unfamiliar names in the booth, which I can confidently promise you will see this year.  
There are just a few competitive State Assembly races in Brooklyn, so you will not see an Assemblymember seat on the ballot unless you are in one of the following districts. In all other districts, incumbents are running unopposed and will be on the ballots in the November general election.  Interestingly this year, as the City & State notes, while the DSA has endorsed only a few of the WFP candidates, it has not backed anyone running against a WFP candidate, nor has the WFP supported anyone running against someone with DSA support.
Competitive Assembly Races in Brooklyn
In Assembly District 43 (PLG & Crown Heights), a just elected in a special election Assemblyman Brian Cunningham is facing off against three others, Jelanie DeShong, Tim Hunter, and Pierre Albert. They are all promising basically the same. Except none of the others are as closely tied with establishment politicians like Senator Kevin Parker and former city councilmember Laurie Cumbo as Cunningham. If you are inclined to go anti-establishment, the Working Families (WFP) line should give you a solid alternative in Jelanie DeShong, but he's a Gov. Hochul guy. So you have to choose for yourself. The special election had a turnout of around 3% of all registered voters.
In Assembly District 57 (Crown Heights, Clinton Hill, Fort Greene), we have an interesting race pitting Fort Greene and Clinton Hill against Crown Heights. Will the DSA and WFP-backed candidate Phara Souffrant Forrest, who seems to struggle in NYCHA territory, fend off Olanike Alabi, a former District Leader, who is not well known in Crown Heights?
In Assembly District 46 (Bay Ridge and Coney Island), Assemblywoman Mathylde Frontus is facing a challenger in Dionne Brown-Jordan who has the endorsement of Rep. Hakeem Jeffries and former Rep. Max Rose. Brown-Jordan is the assistant treasurer for the Brooklyn Democratic Party and has served as a district leader. NYPost reports Frontus "has sniped at Brown-Jordan over eyebrow-raising Democratic Party county committee appointments — including of a dead woman, and living residents who claimed ignorance of their appointments — that were submitted by the candidate in her role with the Brooklyn Democrats."
In Assembly District 51 (Sunset Park, Red Hook, Bay Ridge) Assemblymember Marcela Mitaynes, a DSA candidate, is being challenged by local fourth-generation shopkeeper Erik Frankel, who previously ran for city council on the Conservative party line.
In Assembly District 50 (Greenpoint, Williamsburg), Assemblywoman Emily Gallagher, another DSA candidate, is also being challenged, even though her opponent Paddy O'Sullivan, a Williamsburg firefighter, seems to make similar promises. Read these two interviews by Greenpointers - with Gallager and O'Sullivan to help decide.
In Assembly District 54 (Bushwick, Cypress Hills, East New York), Assemblymember Erik Dilan faces a DSA and WFP-backed candidate, District Leader Samy Nemir Olivares. Dilan's father, Martin Dilan, lost his senate seat to DSA-backed state Sen. Julia Salazar in 2018. Dilan has the backing of Rep. Hakeem Jeffries, while Olivares is backed by Rep. Nydia Velazquez.
In Assembly District 55 (Ocean Hill, Brownsville, Crown Heights), Assemblywoman Latrice Walker is facing a Tracey Cashaw, who seems to have no information available anywhere I could find and is unlikely to pose a serious challenge.
In Assembly District 58 (East Flatbush, Brownsville, Canarsie), we are having a re-run of the Special Election, where Monique Chandler Waterman, backed by the Brooklyn Democratic Party, Working Families Party, and Public Advocate Jumaane Williams, was elected to the Assembly last month. Hercules Reid is again the opponent, backed by Mayor Eric Adams. The special election had a turnout of around 3% of all registered voters.
And lastly, in Assembly District 60 (East New York, Spring Creek, Starrett City) we are also looking at a repeat of the special election, where Nikki Lucas was elected earlier this year and faces DSA and WFP-backed former Charles Barron aide Keron Alleyne again. The special election had a turnout of around 3% of all registered voters.
There are more competitive races for Member of the State Committee positions, which in Brooklyn also serve and are better known as District Leaders. The more reform-minded folks have put up a slate of 16 to challenge the scandal-embroiled Brooklyn Democratic Party's (see earlier) picks. They have all pledged to support transparency-oriented reforms within the party, and the fight for these low-level seats is intense. Again, only those positions where there is a challenger will be on the ballot, so please do check your sample ballot. If all this sounds confusing, it is.
The Fight For District Leader Seats, from THE CITY:
Out of the 44 seats — one male and one female for each Assembly district — 12 are held by unopposed incumbents, including Assemblymember and Chair of the Brooklyn Democratic Party Rodneyse Bichotte Hermelyn herself.
Another two Bichotte Hermelyn allies are running unopposed for two posts created in a new district floating off of Brooklyn's waterfront with just four residents, all occupants of a houseboat-museum.
Another ten seats are held by unopposed incumbents who have voted against Bichotte Hermelyn on proposed rules consolidating party executives' power, or will be won by unopposed newcomers whose loyalty to the party leadership isn't assured, according to other district leaders.
That leaves the 20 competitive races. To retain control, the Bichotte Hermelyn-aligned establishment would need to win just nine of those races. To depose her, the opposition would need to win 13.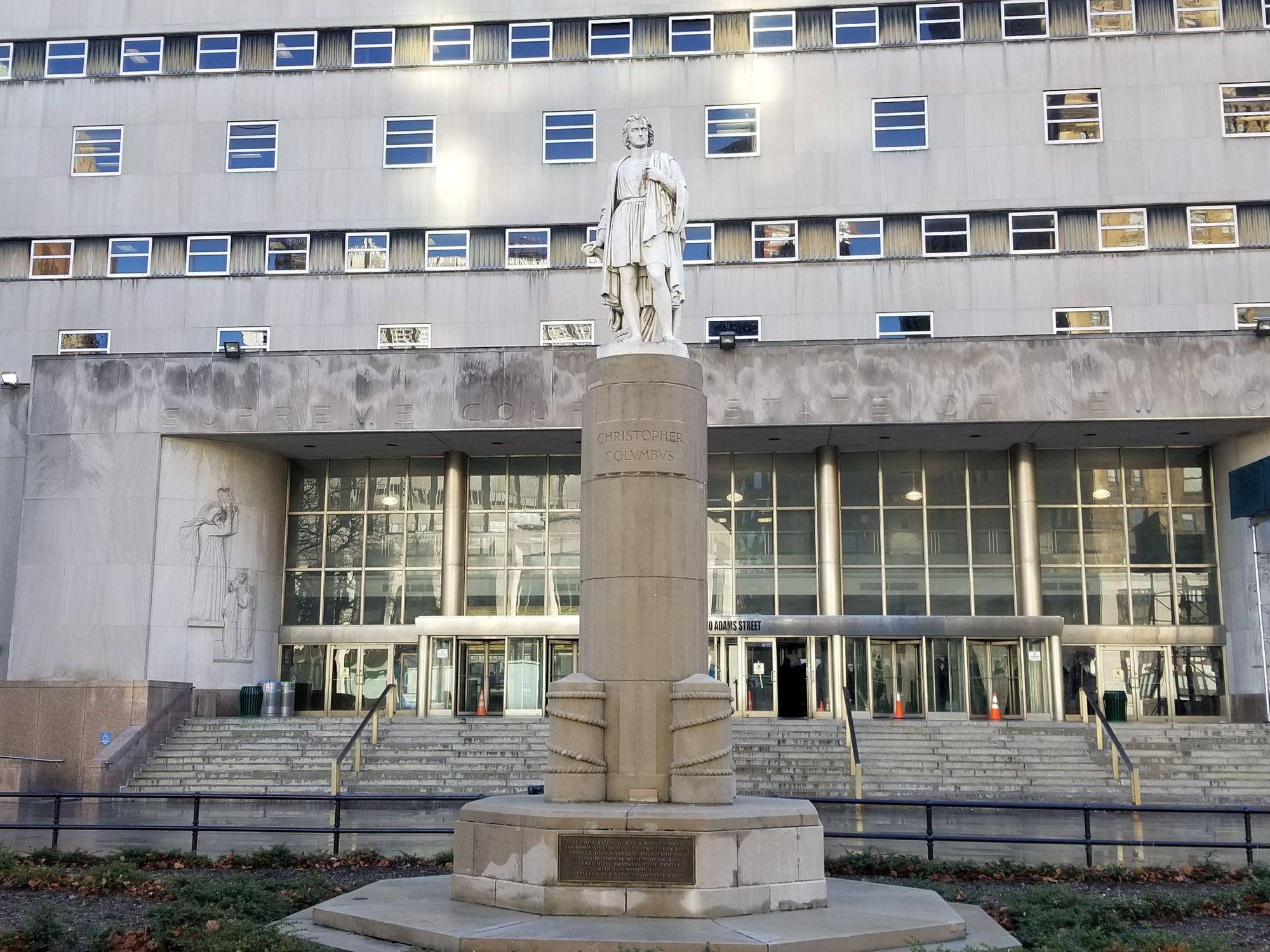 Judges - We are electing just one in a Brooklyn-wide race, the Judge of the Civil Court. Patrick Hayes Torres and Philip F. Grant are both on the ballot and you need to pick one. Of the two, only Torres received the NYC Bar association's 'approved' rating. Torres is also endorsed by the Daily News.  Grant received 'not approved.' Civil Court judges serve 10-year terms and may be assigned to either Criminal Court, Family Court, or Civil Court.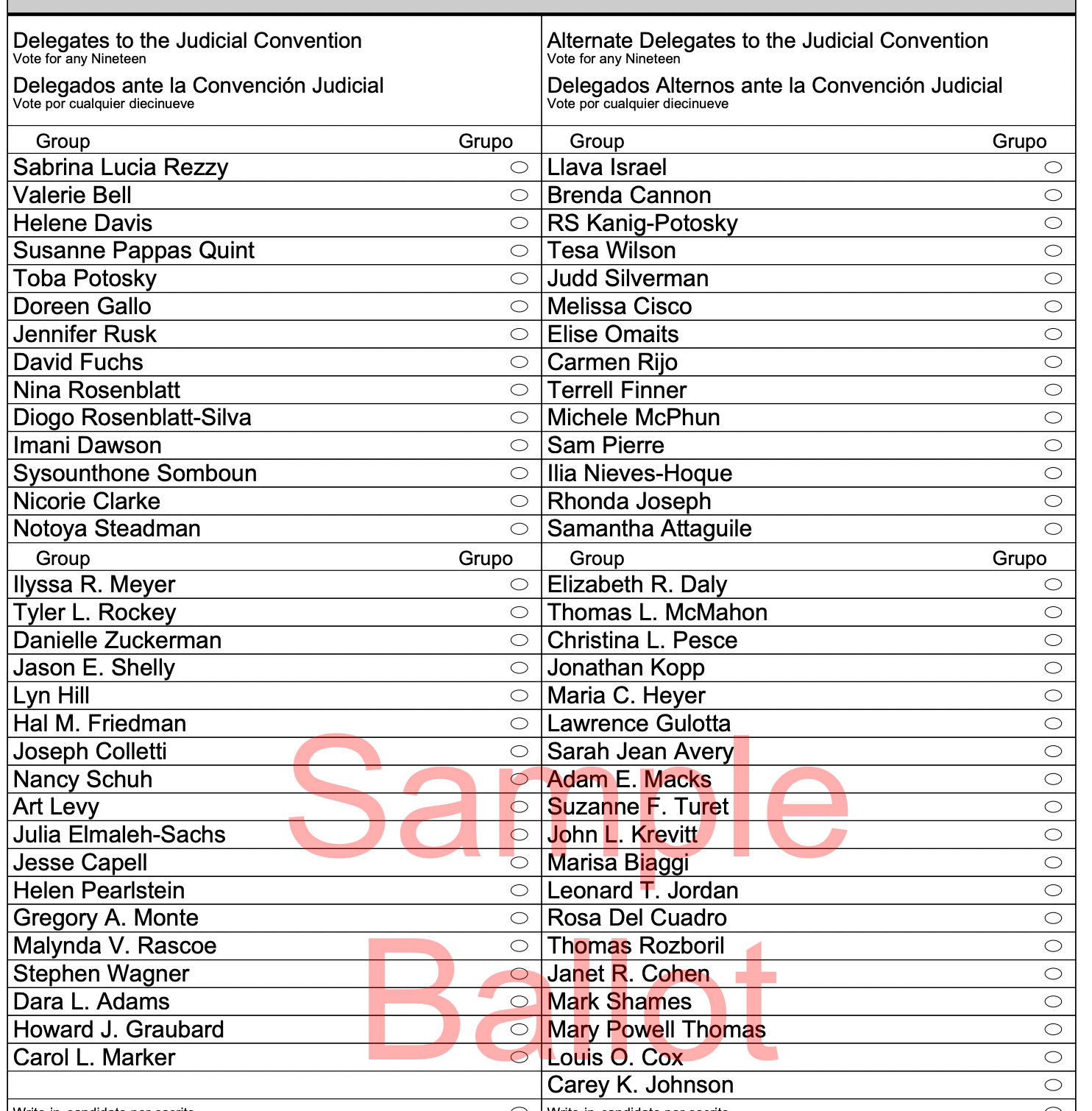 Another set of people you will likely encounter is something called Delegates to the Judicial Convention, and their Alternates, again a long list of people you have likely never heard of and will not be able to find anything about unless you are deeply involved in local party political clubs. Like in the screenshot above - in AD 52 you need to pick 19 of each. Who are they? Only Ms. Rezzy has been in the news recently related to the Brooklyn Democrats. But each group has fewer than 19 listed.
The Judicial Convention takes place soon after the primaries and the delegates select the party's nominees for judges for the Supreme Court of New York, who then go straight on the general election ballot in November to be rubber-stamped by the electorate that usually has no choice in the matter. Not how I would pick judges, but that's how it works. (This PDF list those running in all districts in June 2022 Primaries including the delegates and alternates by Assembly District.)
Statewide we have the candidates for Governor and Lt. Governor. Sen. Chuck Schumer will be on the November ballots as the Democratic nominee and Joe Pinion as the Republican nominee to represent us in the US Senate.
These races have been well covered by the citywide outlets and you probably have your favorites already, even if the choices may seem far from perfect. Among the Democratic Lt Governor candidates, the one that stands out is Ana Maria Archila for her wish to make the office actually do something for the people. However, she was just endorsed by AOC and that may be a dealbreaker for some. But - if Gov. Hochul wins (she polls with a significant lead over both democratic and republican opponents), it may be good to have Archila keeping an eye on things. Then again, the way the office has been going in recent years, Archilla could end up being Governor. And then there is also Hochul's pick, former upstate Congressman Antonio Delgado who was just sworn in as Lt. Governor and has the full backing of the current establishment, including money to run campaign ads. Oh, the choices.
On the Republican side, Lee Zeldin and Andrew Giuliani are in the lead, according to the same poll. If you'd like to understand where each candidate stands, Gotham Gazette/NY Daily News has a tool to compare them all on the issues.
Bay Ridge - Radio Free Bay Ridge put together a quick primer on who's running to rep Bay Ridge.