Thousands Of People Pack Coney Island Avenue For Annual Chand Raat Bazaar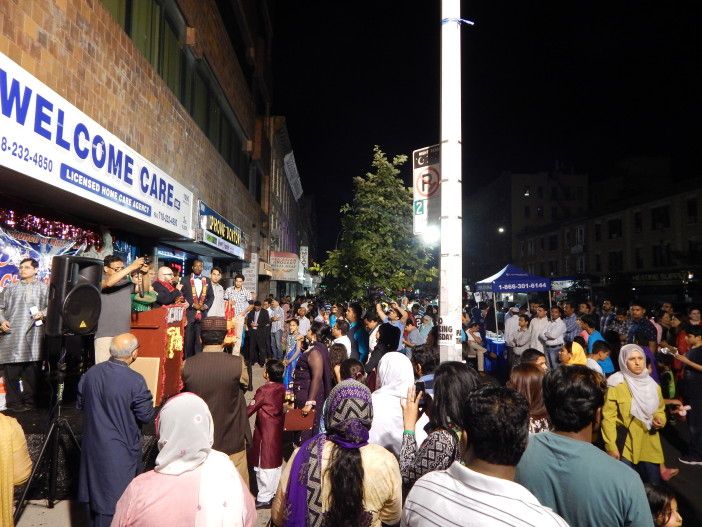 Thousands of people filled Coney Island Avenue, from Foster Avenue to Avenue H, last night for the annual Chand Raat Bazaar — a night of celebration marking the end of the Ramadan, the Islamic holy month of fasting.
The American Council of Minority Women, which is based at 1090 Coney Island Avenue, by Glenwood Road, puts on the yearly festivities, which draw people from across the city — as well as other states — and includes everything from music and dancing to shopping and food.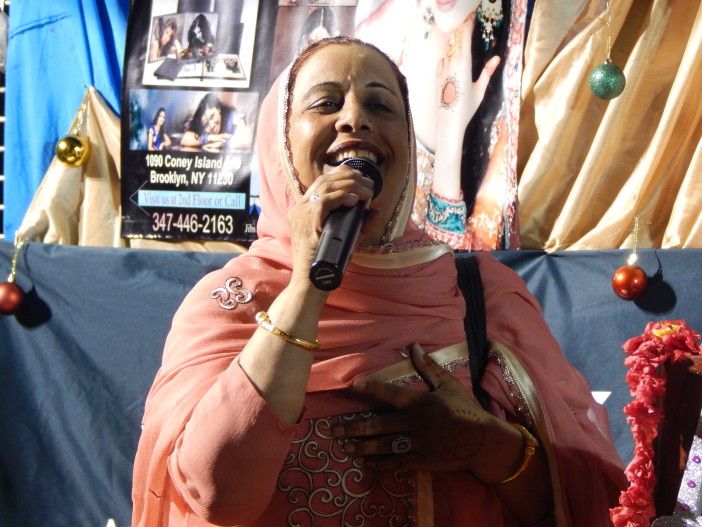 There were numerous talented henna artists that lined Coney Island Avenue, with many of the shops also offering henna.
Many of those who spoke during the evening praised the American Council of Minority Women, which was founded in 2005 by neighbor Bazah Roohi. Started in order to "promote, protect and develop minority women in social, legal, educational, and economic sectors," the organization offers a wide variety of programs and resources, from a food pantry and domestic violence seminars to free legal consultation and literary events.
Among those who lauded Bazah, and the council, were Assemblywoman Rodneyse Bichotte, above, and Councilman Mathieu Eugene, below.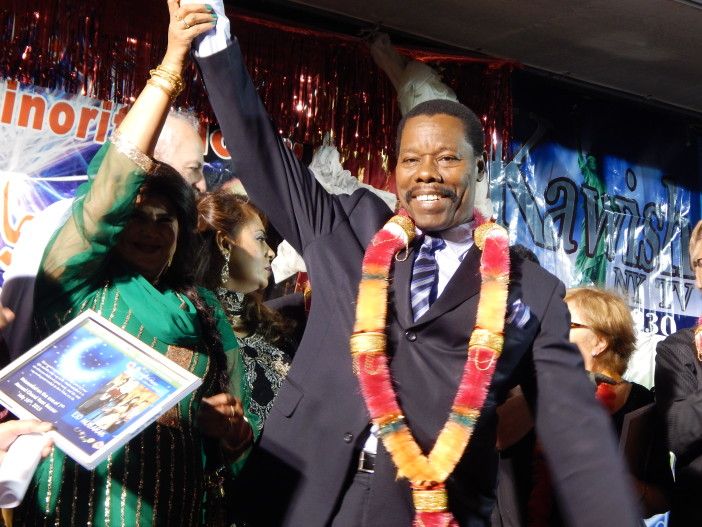 Numerous awards were given during the evening. Above, Harry Schiffman, from Assemblyman Jim Brennan's office, presents the Volunteer of the Year award to Kaneez Fatima. Brennan's office also received an award for their support of the American Council of Minority Women.
Community Board 14 Chairman Alvin Berk, center, accepted an award from the council on behalf of CB 14, and he presented one from the council to Reverend Ilyas Gill, right.
Iftikhar Ahmad, center, of Reliable Pak (1090 Coney Island Avenue), was lauded as the council's Businessman of the Year.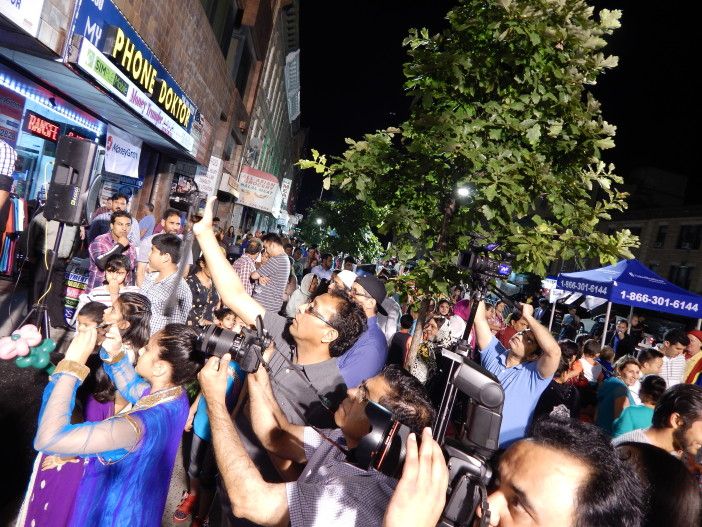 The crowd was a frenzy of cameras during the awards ceremony.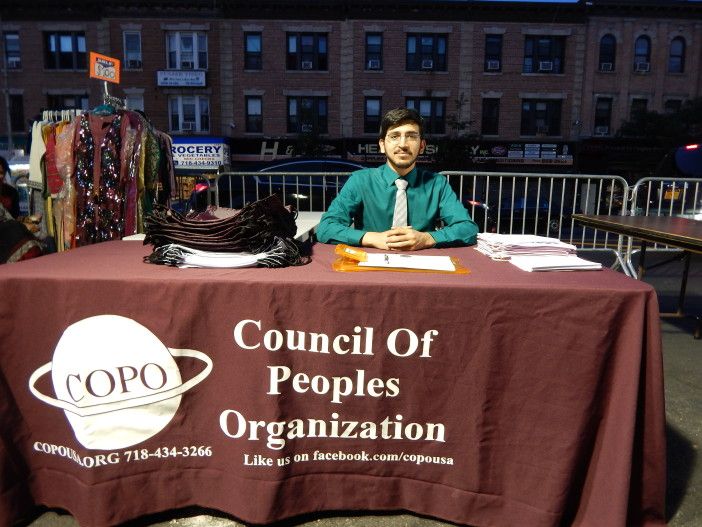 Different organizations were on hand to talk to neighbors about a variety of resources, including the Council of Peoples Organization, a nonprofit that is based at 1081 Coney Island Avenue and serves the South Asian community with numerous program, from legal clinics to a senior center.
There were also numerous activities for children, including the NYPD's climbing wall — which drew a huge crowd of kids throughout the evening –a clown, and more.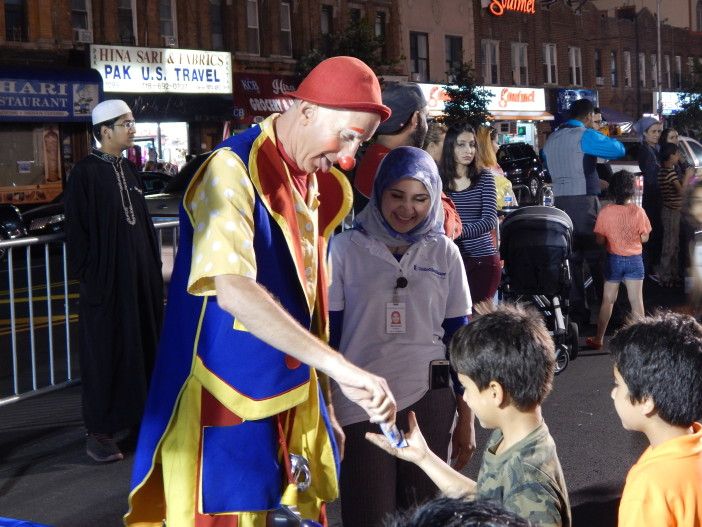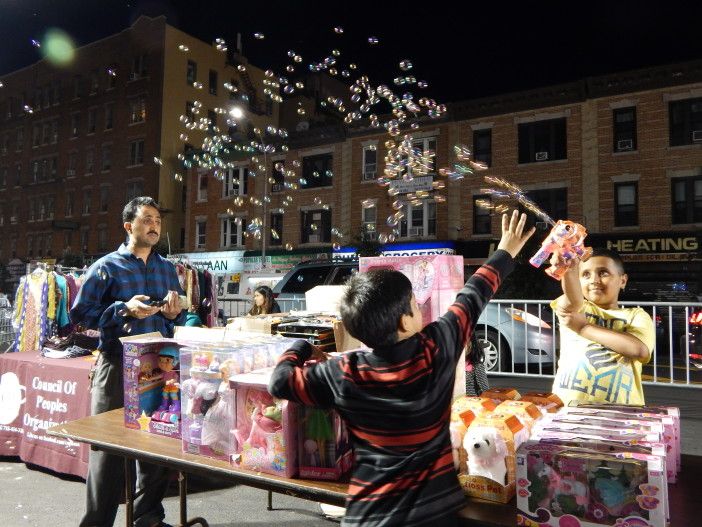 Shoppers delighted at the tables filled with jewelry, clothes and more. Above, two workers from Meena Jewelry at 1066 Coney Island Avenue, showed off their trays of bracelets.
Did you go last night? If you took any photos, let us know! Send them to editor@ditmasparkcorner.com, and we'll post them to the blog.
And to all our neighbors who celebrate, Eid Mubarak!