The Venerable Zig Zag Records Has Closed Down!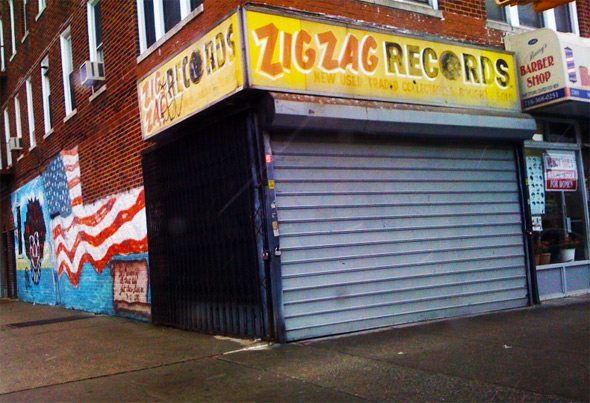 We can't believe it, but it turns out neighborhood staple and music mecca Zig Zag Records has zigged and zagged for the last time!
Forgotten New York author Kevin Walsh informed us via Facebook that he heard rumors Zig Zag Records (2301 Avenue U) shuttered for good. After a bit of searching around, we stumbled onto Zig Zag's Facebook profile, where they announced on December 15 that after 35 years, the business was kaput.
Zig Zag had a remarkable run, and far outlived many other independent music stores in New York City. We believe it was the last vinyl merchant in all of Southern Brooklyn.
The store focused on classic rock, but in the 1980s became a major outpost for heavy metal fanatics. It established ties with legendary Bensonhurst venue L'amour, "The Rock Capital of Brooklyn", who set up in-store appearances for many of their acts, including  Motorhead, Twisted Sister, Metallica (before anyone knew who they were), Girlschool, The Rods, Venom, Zebra, Nuclear Assault, Raven, King Diamond, Mercyful Fate and Iron Maiden.
Rest in peace, Zig Zag Records. You will be missed.