The Hidden Cemetery In Prospect Park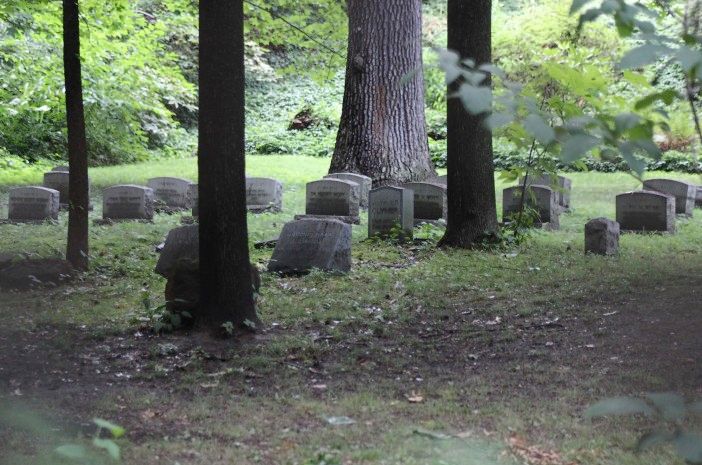 Did you know that roughly 2,000 people are buried in Prospect Park? If you head down West Drive, just past the 15th Street entrance to Center Drive, you will see the entrance to a private cemetery that has been there since before the park was built. But if you aren't looking for it, it's easy to miss.
The Friends Cemetery was established in 1849 by the Religious Society of Friends (also known as Quakers), on what was then undeveloped farmland — this was 18 years before Prospect Park opened. However, burials had probably been conducted at the location since the 1820s.
Many of the oldest graves in the site aren't marked, as Atlas Obscura notes — early Quakers thought gravestones were a sign of vanity. That feeling still prevails a bit, and recent markers are quite plain.
Some famous permanent residents of the 10-acre cemetery include a former Brooklyn Borough President, Raymond Ingersoll, who served in that position from 1934 to 1940; and Mary McDowell, a school teacher who caused waves in 1918 when she "refused to sign a loyalty oath in support of World War I because it conflicted with her Quaker principles," according to a Quaker school named in her honor.
The most notable person here, though, is the actor Montgomery Clift, who died of a heart attack at age 45 in 1966. A member of the Religious Society of Friends' historical committee told the Daily News he was interred here because of his Quaker mother — and, because his family has asked, those who oversee the cemetery won't reveal which grave is his.
To celebrate the Friends' 150th anniversary — and in an effort to spread some info to the public about the religious group — Quakers put on a play inside the cemetery in 2008.
But that was one of the rare times the general public could set foot inside the fenced-off site, which is still an active cemetery for Quakers. And for most visitors to the park, it remains a secret to be stumbled upon.
Editor's note: This post has been corrected to meet our standards of attribution.