The "Great Dog Wash" Raises Funds To Fix Sean Casey Adoption Van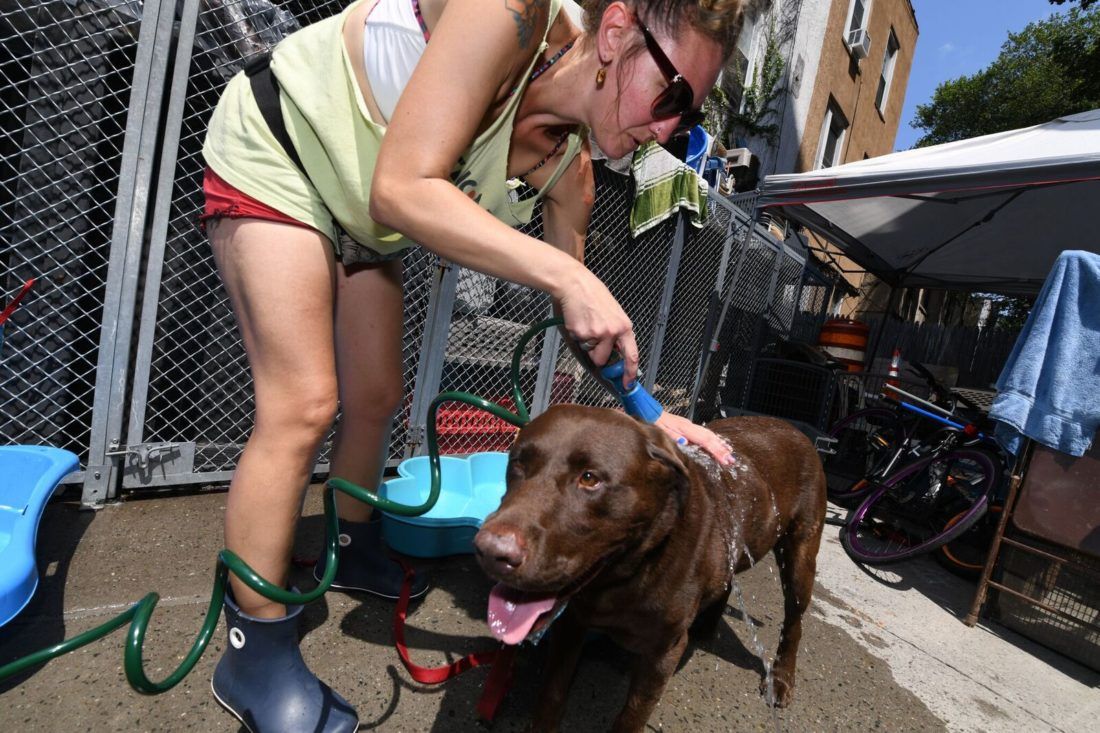 WINDSOR TERRACE – Not only were Brooklyn dogs the cleanest in the city on Saturday, but they were the coolest in the 85 degree heat as they were cleaned up during the 7th annual Great Dog Wash at the Sean Casey Animal Rescue in Windsor Terrace. Sponsored by Brooklyn Bark, the event helped raise money to repair the rescue organization's adoption van.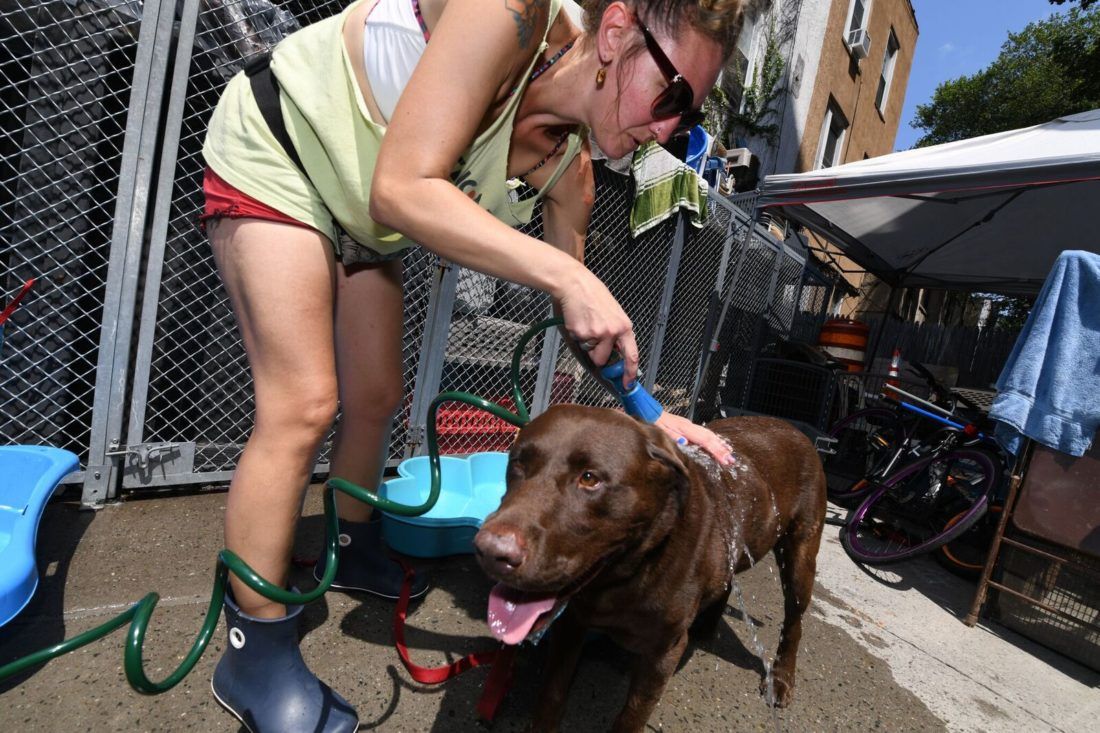 Volunteers and members of the Brooklyn Bark staff bathed dogs of all sizes and breeds to raise money to go toward repairing Sean Casey Rescue's adoption van which the group uses to transport dogs and cats looking for new homes. The van has been out of commission and the group needs the money to get it repaired.
Volunteers set up shop at the Sean Casey shelter and pampered the pooches with a special deodorizing doggie shampoo donated by Earthbath natural pet care. All freshly bathed pups received grain-free natural doggie treats from Charlee Bear.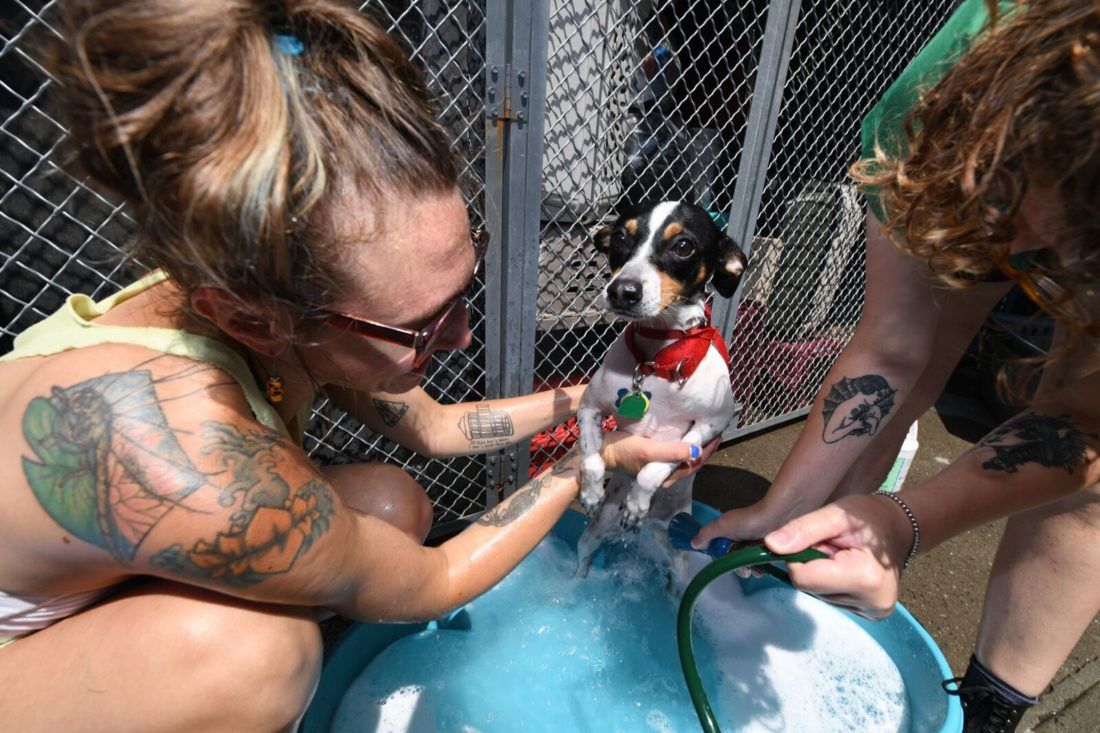 Maria Bowen, event producer for Sean Casey, said more than 100 dogs were washed by volunteers, but they still need to raise more funds to fix the van which has not been running. The van is now only being used to display dogs for adoption or for storage.
"It needs to go to adoption events," Bowen said. "We want to use it to bring large groups of animals to the vet for spay, neuter and to get medical attention. It's a multi-purpose van that helps Sean Casey to ge the word out about what we do—and when they see the van, they know we are here."
Bowen said it is unclear how much the van repair will cost, but she says they will need more money than was raised and she thanked Brooklyn Bark for their efforts to raise money for the shelter and the van.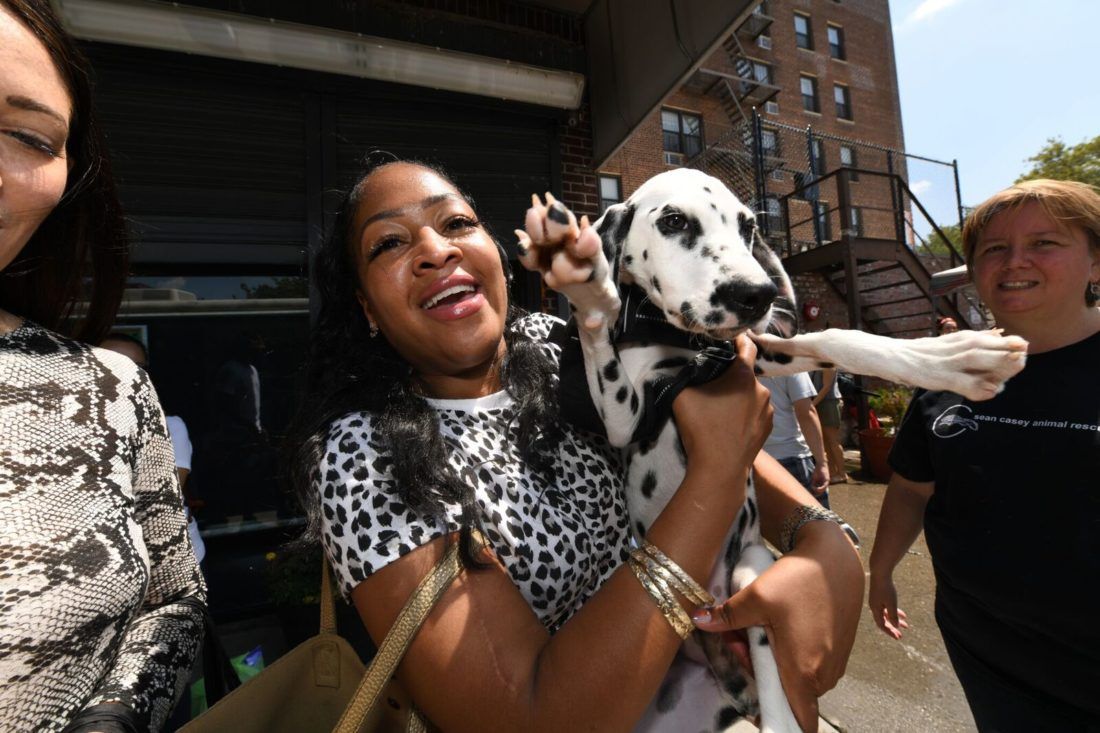 So why get a bath on this day?
Rocky Balboa, a rat terrier rescued this past winter after he was found wandering Brooklyn during the frigid polar vortex, was adopted by Wendy Cruz Tan of Midwood.
"We wanted to adopt him, he's protective of my little one, and now he's clean," Cruz Tan said. "He fits right into our family. But we wanted to help Sean Casey."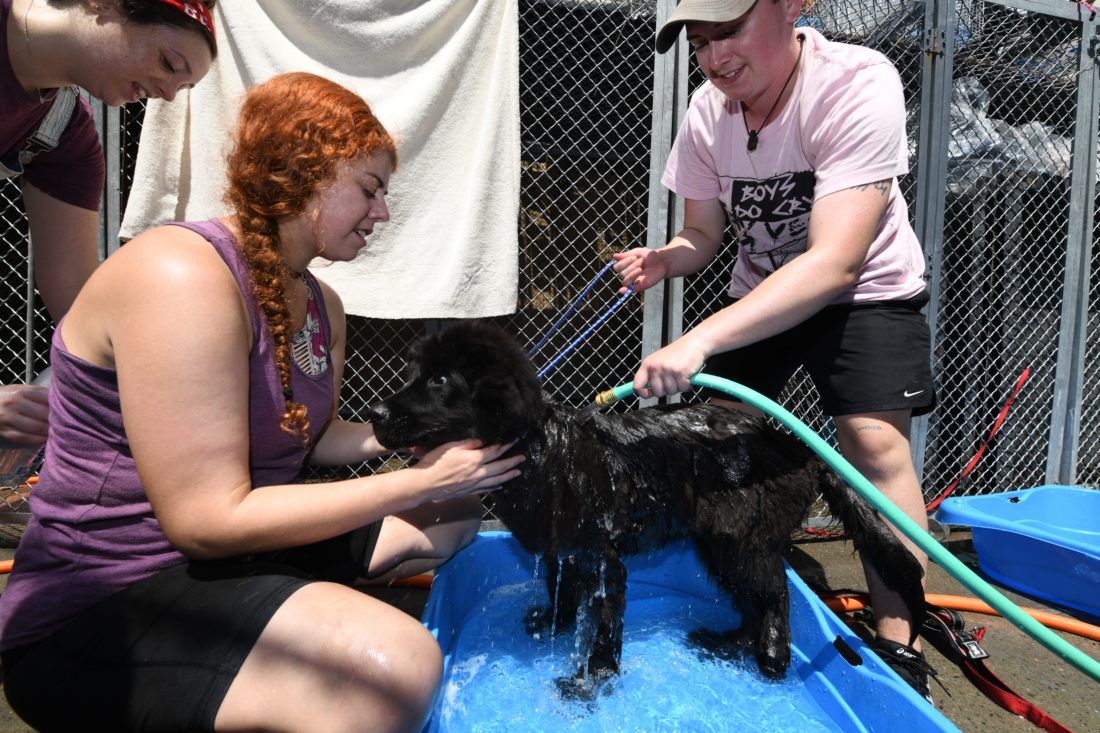 Jing Xie of Windsor Terrace said she received the email last week and wanted to come with her dog Puro, a Newfoundland.
"I adopted a cat and a guinea pig here, unfortunately he passed away," Xie said. "I just wanted to help and give him a bath at the same time."
Maney Lin brough her Lhasa Apso dog named Jill who was adopted from Sean Casey. Jill was wearing a duck bill muzzle because she sometimes bites.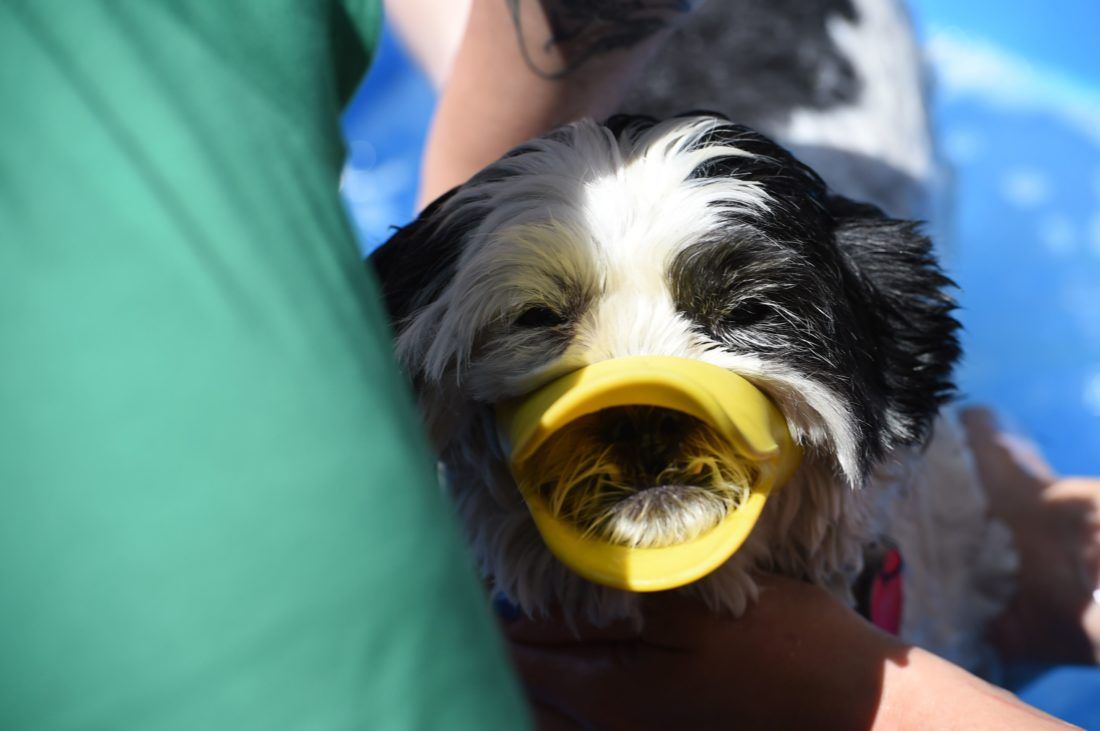 "She doesn't mind jumping in on her own accord," Lin said. "She's from here—they took her in and so we want to help them."
Volunteer washer Briana McFee joined her friends washing dogs of all sizes.
"My friend Kim invited me and I love dogs so it's a great way to spend a Saturday," McFee said. "I always wanted to volunteer at an animal shelter and it worked out. It's a lot of fun and we are helping to get their truck going again. They do appreciate our help."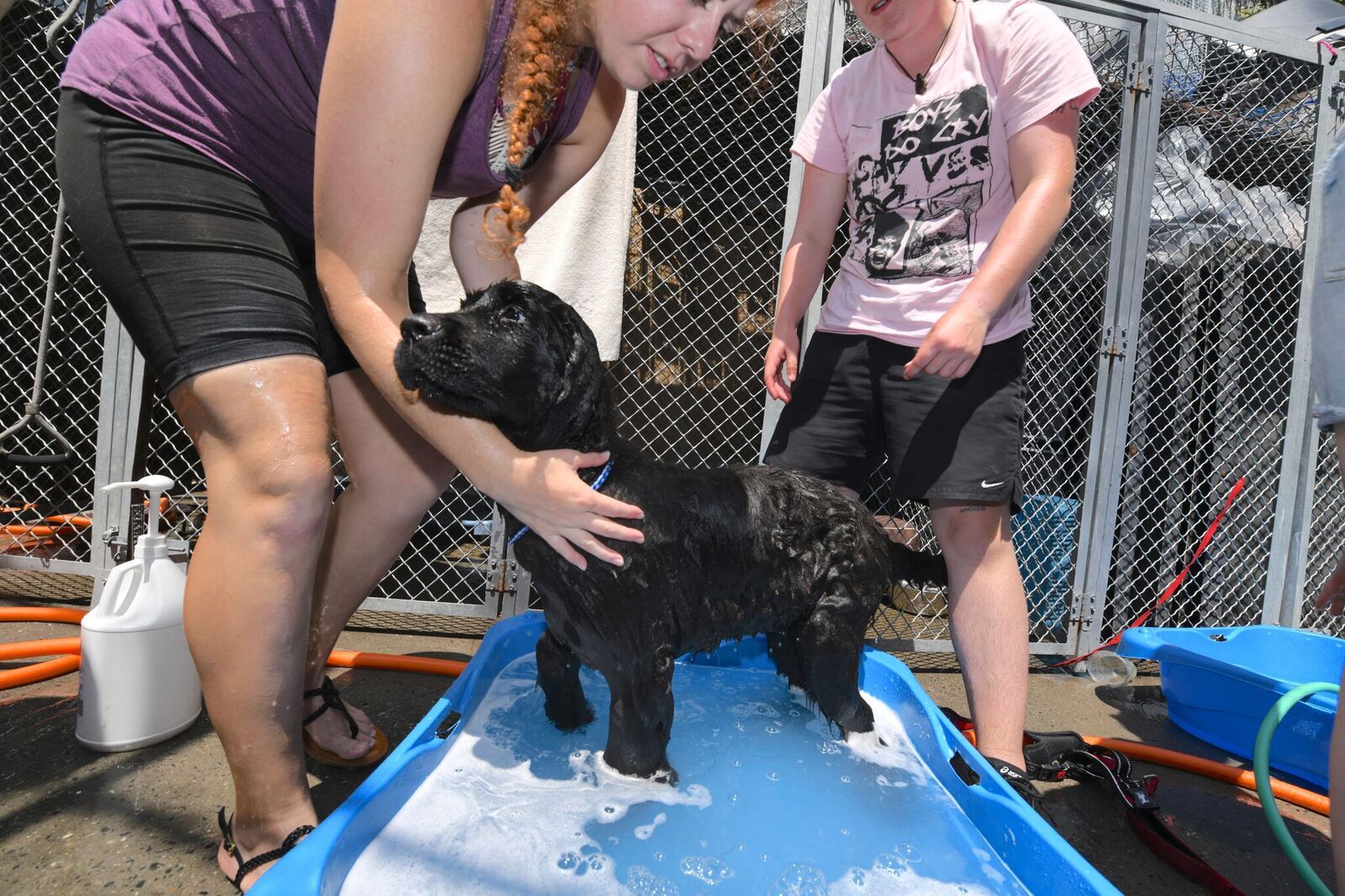 Rachel Bowers, founder and owner of Brooklyn Bark—a pet sitting, dog walking, grooming and animal servicing company—said she and her group support Sean Casey.
"We are trying to help get the van up and running so they can get more adoption events, spay and neuter and provide medical requirements for the dogs in the community," Bowers said. "We are all animal lovers so it's a natural thing. Sean adopts animals and he is a major network in the community that has been here forever, and we want to make sure we can help and adopt all these great dogs out."
Sean Casey, along with a team of 10 to 15 staff members and more than 100 volunteers, operate Sean Casey Animal Rescue in Windsor Terrace. The team has been rescuing, rehabilitating, and re-homing dogs, cats, birds, reptiles, amphibians, wildlife, and exotic animals since 1998.