Remember When: The Entire NYPD Camped Out In Sheepshead Bay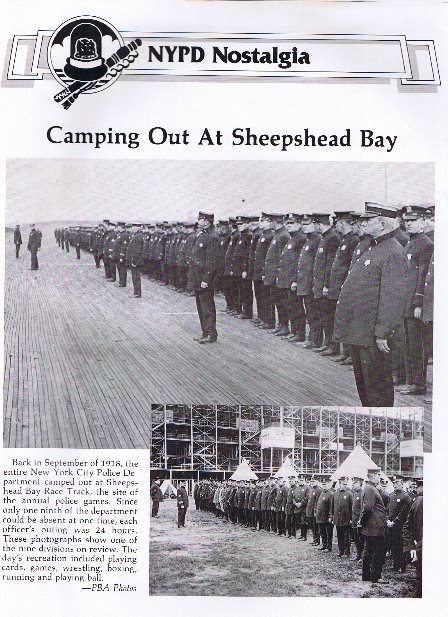 There was once a time when the entirety of the NYPD gathered in Sheepshead Bay for the purposes of good ol' fashioned fun, and also putting down a mass riot if one should so happen to break out. Sheepshead Bites reader Dave Machin sent us the picture featured above to our trusty Facebook page, capturing a priceless glimpse of this once yearly ritual.
The gathered officers, who would box, play baseball and deal cards, did so at the old Sheepshead Bay Racetrack, located on the eastern side of Ocean Avenue between Avenue X and Avenue Y. The image, from what we believe is the Patrolmen's Benevolent Association, described exactly what all those vintage men and blue were up to in Southern Brooklyn. The text is a little small and blurry so I've transcribed it below for all to enjoy:
Back in September of 1918, the entire New York City Police Department camped out at Sheepshead Bay Racetrack, the site of the annual police games. Since only one ninth of the department could be absent at one time, each officer's outing was 24 hours. These photographs show us one of the nine divisions on review. The day's recreation included playing cards, games, wrestling, boxing, running and playing ball.