The Day: Sledding in Fort Greene Park, Community Board 2 Meetings and a Brooklyn Voices Series Event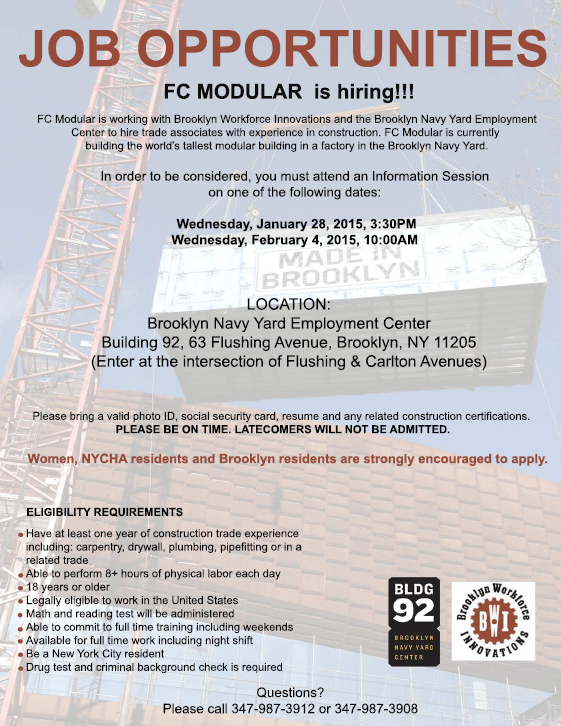 Good morning, Fort Greene and Clinton Hill.
We hope last week's storm didn't cause you too much trouble, locals. Highway closures, cancelled flights and an absence of express trains were some consequences of the winter storm, which dumped between nine and 10 inches of snow in Brooklyn. If you stayed local, maybe you had a chance to walk around the nabe and snap photos of the winter wonderland. If so, be sure to post your photos in our Flickr group.
It'll be much warmer today, with highs in the lower 50s, according to the National Weather Service. But don't get too comfortable with the mild temperatures – tomorrow, low temperatures will drop to 8 degrees, with wind chill values as low as -11 after midnight.
Before the snow melts, be sure to head out to Fort Greene Park to enjoy a day of sledding. DNAinfo has included Fort Greene Park on its list of the best places to go sledding in the city, touting the park's four main hills and noting that the park is a haven for more daring sledders who often create snow jumps.
Community Board 2 will hold its monthly health committee meeting today at 6 p.m. in Dining Rooms A and B of the Brooklyn Hospital Center, 121 DeKalb Avenue at Saint Felix Street. The meeting, which was rescheduled to avoid conflicting with New Year's Day, will include a presentation by Erin Buchanan, the board's 2013 to 2014 planning fellow, about her study of naturally occurring retirement communities in Community District 2. The committee will also review local establishments' applications for liquor licenses. The community board's joint education and economic development committee meeting will be held tomorrow at Long Island University Brooklyn's Metcalfe Hall at 6 p.m. The meeting will feature a presentation about City Year New York, a federally and privately funded program that partners young adults with high-need public schools to help students stay engaged and succeed in school.
New York Times bestseller Gary Shteyngart will present his memoir, "Little Failure," on Wednesday at St. Joseph's College's Touhy Auditorium – 245 Clinton Avenue between DeKalb and Willoughby Avenues – at 7:30 p.m. The memoir details Shteyngart's years growing up in Leningrad, his post-graduate years in New York, where he struggled with a drinking problem, and other experiences. Tickets, which cost $25, can be purchased online or at the door. Each ticket includes a copy of "Little Failure" at 15 percent off the cover price. Shteyngart's presentation is part of the Brooklyn Voices series, sponsored by Greenlight Bookstore and St. Joseph's College, which provides a local forum for Fort Greene and Clinton Hill-based writers, artists and intellectuals to discuss and present their works.