That's All Folk! The 10th Annual Brooklyn Folk Festival (April 6-8)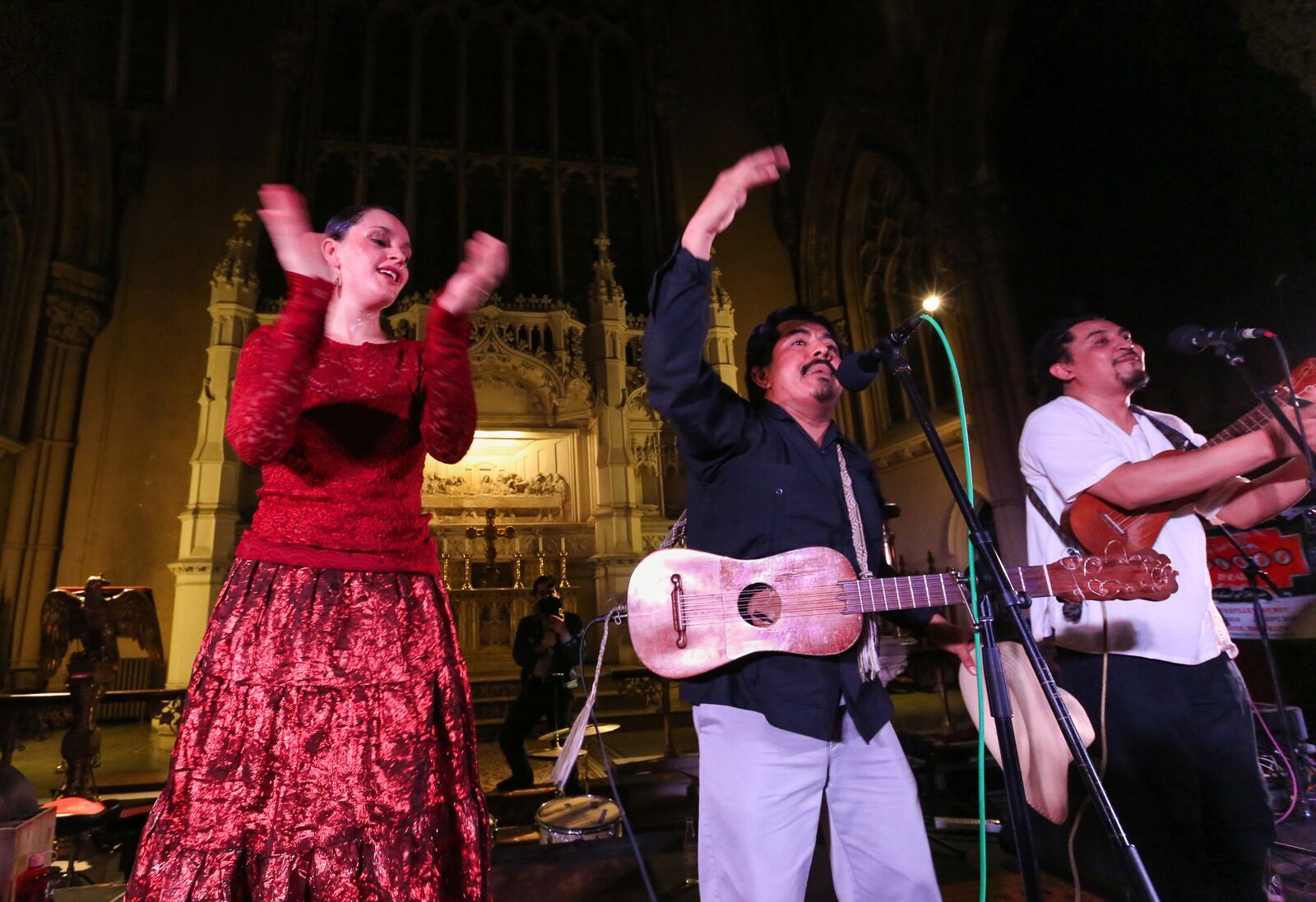 BROOKLYN HEIGHTS – "Everybody always wants to look forward to the next thing," said Eli Smith. "For me, I prefer to turn the other way and look as far backwards as I can, try to get at something elemental."
For the next couple of weeks, at least, Smith, a banjo player and music teacher at the Jalopy Theatre, will be firmly focused on the present. It's the tenth year that he's curated and produced the Brooklyn Folk Festival, which is scheduled for April 6 to 8 at Saint Ann's Church at 157 Montague Street.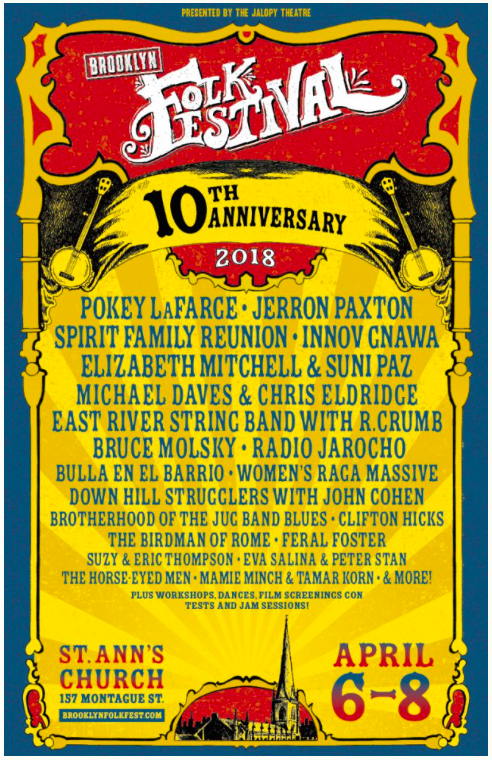 "The festival has expanded over time and now features about 40 different bands, plus workshops, film screenings, jam sessions, and contests," (including the signature banjo toss, banjo throwing competition), Smith said.
The festival is presented by the Jalopy Theatre & School of Music, "a grass roots cultural center that's really the home for folk music in New York City right now," he added. "It's the inheritor of a tradition that goes back to the 30s. There were great places that people remember—Gerdes Folk City, or Izzy Young's Folklore Center—in Greenwich Village. And all of those places are gone now except the Music Inn on West 4th Street."
Jalopy, located at 315 Columbia Street between Carroll Gardens and Red Hook, stepped in to fill the gap twelve years ago. "They have music every night, as well as a music school with classes in guitar, harmonica, banjo, fiddle, mandolin, ukulele, and singing," said Smith.
"And the Brooklyn Folk Festival is their biggest production of the year. That's kind of the focal point of the year. We bring out all of our favorite bands and bring in wonderful bands from around the country and even around the world."
The international acts reflect Smith's expansive definition of folk music, which embraces the diversity of Brooklyn as well as old timey music. "On one hand we try to highlight traditional forms, sort of historic forms of American folk music, such as  blues and jug band music, or old-time string band music or bluegrass," Smith said. "But Brooklyn is an extraordinarily diverse place with immigrant communities, and we want to showcase those musical traditions and styles in the festival."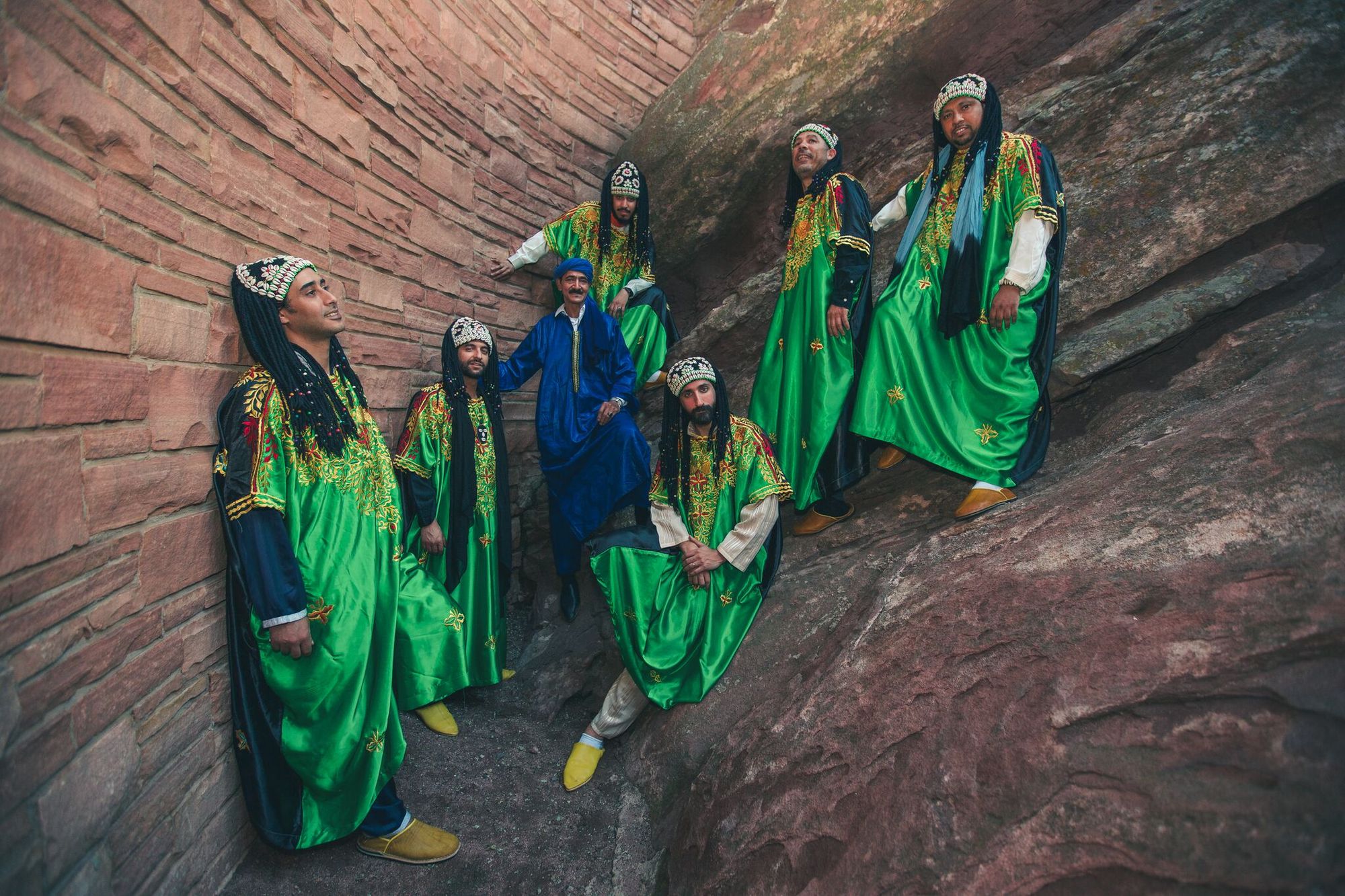 The broad scope of the festival creates room for one of this year's most anticipated acts,  the Grammy-nominated Innov Gnawa. "Gnawa is a type of traditional music from Morocco. It uses an instrument called the gimbri, which is kind of like an African banjo or lute, and that's the instrumental accompaniment to five or six male singers that also play percussion," Smith explained.
Moroccan expatriate Samir LanGus formed Innov Gnawa in 2014 to play the music in New York. They've just released the album Aicha, available via download or as a 12" vinyl record. The group adds a unique element to the mix of genres at the festival, which also includes Brooklyn's Women Raga Massive, Radio Jarocho playing son jarocho music from Mexico, and Willie Martinez providing live music for a night of salsa dancing.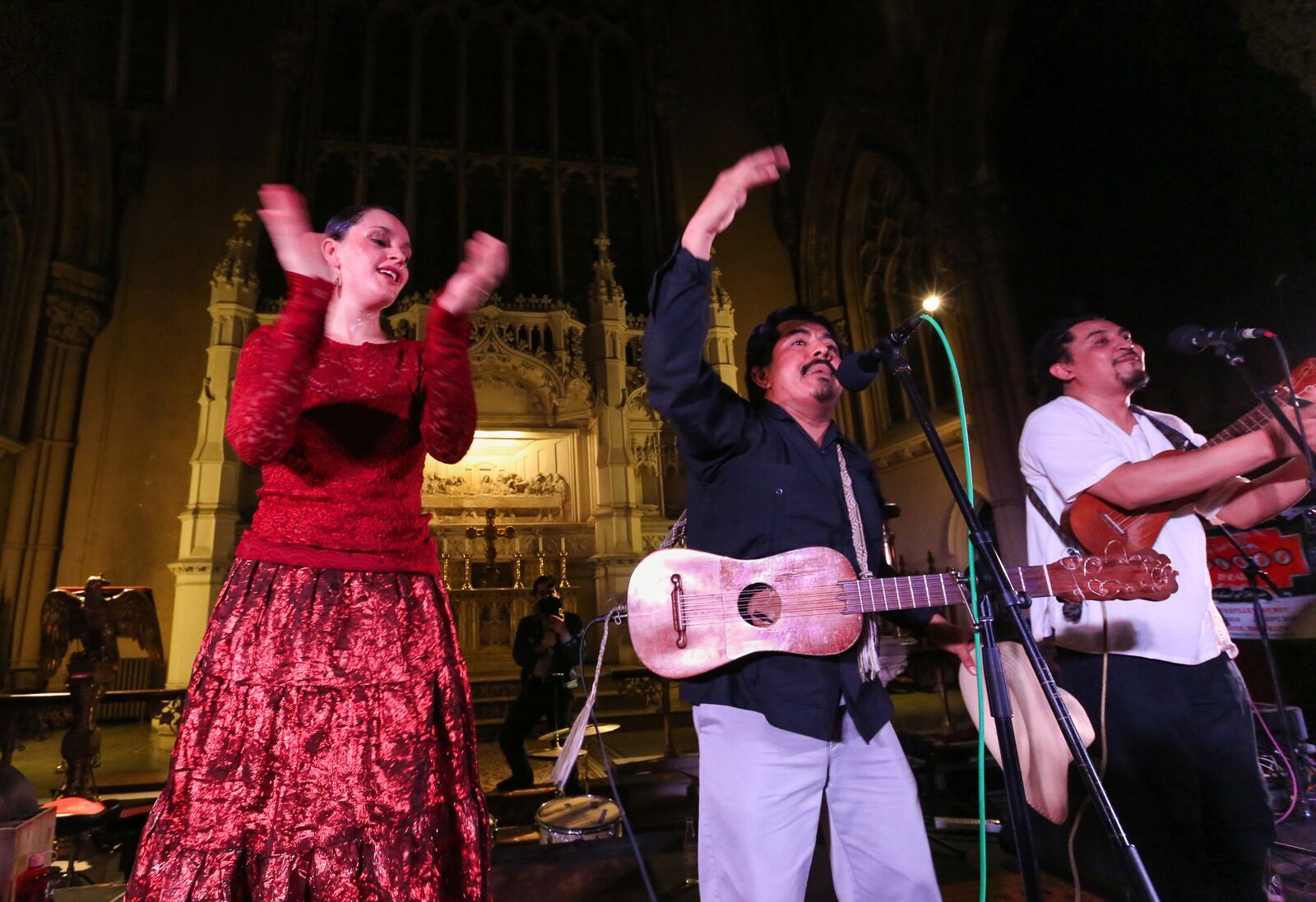 Although the variety of music presented is fundamental to the festival's appeal, it maintains a solid base of "old timey music," and most of the acts are local Brooklyn bands. The festival opens with a performance by Little Nora Brown, a 12-year-old Brooklyn-born banjo prodigy. With performances on two stages over three days, the event features more than 3 dozen different acts.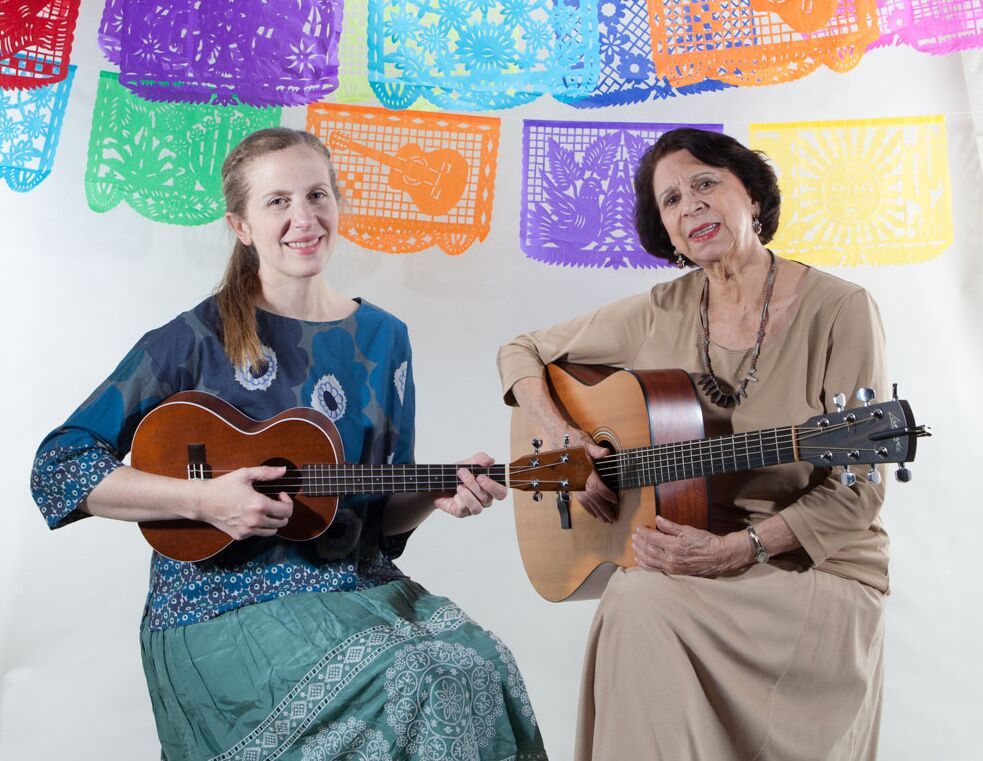 Smith noted that he works to make the festival a family-friendly event. Elizabeth Mitchell and Suni Paz, among today's most popular performers of children's music, will be part of the afternoon concert lineup on Sunday. "We also host two different square dances, which are great for kids," he said. "The square dances are for complete beginners. Anyone can come. You learn how to do it right there, they tell you how."
Square dances aren't the only way for people to get actively involved in the festival. "We have jam sessions, so people can come down and play," said Smith. There are also a series of workshops with instruction in fiddle, banjo and songwriting, as well as the first ever Brooklyn Fiddle Contest.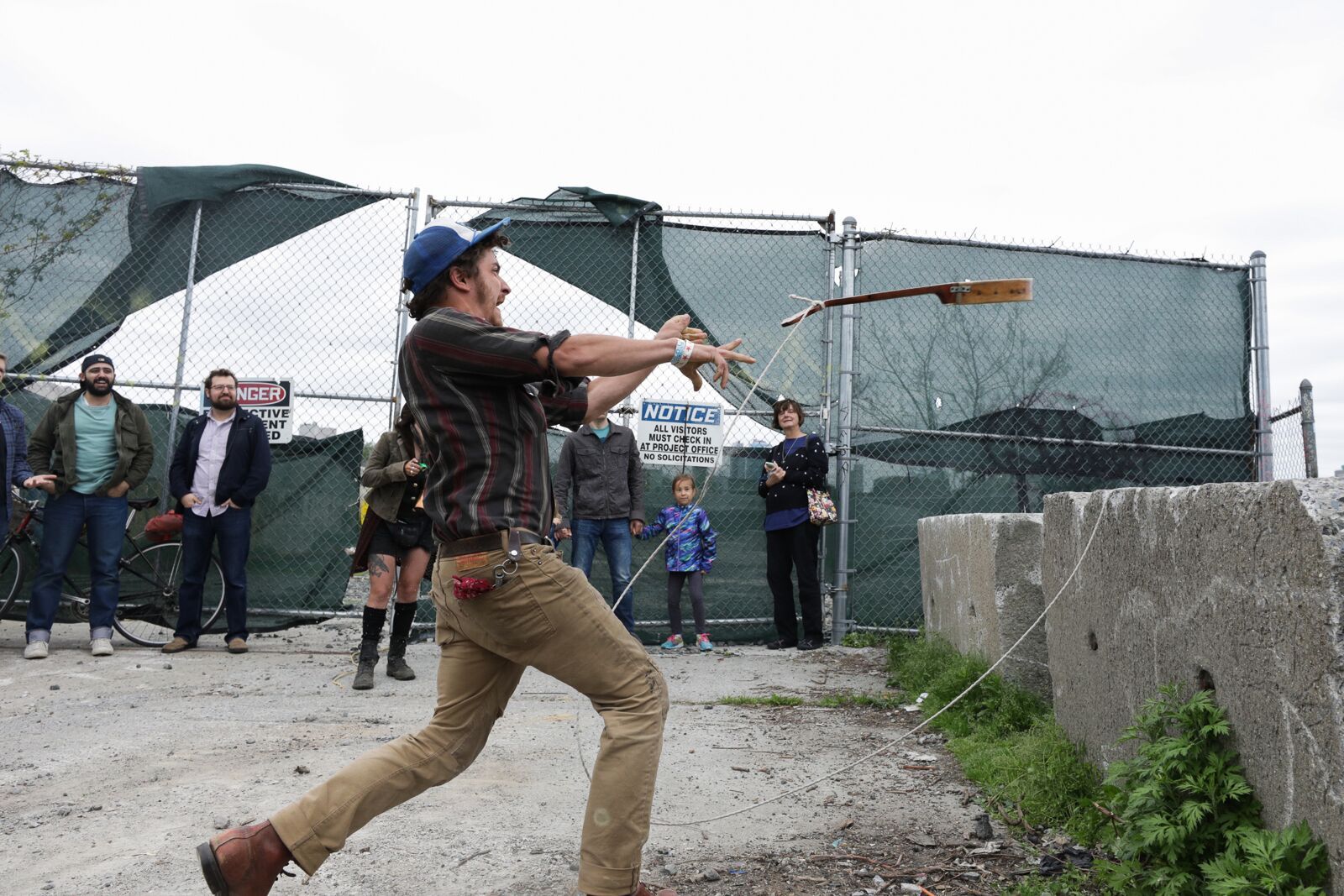 And, in the comic spirit of something completely different, the festival will host a banjo toss on the banks of the Gowanus. "I thought the Brooklyn folk festival could really use a funny contest," Smith said. "So we came up with the banjo toss. We throw a banjo tied to rope into the Gowanus Canal. And the rope plays out, you can see how far it went. Whoever throws that banjo the farthest wins a free banjo."
Despite Smith's avowed nostalgia for American folkways, the competition is unrelated to any traditional practice, Smith admitted. "The banjo toss is a completely unique Brooklyn Folk Festival event. It's never been done before and probably will never be done again."
The Brooklyn Folk Festival opens Friday, April 6 at 7:30pm. The full-schedule is available online, as well as a lineup with samples of music from the performers. Tickets for individual events ($25), day passes ($40), and passes for the full three-day festival ($85) are available in advance.