Sweets In The Slope: The Bakery Round Up, Part 2
After taking a tour of our neighborhood's bakeries, we've discovered some of the best confections in New York. Talented pastry chefs from premier restaurants in Manhattan, and all over the world, have settled in the Slope to create baked, candied, frozen sweet and savory delights inspired from their upbringing, cultural roots, and culinary talent.
Whether oversized cheese danishes or made-from-scratch pop tarts, Park Slope has an irresistible baked treat for everyone.
Leske's Bakery, 7612 Fifth Avenue (16th Street & Prospect Avenue), (718) 369-0404
Best Doughnuts
Don't be deceived by the casual and unpretentious exterior of Leske's Bakery; a smorgasbord of freshly baked, mouth-watering pastries awaits behind the understated threshold. An institution in the community for over 50 years, Leske's began as a neighborhood Bay Ridge Scandinavian bakery that quickly offered European pastries reflecting the diversity of old Brooklyn. With their second South Slope location, Leske's combines the old and new with a generous selection of traditional baked items as well as modern uptakes on old favorites. Famous for their oversized, delicious, and affordable pastries, Leske's dazzling selection includes: overflowing-with-fruit prune, pineapple, apricot, cheese, blueberry, and lemon Danishes ($2.05), thickly-frosted and cakey Black & White cookies, filled-to-capacity Cream Puffs ($2) and Chocolate Eclairs ($3), and home style, just-like-Grandma's Cherry Pies ($10.50) and Chocolate Layer Cakes ($11.50). Well known for their signature doughnuts, try the best-selling PB&J ($1.25)–a creamy and sweet cloud of deliciousness that will keep your lips smacking, or, the new and seasonal Maple Bacon Doughnut topped with maple icing and bacon bits ($1.75). Fear not, North Slopers–you can walk off the guilt on your way home.
Du Jour Bakery, 365 5th Avenue (5th & 6th Street), (347) 227-8953
Best Macarons (gluten-free)
A bakery and bruncherie combined, husband and wife team TJ and Vera bring classic and nouveau French pastries to the neighborhood in an elegant, homey, and laid-back atmosphere, complete with backyard patio. In the true spirit of Park Slope, local children's drawings adorn Du Jour's elaborate pastry display, offering an inventive assortment of sweet and savory croissants and brioche (try the ham and cheese), scones, muffins, cupcakes, gluten-free French macarons, and other decadent treats. Patrons can enjoy a glass of wine while snacking on favorites like the signature Everything Pretzel ($3), Red Velvet Macaron ($2), Bacon Maple Scone (yummy!), homemade heart-shaped Pop Tart, custard-filled Boston Crème Doughnut with chocolate icing, or rich Almond Bread Pudding ($3). Du Jour also offers a breakfast and lunch menu with savory dishes ranging from Quiche Lorraine and Eggs Benedict, to a Spring Salad with arugula and quinoa ($5.95) or a Chicken Salad Sandwich with apples & shallots on a sweet potato roll ($5.50). Whether craving a decadent pastry or looking for a light lunch, Du Jour's attentive service and comfortable ambiance make for a relaxing afternoon.
Sweet Melissa, 175 7th Avenue (1st & 2nd Street), (718) 788-2700
Best Banana Cream Pie
A garden café, ice cream parlor, confectionary, lemonade stand, and bakery in one, stepping inside Sweet Melissa's brings back nostalgic memories of childhood. A celebrity in the neighborhood, renowned chef Melissa Murphy offers a large—albeit pricey—variety of cakes, tarts, cookies, pies, truffles, scones, muffins and homemade candies—all made from scratch. Self-discipline is not an option when scanning her tempting glass display, however mini-versions of most signature pastries are available that won't ruin your diet or break your wallet. Float away on a decadent creamy trio of mini Banana Cream Pie, Lemon Meringue, and Passion Fruit Tarts ($1.85/each) to share with your honey in the park, or try my favorite: the gluten-free rich and silky hand-rolled Truffles in Earl Grey, Fudge Nut, or Cookie Dough ($1/each). With a healthy brunch menu and gluten-free baked options including an Orange Macaroon, and Chocolate Fudge Cake ($5.95), no one feels left out at Sweet Melissa's.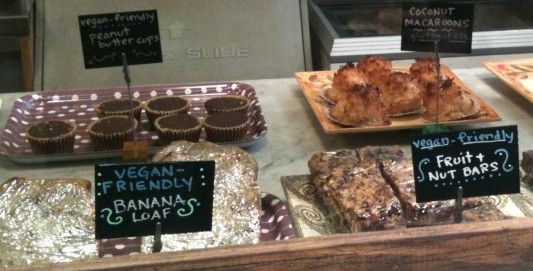 Naidre's, 384 7th Avenue (11th & 12th Street), (718) 965-7585
Best Vegan Peanut Butter Cups
Naidre's is the place to go for vegan and gluten-free pastries in Park Slope, period. Although more of a restaurant and café than a bakery, owner Janice Pullicino specializes in creating healthy fare for people with all dietary restrictions, including an impressive variety of muffins, scones, croissants, cookies, cupcakes, and other sweet treats. Staff favorites include: the popular Crackle (a soft and delicious explosion of a chocolate cookie dusted with powdery sugar–$2), a moist and spongy Banana Loaf ($1.25), and a rich and chocolaty Vegan Peanut Butter Cup ($1.25—better than Reeses!). Naidre's gluten-free options include a crunchy, crumbly, and pea-nutty PB&J drop cookie (small, but flavorful), and sugary-sweet Coconut Macaroon ($1.50) with shreds of lush coconut in every bite. Custom vegan cakes are available to order for special occasions, too.
Blue Sky Bakery, 53 Fifth Avenue (St. Mark's), (718) 783-4123
Best Muffins
Muffin-baking is an art form at Blue Sky Bakery; "No uglies. No flatties," is the standard owner Erik Goetze lives by. For muffin-lovers (a group of which I am a proud member), Blue Sky is a reason to visit Park Slope; people actually travel from neighboring boroughs for these moist, tender, fluffy, and fruit-filled mounds of glory. Chunks of fresh mango and blackberries inhabit the perfectly textured and nutty bran muffins. A thick layer of blueberries practically oozes out between the top and bottom of the Blueberry Rhubarb muffins. The tops are perfectly crisp with a subtle dusting of sugar (but not too much), while the warm interior (yes, they can be served warm) of fresh ingredients lifts the domed cake to new levels of muffinhood. With ever-changing flavors ranging from Carrot Strawberry Mango, Apple Bran, and Zucchini Raspberry Chocolate Chip, to Pineapple Coconut Cream Cheese, Chocolate Apple Triple Berry Bran, and Pumpkin Raspberry Pecan, no one leaves Blue Sky empty-handed or disappointed.
Photo via Real Cheap Eats NYC