Sunday: Annual Walk For Autism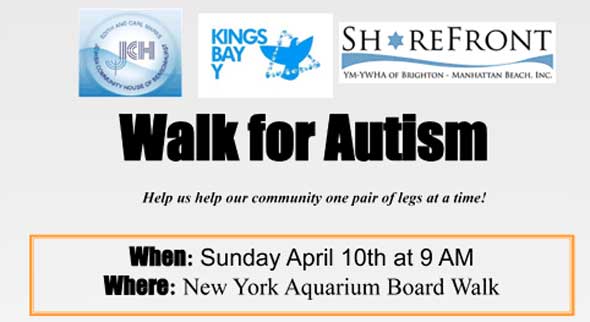 It is Autism Awareness Month, and with one in every 150 children diagnosed with an autism spectrum disorder, for which there is no known cure, Southern Brooklyn families who have been touched by this mysterious impairment are gearing up to participate in the First Annual Walk for Autism, organized by the Brooklyn Autism Spectrum Disorder Initiative (BASDI), April 10.
Participants should meet at 9 a.m. at the New York Aquarium Boardwalk entrance, 602 Surf Avenue, whereupon they will walk 1.5 miles along the boardwalk to the Shorefront YM-YWHA, 3300 Coney Island Avenue, after which time there will be fun-filled activities for children and families.
One hundred percent of the funds raised from the walk will benefit current programs serving special needs children. Donations can be made online or in person and registration for the walk may be made in person or via phone.
To learn more, email info@kingsbayy.org, call (718) 648-7703 ext. 223, or go to www.kingsbayy.org.