Subliminal Sawhorse Saying, Or Jerome Avenue Jabberwocky?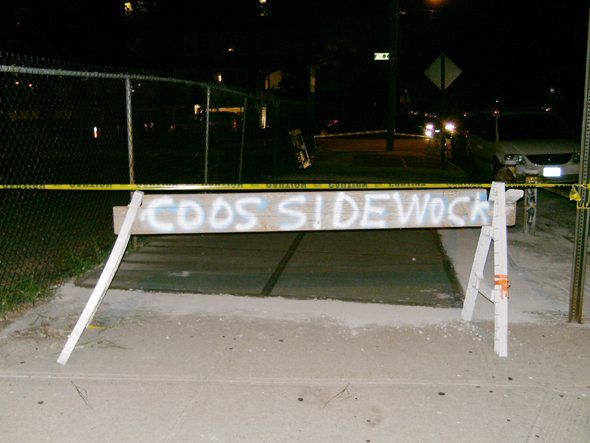 'Twas brillig, and the slithy tovesDid gyre and gimble in the wabe;All mimsy were the borogoves,And the mome raths outgrabe.Beware the Jabberwock, my son!The jaws that bite, the claws that catch!Beware the Jubjub bird, and shunThe frumious Bandersnatch!"
— Excerpt from Jabberwocky, by Louis Carroll
The photo you see above is a compelling enough reason why children should go to school, study hard and, for the love of all that is holy, learn how to read and write basic English.
Reader Niklas M. sent us the image of a sawhorse, situated "at the intersection of Jerome and E21, behind Rite Aid," with the non-words "COOS SIDEWOCK" painted in white letters, and accented with baby blue paint to give it an eye-pleasing 3D effect, across the plank. Niklas writes: "On the other side, on Ave Z, is another 'funny' sign. It's [sic] says something like 'no porck'."
We're fairly certain there are no kosher restaurants in the area advertising "no porck" on their menus — at least not any longer — so let's analyze a little further.
Sheepshead Bites had previously written about the conditions surrounding the LS Auto Clinic at 2102 Avenue Z, including "the physical condition of the shop," "cars without plates taking up parking spots on the streets around it" [Ed – As previously noted, no one could prove it came from this garage], "weeds that look like small trees sprouting from the sidewalk" and "the sidewalk…becom[ing] a dumping ground at night."
The Board of Standards and Appeals (BSA) — an operation that some think should be further investigated itself, for allegedly rubber-stamping business owners' interests over those of the community's — renewed a lapsed five-year permit to the grungy garage, with the stipulation that property owner Arkady Nabatov "keep the site clean, line the property with a fence and allow about half as many cars — 13 instead of 24 — to park on the property."
While we haven't revisited the triangular island to scrutinize the number of cars parked on the property, it is difficult to fault a landowner for doing what appears to be the right thing. The photo seems to indicate that, as per what BSA requested, the perimeter of the property — at least that side of it — is clean, the sidewalk is newly cemented, and the property appears to be sporting a proper fence.
To the best of my determination, the only crime being committed here is the lame attempt at alerting passersby to a "COOS SIDEWOCK," which is obviously Jabberwocky or, perhaps, Middle English for "Closed Sidewalk." And "no porck" likely is LS Auto Clinic's unique way of saying: "Please don't park over here, since the BSA told us not to and we'd very much like to abide by the rules."