Stylish Tapas, Wine & Conversation At Manchego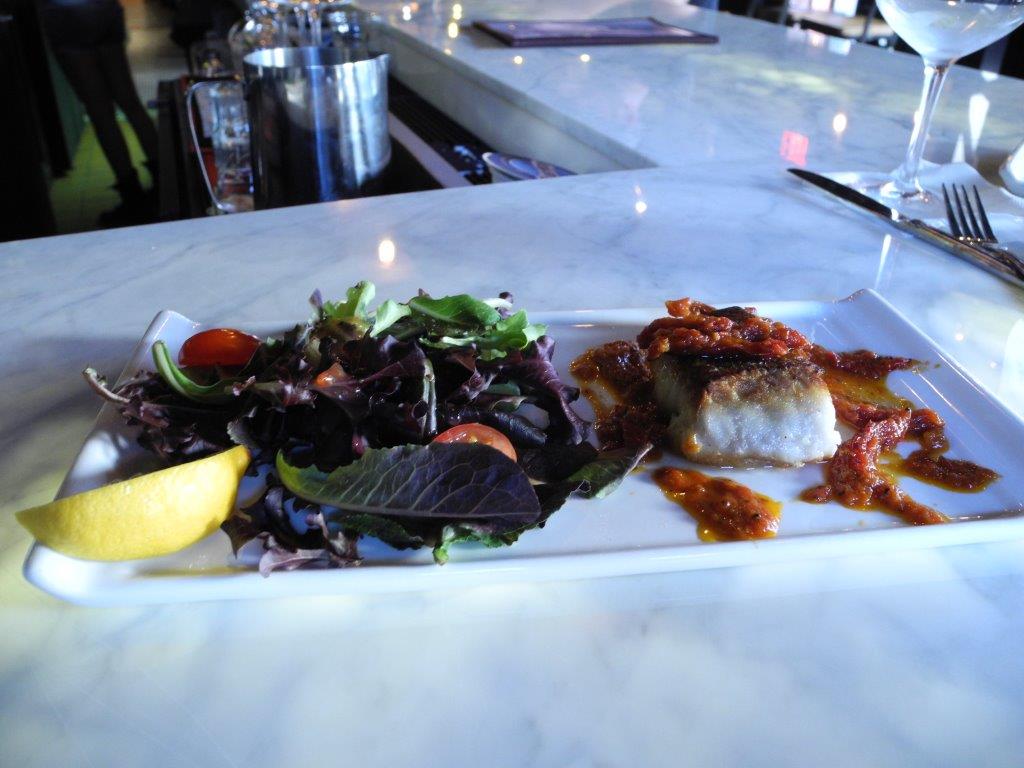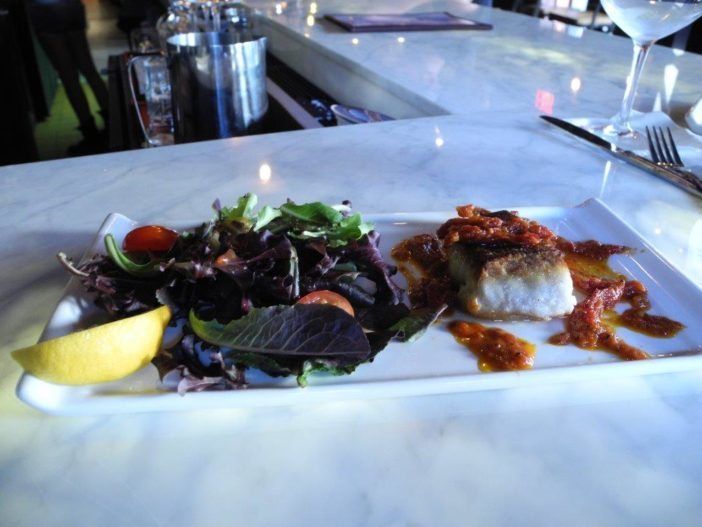 Finally, the southeast corner of Marlborough and Cortelyou Roads – the site of multiple failed pub concepts – has an establishment that serves interesting and tasty food and wine in a festive, yet relaxing space. A stylishly designed tapas bar and restaurant, Manchego has gotten off to an exciting start in the first few weeks after its soft opening in June.
Patrons entering Manchego encounter a beautifully conceived bar to their left. Behind a polished, Carrera marble counter is a decorative wine rack filled with wine bottles, each colorfully back-lit in green, red, or yellow. The effect is mesmerizing.
The high ceilings and the pillars in the dining area are artfully festooned with dry branches and woody remnants of bittersweet or wisteria vines.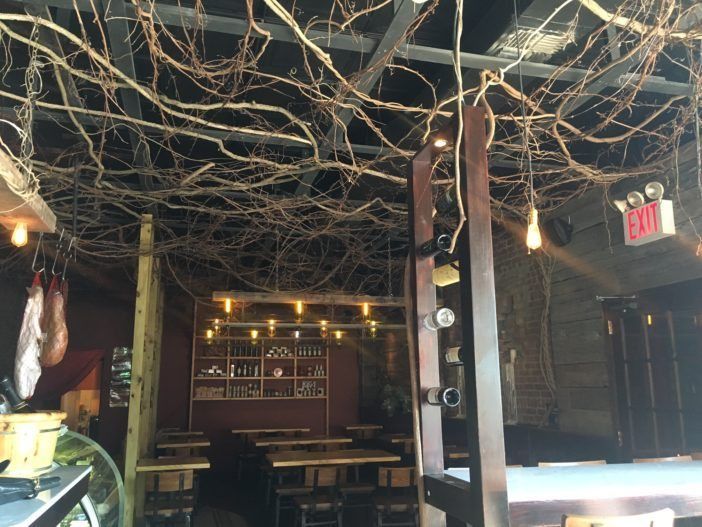 Dripping wax from large candles cascades from cavities carved out of the brick walls. It's all magically reminiscent of a scene out of the Spanish film, Pan's Labyrinth.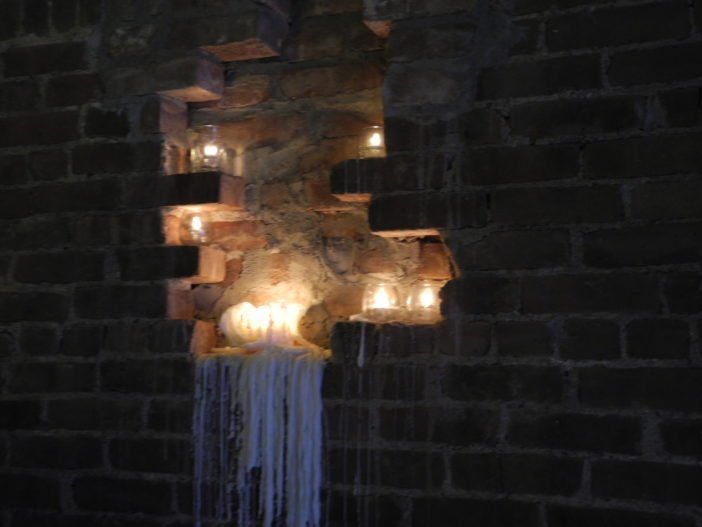 There are high marble-top tables with wood stools for couples and large groups, or smaller standard-sized tables for more intimate dining. Spanish contemporary music plays in the background, but not so loud that customers of a certain age can't enjoy a conversation.
There are a variety of wines, all from Spain, on the menu –Albariño, Verdejo, Tempranillo and Rioja, to name a few. The "cash only" business model allows many wines to be priced well below $30. Indeed, Manchego is one of the few restaurants where one can get a chilled bottle of dry rosé for just $20! There are select scotches, bourbons and other whiskeys. The bartenders mix generous drinks, and pour a variety of beers from cans or bottles. Sangria, red or white, is freshly made, fruity but not cloyingly sweet.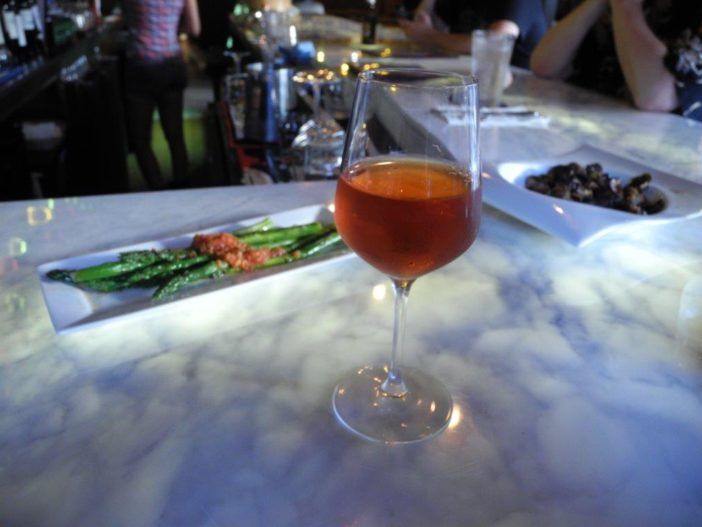 The tapas menu is varied, reasonably-priced and scrumptious. The servings are generous; a couple's appetite is easily satisfied with two or three selections. There are cheese and charcuterie platters as well as pinxtos — grilled bread with a variety of toppings including chorizo and quail eggs. Many recipes feature Jamon Serrano, the wonderful, dried Spanish ham, and the eponymous dry, piquant cheese, Manchego.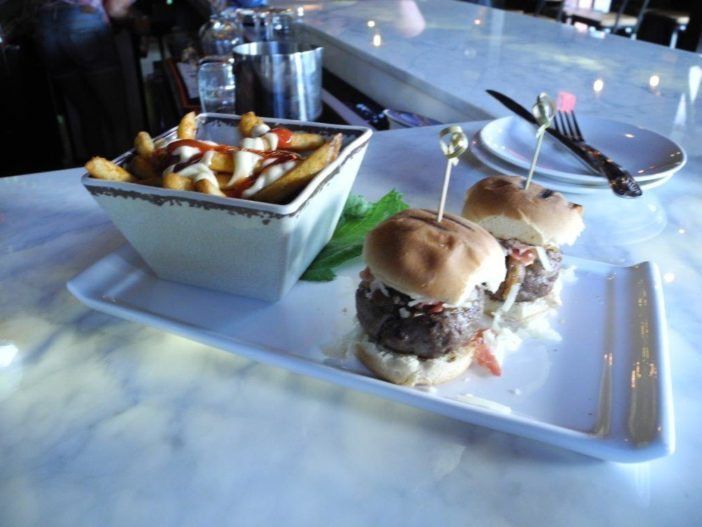 Favorite dishes include ground lamb sliders (ask for them rare) with a generous side of French fries, lightly drizzled with ketchup and aioli; grilled asparagus with tomato garlic confit, pulpo (octopus) in a rich wine reduction sauce; poached cod fish, and fabulous brussel sprouts sautéed with garlic and bacon in balsamic vinegar. A salad option would be appreciated, as would the classic tapas favorites, olives and anchovies.
What's not to like about the wait staff at Manchego? They are attractive, hip, intelligent and friendly. Nina, an expert barkeep, pours a mean vodka tonic with a dry sense of humor. The dashing server, Albert, native of Catalonia, is also a musician (piano, Flamenco jazz). [as it turns out, he is the same Albert Marques we featured for his local jazz performances!] In between dishes, he'll be glad to fill you in on the complicated history of modern Spain.
Surprisingly, the owners of Manchego, Eddie and Han, are not Spanish, but Malaysian. They also run the adjacent ramen noodle shop, Koko Ramen, on Marlborough Road. One small, frenetic kitchen in between serves as the food prep space for both establishments.
Manchego's "official" opening has yet to occur. I suspect it will happen soon after the owners put a sign above their Cortelyou Road entrance. In the meantime, this lovely tapas bar provides a welcome drinking and dining experience on a prime Ditmas Park corner.