Slower Than 'A Herd Of Lumbering Elephants': New Study Seeks To Improve Bus Service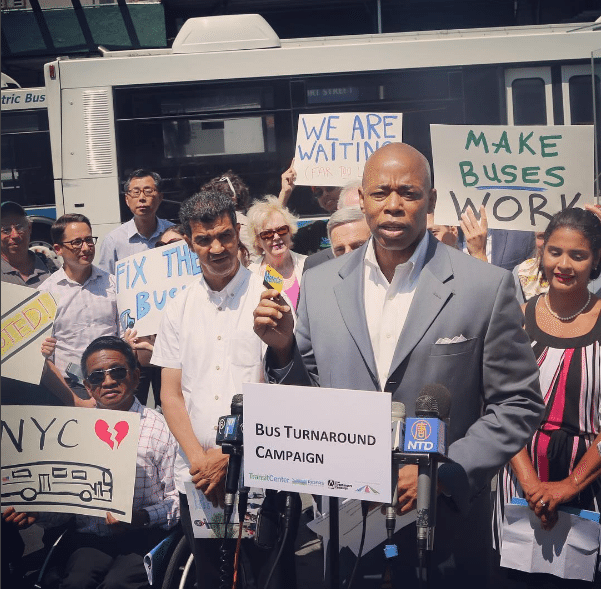 Transit advocates have rolled out a new drive to improve NYC's buses and their ridership.
Elected officials and activists introduced a busload of new ideas during a call to adopt the recommendations of a new report at a press conference yesterday at 11:30am at the bus stop outside Brooklyn Borough Hall (Court Street between Montague Street and Remsen Street). Entitled "Turnaround: Fixing New York City's Buses", the study was released by the newly formed NYC Bus Turnaround Coalition, which promotes adopting solutions that have worked in other cities as a means of increasing bus use.
"We found that, on average, some buses have moved slower than a bumper car, a herd of lumbering elephants, and a Hawaiian lava flow," said Jacquelyn Cohen of the Straphangers Campaign to New York 1.

"New York City is a world leader in many aspects – speedy, reliable bus service is not one of them," said Council Member Stephen Levin, whose district includes the Navy Yard. The Navy Yard has previously been identified as a subway desert.
Brooklyn Borough President Eric Adams focused on the idea of underserved areas with a paucity of transit options.
"In our ever-evolving and expanding New York City, it is critical to constantly improve our transit system, especially our buses that serve as a lifeline for tens of thousands of riders, including historically underserved 'transit desert' communities across Brooklyn," said Brooklyn Borough President Eric Adams.
Council Member Brad Lander honed in on the class disparity that he sees as inherent in bus ridership.
"New York City buses are unreliable and slow, pushing those who can to choose other modes of transportation," said Lander, who added that "many people in less affluent neighborhoods still depend on buses every day to get to work and school, and to see family and friends."
Council Member Vince Gentile commented on how bus transit is integral to New York's senior population.
"Representing a district with a large population of seniors who mainly rely on bus service for transportation, I have seen firsthand how local bus service is simply not up to par with what our riders deserve," said Gentile.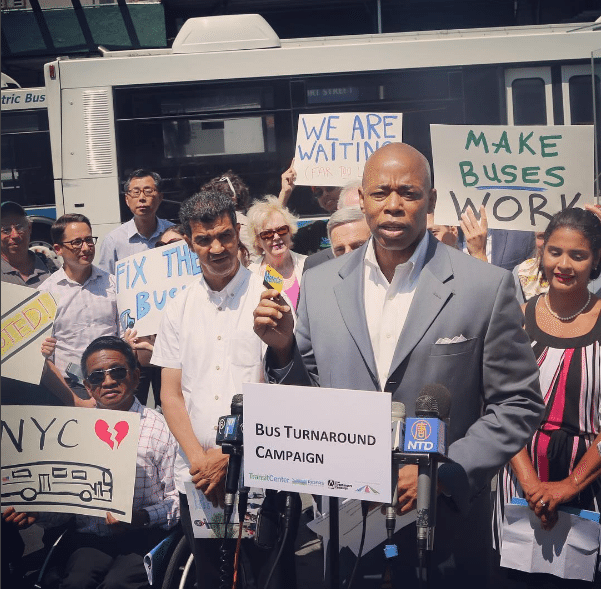 The report offers a host of recommendations, including redesigning bus routes and adding more bus lanes, as well as improving rider experience by adopting "tap-and-go" systems to shorten lines when passengers board.
Buses across the city have slowed from an average of 7.8 miles-per-hour in 2000 to 7.4 miles-per-hour, and can fall under 4 miles-per-hour in areas like Downtown Brooklyn, according to the report, which also states that New Yorkers take an average of 2.5 million bus rides on weekdays.
The report cites the Livingston Street bus lane in Downtown Brooklyn as an example of failed innovation.
"While this initially improved bus performance, bus-lane violations have diminished the impact of the lane over time," says the report.

The proposed BQX is supposed to alleviate some of the area's transit woes, but some of the streetcar's detractors have argued for bus service instead.
The NYC Bus Turnaround Coalition is comprised of the "Riders Alliance, NYPIRG's Straphangers Campaign, TransitCenter, and Tri-State Transportation Campaign," according to the press release.