Students Honored In Holocaust Remembrance Event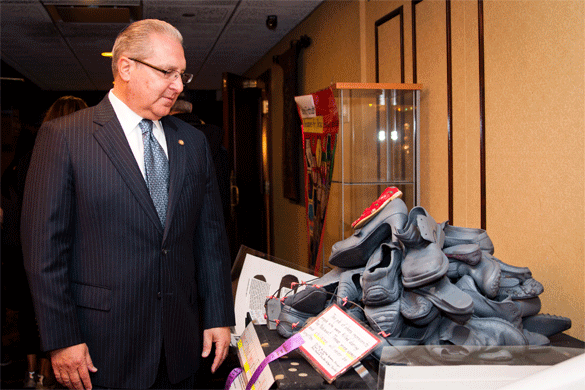 Hundreds of children packed the Manhattan Beach Jewish Center (60 West End Avenue) on Sunday, gathering with parents, teachers and community leaders for Assemblyman Steven Cymbrowitz's 12th annual Holocaust Memorial Essay, Poetry, Performance and Art Contest.
Greeted at the entrance by a dazzling display of student-created dioramas of scenes from concentration camps, and paired with a collection of paintings by Holocaust survivor Seymour Kaftan depicting the atrocities that the Jews of Vilnius, Lithuania, endured during the Holocaust, the proud parents and teachers of the contest entrants shuffled towards the hall where the kids were later honored for their contributions.
The theme of this year's event was the music of the Holocaust, with guest performances by Edward R. Murrow High School's Madrigal Chorus, Chamber Orchestra and Chamber Winds, composer Cecelia Margules, and soloists Anita Tendler and Lily Ashira Shoretz.
"It is surprising to many that music played a part in the Holocaust," Cymbrowitz explained. "It had both a positive and negative presence. Jewish partisans in the forests of Byelourussia formed a musical troupe to soothe their souls while hiding from Nazi patrols, but the Nazis also forced Jews in extermination camps to form orchestras to play as fellow prisoners were marched to and from forced labor assignments. The orchestras even had to play tangos as accompaniment to executions and punishments."
Bringing their textbooks to life, students also got a chance to mingle with Holocaust survivors and Helen Hoffman, the event's featured speaker. Hoffman is author of Branded for Life, a member of the Museum of Jewish Heritage Speakers' Bureau, a U.N. Guest Speaker, and baby born in a displaced persons' camp after the Holocaust.
"My birth was considered a miracle," Hoffman told the attendees. "The numbers that were tattooed on my mother's arm, 57240, adds up to 18 which in Jewish tradition represents 'Chai' or life. The Nazis sought to eliminate the entire Jewish population, my birth to two displaced persons who miraculously survived the Holocaust, was seen as a statement to the world that the Nazis had not succeeded, a new Jewish life was created."
The contest itself saw more than 600 entries from students of various ethnic backgrounds and religions judged on three levels – elementary, middle and high school.
The winning entries came from the following schools: (First Place) P.S. 195, I.S. 238, Edward R. Murrow H.S.; (Second Place) tie: P.S. 206 and St. Mark School, tie: Bay Academy and I.S. 225, tie: Leon M. Goldstein H.S. and Midwood H.S.; (Third Place) Yeshiva of Flatbush, I.S. 209 and Brooklyn Amity School.