Storobin Team Says Fidler's School Voucher Program Is "Vouchers Lite" (UPDATED)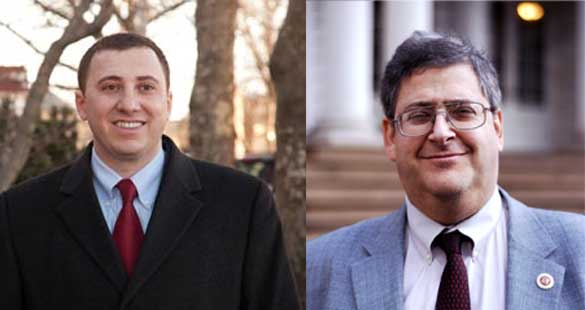 Following our post about how both candidates in the race for the 27th Senate District both support a school voucher program, we got a note from Republican David Storobin's team slamming Democrat Lew Fidler's proposal as "vouchers lite."
Campaign rep David Simpson wrote:
Ned, thanks for coving the vouchers issue today but you're a little off. Fidler is not pushing vouchers as it says in your post. That's inaccurate. In fact, it's the opposite: Fidler is opposed to vouchers. Ask him. He rather favors tax credits, which is like "vouchers light."
Fidler's campaign strategy from the beginning has been to protect his liberal flank by remaking himself as some sort of jewish hero among the orthodox community. He is not, and we aren't going to let him run from his record. And here it is…
For 10 years on the City Council, Fidler has proven himself to be the UFT favorite son. Never has he gone against them, nor will he. Only now is proposing tax credits for private school. The idea has some merit and has been tried in a few states. However, the financial relief is limited in that it can only be applied to state income tax and a portion of property taxes … this screws people who aren't homeowners. Storobin favors direct tuition vouchers which would help many more people and in a more meaningful way financially. Big difference.
Furthermore, as detailed in his press release yesterday, Storobin's plan is to tie voucher amounts to the average cost of educating a child in a given public school district (in New York City, that's about $18,126 per student), and capping eligibility at a certain income level.
Fidler's plan, as we wrote yesterday, is scaled back to a proposed $5,000 tax credit per yeshiva student, reimbursement to the schools for state-mandated programs, and increased funding for Priority 5 vouchers – which covers the cost of after-school programs.
So, in a sense, Simpson is right: Fidler isn't pushing direct tuition vouchers – but "vouchers lite" is still a voucher in that it reimburses parents of private schools on tax revenue that otherwise would have went to public schools.
And, in case we were getting ahead of ourselves, we did ask the Storobin team the following questions:
How does Storobin intend to fund the voucher program? And, in his press release, he states it's to provide financial relief and that "New York has the responsibility to provide every family, every child with the same opportunity at a quality education." Well, if that's the case, my question is how will he ensure that the money won't come from the public school system, and thereby reduce the opportunity for others to have a quality education?
We have not yet received a response.
UPDATE (5:41 p.m.): It's only fair that we ask Fidler the same questions we did Storobin, so we just sent him the following queries:
How do you intend to fund the tuition tax credits, security cameras, transportation vouchers and reimbursements for mandated services? And how will you ensure that the money won't come from the public school system, and thereby reduce the opportunity for others to have a quality education?
We'll let you know if we hear back from either party.